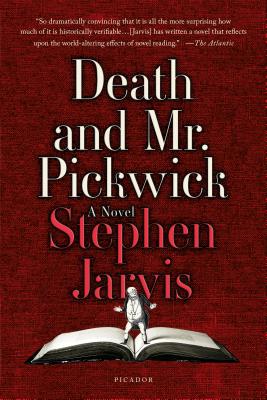 Death and Mr. Pickwick
A Novel
Paperback

* Individual store prices may vary.
Other Editions of This Title:
Hardcover (6/23/2015)
Description
"So dramatically convincing that it is all the more surprising how much of it is historically verifiable . . . [Jarvis] has written a novel that reflects upon the world-altering effects of novel reading."—The Atlantic

Death and Mr. Pickwick by Stephen Jarvis is a vast, richly imagined, Dickensian work about the rough-and-tumble world that produced an author who defined an age.
The Posthumous Papers of the Pickwick Club, featuring the fat and lovable Mr. Pickwick and his cockney manservant, Sam Weller, began as a series of whimsical sketches, the brainchild of the brilliant, erratic, misanthropic illustrator named Robert Seymour. When Seymour's publishers, after trying to match his magical etchings with a number of writers, settled on a young storyteller using the pen name Boz, as the young Charles Dickens signed his work, The Pickwick Papers went on to become a worldwide phenomenon, and Dickens became, in the eyes of many, the most important writer of his time. The fate of Robert Seymour, Mr. Pickwick's creator, was a very different story—one untold before now.
Few novels deserve to be called magnificent: Death and Mr. Pickwick is one of them.
Praise For Death and Mr. Pickwick: A Novel…
"Formidably knowledgeable...Jarvis sends readers on marvelous excursions into English social and cultural life in the early nineteenth century."—The Washington Post
"For someone saddened that there will never be any more new novels coming from the pen of Charles Dickens, Jarvis's sprawling, eight-hundred-page work could be the next big thing."—NPR
"As crowded, rude, and brilliantly inventive as the great pre-Dickensian caricatures it celebrates." —The Guardian (London)
"Brimming with colourful characters, written with tremendous verve and bursting with information...it exuberantly resurrects an age of transition and enthrallingly depicts the pleasures and pressures of creativity."
—Peter Kemp, Sunday Times (London)
"A masterpiece of imagination supported by a mountain of research." —Sunday Telegraph (London)
"Some may view this book as a remarkable piece of literary detection, others a dazzlingly written and superbly imagined exposition on how art and writing are gestated and born. Or both." —Daily Mail (London)
"It offers a reading experience as immersive as Hilary Mantel's Wolf Hall, and as visionary in its capacity to connect us with past lives." —Independent (London)
"A wonderful creation of the imaginative world in which Dickens and his collaborators discovered Pickwick and his companions—witty, rambling, and vastly well informed." —Rowan Williams, New Statesman
"A vast, sprawling epic, packed with digression and detail, it is a brilliant achievement for a first-time novelist." —BBC History Magazine
Picador, 9781250094667, 816pp.
Publication Date: June 14, 2016
About the Author
Stephen Jarvis was born in Essex, England. Following graduate studies at Oxford University, he quickly tired of his office job and began doing unusual things every weekend and writing about them for The Daily Telegraph. These activities included learning the flying trapeze, walking on red-hot coals, getting hypnotized to revisit past lives, and entering the British Snuff-Taking Championship. Death and Mr. Pickwick is his first novel. He lives in Berkshire, England.