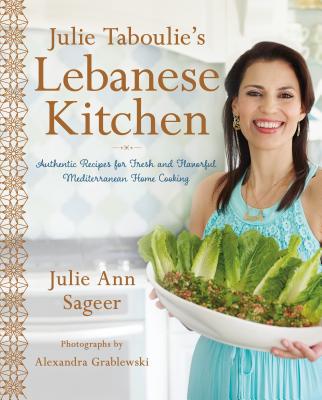 Julie Taboulie's Lebanese Kitchen
Authentic Recipes for Fresh and Flavorful Mediterranean Home Cooking
Hardcover

* Individual store prices may vary.
Description
Contemporary Lebanese recipes from the host of PBS shows Cooking with Julie Taboulie and the Julie Taboulie's Lebanese Kitchen.

Since she was six years old, Julie Ann Sageer (nicknamed Julie Taboulie by her close-knit family) has had a passion for cooking the meals of her Lebanese heritage. Just like in her Emmy-nominated cooking show Cooking with Julie Taboulie, each of her recipes comes with hands-on instructions, tips, and tricks for making homemade Middle Eastern dishes using heaps of fresh, seasonal ingredients. Here you'll find dishes that range from classics like falafel, shawarma, and (of course) taboulie, to warming Bazilla—a stew of tomato, green pea, and lamb—to honey and rosewater-infused desserts.

In these 125 recipes, you'll learn how easy it is to make such Lebanese staples as fresh labneh (strained yogurt) and how to put together your own delicious, multi-purpose spice mixes. In addition to the delicious meat and chicken dishes, Lebanese cuisine offers a wide variety of vegetarian, pescatarian, vegan, and gluten-free dishes, usually with no substitutions whatsoever! Every chapter includes a multitude of dishes for eaters of all kinds and preferences, from meat-lovers to veggie-heads and everything in between.
Praise For Julie Taboulie's Lebanese Kitchen: Authentic Recipes for Fresh and Flavorful Mediterranean Home Cooking…
"Julie Taboulie's passion for Lebanon and its rich cuisine is evident in her new cookbook. Her enthusiasm and attention to detail reaches the reader on every page -- you can almost smell the delicious food!" -Barbara Abdeni Massaad, author of Man'oushe: Inside the Street Corner Lebanese Bakery

"Julie Taboulie's wonderful cookbook makes it easy to create vibrant, mouthwatering, made-from-scratch Lebanese dishes at home, without cutting any corners. Her recipes open up a whole new repertoire of Lebanese classics, even for those of us who grew up eating the cuisine at home. A must for anyone who loves Middle Eastern food, and for any 21st-century kitchen." -
Salma Abdelnour, author of Jasmine and Fire: A Bittersweet Year in Beirut

"I have been waiting for a while for Julie's cookbook ... and the wait was so worthwhile! This book brings into your home the luscious and exotic richness of Lebanese cuisine, along with its tips and tricks, in such an accessible and entertaining way. The photos, the stories and the recipes are all a gift to savor." -Pati Jinich, chef, author, and host of Pati's Mexican Table on PBS

"Sageer so loved her mother's lemony tabbouleh salad as a child in upstate New York that she earned the nickname "Julie Taboulie," a moniker she uses on her PBS cooking shows. She evokes that memory and many others in this collection of recipes for Lebanese foods, from familiar hummus (presented with a handful of variations) to surprises such as panfried patties made with chickpeas, potatoes, and bulgur; a yogurt soup with lamb dumplings; and pickled baby eggplant stuffed with peppers. Sageer's outlook is encouraging, but occasionally she falters on logistics. A narrow-diameter dowel-style rolling pin is recommended or required or both, but she never explains why. There are two almost identical recipes for chicken shawarma, one with spices listed and another with a spice mix cross-referenced." —Publisher's Weekly
St. Martin's Griffin, 9781250094933, 304pp.
Publication Date: June 6, 2017
About the Author
JULIE ANN SAGEER is the host of the Emmy-nominated
Cooking with Julie Taboulie
and the upcoming
Julie Taboulie's Lebanese Kitchen,
airing on PBS stations nationwide. Born in Central New York and raised in the Finger Lakes, her warm, welcoming way in the kitchen lends a vibrant quality to the flavorful food she shares.
LEAH BHABHA is a cookbook co-author, recipe tester, and food writer who has written for numerous publications including Food & Wine, New York Magazine, The Guardian, and Food52. She collaborated with Julie Ann Sageer on Julie Taboulie's Lebanese Kitchen cookbook.
or
Not Currently Available for Direct Purchase