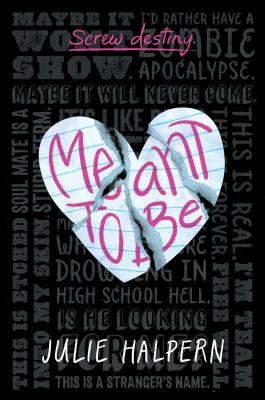 Meant to Be (Hardcover)
Feiwel & Friends, 9781250094988, 320pp.
Publication Date: October 24, 2017
* Individual store prices may vary.
Description
What if your soul mate was decided for you?
It started happening a few years ago: the names of MTBs--"meant to be" mates--appeared emblazoned on the skin at age eighteen. Agatha's best friend has embraced the phenomenon and is head over heels in love with her MTB. But Aggy isn't so sure.
As she struggles with accepting her MTB fate, she finds herself falling for a coworker at the local amusement park. Is he a better match? What does Agatha really want in a mate, and moreover, what does she want for herself?
With her trademark wit and irreverence, acclaimed author Julie Halpern explores an age-old question: Who are we meant to be with?
About the Author
Julie Halpern is the author of the YA novels Get Well Soon and its sequel, Have a Nice Day; Into the Wild Nerd Yonder, Don't Stop Now, and the F-It List. She is also the author of a novel for adults, Maternity Leave. She lives outside of Chicago, with her husband, the author/artist Matthew Cordell, and their two children.