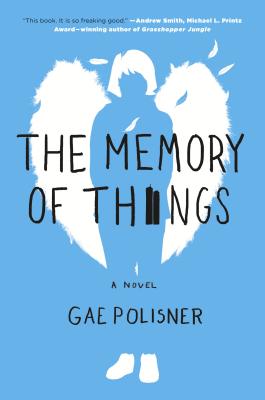 The Memory of Things (Hardcover)
A Novel
St. Martin's Griffin, 9781250095527, 288pp.
Publication Date: September 6, 2016
Other Editions of This Title:
Paperback (8/29/2017)
Prebound (9/19/2017)
* Individual store prices may vary.
Description
"[A] gripping, emotional story set in the part of history we'll never forget." - New York Daily News
On the morning of September 11, 2001, sixteen-year-old Kyle Donohue watches the first twin tower come down from the window of Stuyvesant High School. Moments later, terrified and fleeing home to safety across the Brooklyn Bridge, he stumbles across a girl perched in the shadows, covered in ash, and wearing a pair of costume wings. With his mother and sister in California and unable to reach his father, a NYC detective likely on his way to the disaster, Kyle makes the split-second decision to bring the girl home. What follows is their story, told in alternating points of view, as Kyle tries to unravel the mystery of the girl so he can return her to her family. But what if the girl has forgotten everything, even her own name? And what if the more Kyle gets to know her, the less he wants her to go home? The Memory of Things tells a stunning story of friendship and first love and of carrying on with our day-to-day living in the midst of world-changing tragedy and unforgettable pain—it tells a story of hope.
About the Author
GAE POLISNER is the award-winning author of The Memory of Things, The Summer of Letting Go, and The Pull of Gravity. A family law attorney and mediator by trade, but a writer by calling, she lives on Long Island with her husband, two sons, and a suspiciously-fictional-looking small dog she swore she'd never own. When she's not writing, she can be found in a pool, or better yet, in the open waters of the Long Island Sound where she swims upwards of two miles most days. She hopes one day soon to grow gills and morph into a mermaid.
Praise For The Memory of Things: A Novel…
"Stories about people personally affected by 9/11 are inevitably tearjerkers. The writer's task is to create something unique, to give us compelling and memorable characters that stand out not just for their circumstances, but for what they do with them. Polisner succeeds in that endeavor… a gripping, emotional story set in the part of history we'll never forget, even if sometimes we wish we could." - New York Daily News

"Kyle is a winning protagonist whose responses to 9/11 and its effects on the people he loves feel completely believable and intensely relatable." - Christian Science Monitor
"...a touching look at the power of selflessness, memory, and hope in the face of tragedy."- Booklist

"A love letter to the New Yorkers who rallied together, this is also an exploration of the intense bonds that form during a crisis. Detailed and well-researched, it's sure to make young readers curious about those unforgettable days after the twin towers fell. A fictional but realistic tale of how two New York City teens survived the unthinkable together." - Kirkus

"[An] ultimately hopeful offering. A poignant novel for all YA collections." - School Library Journal
"Gae Polisner's beautiful and poetic The Memory of Things shows us the enduring resilience of human connections. Powerful, frightening, sad, and impossible to look away from, The Memory of Things is ultimately filled with love and hope. This is a truly remarkable, unforgettably moving book." - Andrew Smith, Printz Honor-winning author of Grasshopper Jungle

"An absolute gem... This one is going to be around for a LONG time." – Chris Crutcher, Margaret A. Edwards Award-winning author of Deadline and Whale Talk
"We know what happened on 9/11. What remains a mystery and a wonder is how life goes on in the face of such darkness. The Memory of Things is a story about where people find their light, and how it shines through all the places we've been broken. Heartfelt, hopeful, this is a story fed by humanity and the enduring human spirit." - Martha Brockenbrough, author of The Game of Love and Death

"Lyrical, devastating, extraordinary, and full of heart, The Memory of Things reminds us that in our darkest times, there is so much light to be found in the human spirit. It is, of course, a love letter to New York, but more importantly, it is a love letter to human beings, one that masterfully weaves hope through pain, loss, solace, and connection. " - C. Desir, author of Other Broken Things and Bleed Like Me

"A poetic and hypnotizing portrait of compassion." - Kate Scelsa, author of Fans of the Impossible Life