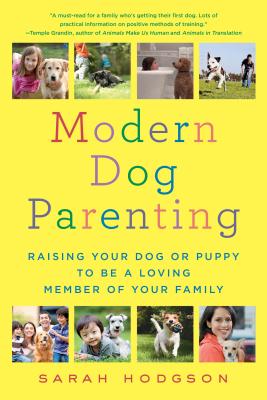 Modern Dog Parenting (Paperback)
Raising Your Dog or Puppy to Be a Loving Member of Your Family
St. Martin's Griffin, 9781250095541, 320pp.
Publication Date: September 6, 2016
* Individual store prices may vary.
Description
You and your dog are a lot alike. By several behavioral measures, your dog's mental abilities are equivalent to those of a two to three and a half-year-old toddler. Dogs can learn up to 250 words, count from one to five and understand basic arithmetic. Your dog can imitate and understand your behavior and has a sense of fairness. Doesn't it make sense to treat these sensitive, intelligent creatures a bit more like children? Kids—and dogs—raised with kindness and respect grow up happy. And happy is good. Modern Dog Parenting will show readers that yes, you can love your dog and live with him, too.
Dogs (and the people who love them) are tired of the school of dominant, top-dog training. They are looking for a new kind of pack leader: someone funny, enthusiastic, intuitive, approachable, and, above all, effective. And they've found her. Sarah Hodgson rejects dominance-based training and gets astonishing results with a blend of wit, compassion, energy, and proven skills. She communicates instructions clearly, directs behavior compassionately, and rewards success lavishly.
Topics include:
*Understanding the signs your dog is giving you
*Having fun while learning manners
*How to fit your dog into your lifestyle
*How to communicate lovingly and effectively with your dog
About the Author
A 30-year dog training veteran, the DOG MOMMY (Sarah Hodgson), is certified as a trainer and Dog Behavior Consultant, and her positive training methods are endorsed by the American Veterinarian Medical Association (AVMA), the American Humane Society, the American Society for the Prevention of Cruelty to Animals (ASPCA), the American Veterinary Society of Animal Behavior (AVSAB) among others. She is a Huffington Post blogger with a dozen training books (Wiley Publishing).
Praise For Modern Dog Parenting: Raising Your Dog or Puppy to Be a Loving Member of Your Family…
"Hodgson argues persuasively that in all kinds of training situations, rewards work far better than punishment."—The New York Times
"Enthusiastic [...] Readers will be heartened by her advice."—Bark magazine
"A must-read for a family who's getting their first dog. Lots of practical information on positive methods of training."—Temple Grandin, author of Animals Make Us Human and Animals in Translation
"Modern Dog Parenting is groundbreaking, effective, compassionate, and fun. The overriding message? Learning shouldn't be scary. It can be edutainment! Dogs look to us to teach, not bully them. It's more than okay to love a dog like a child and view yourself as their parent—I do—everyone should! I'm excited to find another voice that inspires love, consideration, and respect for pets and their people."
—Dr. Marty Becker, "America's Veterinarian", New York Times bestselling author, and syndicated pet columnist
"Sarah Hodgson has written a wonderful primer for new dog or puppy owners. The book will also help current dog owners appreciate and understand their dog better and interact most favorably with their furry friend. Think Dogs 101 and you're right on track with what this book will mean to those who strive for a better relationship with their dog and want to create a friend for life. I give it two paws up!"—Dr. Nicholas H. Dodman, Director of the Animal Behavior Clinic at the Cummings School of Veterinary Medicine and author of Pets on the Couch
"A must-read for all dog parents, whether first timers or seasoned. It is a valuable resource for veterinarians as well, many of whom, sometimes myself included, fall short when it comes to solving our patient's behavior problems. This book has already been a big help to me with my 'not always so perfect' canine crew. Thank you Sarah!" —Jeff Werber, DVM, nationally-recognized TV and radio host and Veterinarian to the Stars
"Good dog owners, like good parents, love unconditionally as they guide their charges. Hodgson's book supplies the necessary tools and encouragement."—Booklist