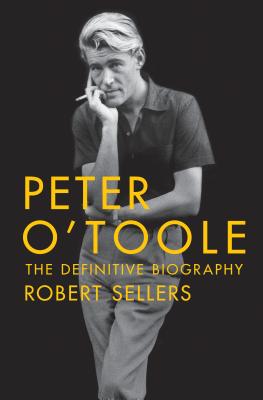 Peter O'Toole (Hardcover)
The Definitive Biography: The Definitive Biography
Thomas Dunne Books, 9781250095947, 432pp.
Publication Date: November 1, 2016
* Individual store prices may vary.
Description
Peter O'Toole was supremely talented, a unique leading man and one of the most charismatic actors of his generation. Described by his friend Richard Burton as "the most original actor to come out of Britain since the war," O'Toole was also unpredictable, with a dangerous edge he brought to his roles and to his real life.
With the help of exclusive interviews with colleagues and close friends, Robert Sellers' Peter O'Toole: The Definitive Biography paints the first complete picture of this complex and much-loved man. The book reveals what drove him to extremes, why he drank to excess for many years and hated authority, but it also describes a man who was fiercely intelligent, with a great sense of humor and huge energy.
Giving full weight to his extraordinary career, this is an insightful, funny, and moving tribute to an iconic actor who made a monumental contribution to theater and cinema.
About the Author
Robert Sellers is the author of books including Hellraisers: The Life and Inebriated Times of Richard Burton, Richard Harris, Peter O'Toole, and Oliver Reed. He contributes regularly to Empire, Total Film, Cinema Retro, and The Independent. A former stand up comedian, he lives in the United Kingdom with his wife and daughter.
Praise For Peter O'Toole: The Definitive Biography: The Definitive Biography…
"[A]s energetic, unpredictable, and entertaining as the man himself... Sellers gives equal weight to the actor's personal and professional lives—with O'Toole, at times, the line between personal and professional was nearly nonexistent anyway—and gives film buffs one of the best biographies of any actor to hit the shelves in many a year." —Booklist (starred review)
"[T]his well-researched title provides a comprehensive view of a legendary actor and intimate details of a glamorous time with the help of the people who knew O'Toole best. Recommended for film buffs and those interested in the larger-than-life worlds of the London stage and classic Hollywood films, this volume would be best received by readers interested in the complexity and motivations of O'Toole." —Library Journal
Praise for Robert Sellers
"Wildly funny and, by the end, strangely moving." —The Guardian (UK) on What Fresh Lunacy is This?
"A brilliant and beguiling account of Reed's life and times." —Mail on Sunday (UK) on What Fresh Lunacy is This?
"Outrageously entertaining history." —The Daily Beast on Hellraisers
"The sprightly smash 'n' dash of the prose so wonderfully captures the wanton belligerence of both binging and stardom you almost feel the guys themselves are telling the tales." —GQ on Hellraisers
"Like the rejuvenating martinis and blurry haze of cigarettes in Mad Men, Robert Sellers's nostalgic Hellraisers . . . amounts to an unapologetic celebration of the plastered and the damned." —The Wall Street Journal