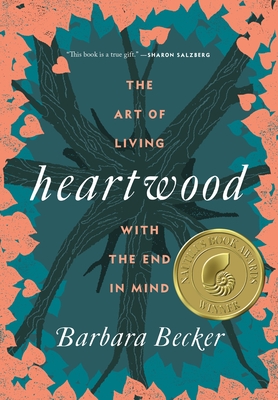 Heartwood
The Art of Living with the End in Mind
Hardcover

* Individual store prices may vary.
Description
"We can do extraordinary things when we lead with love," Barbara Becker reminds us in her debut memoir Heartwood.

When her earliest childhood friend is diagnosed with a terminal illness, Becker sets off on a quest to immerse herself in what it means to be mortal. Can we live our lives more fully knowing some day we will die?

With a keen eye towards that which makes life worth living, interfaith minister, mom and perpetual seeker Barbara Becker recounts stories where life and death intersect in unexpected ways. She volunteers on a hospice floor, becomes an eager student of the many ways people find meaning at the end of life, and accompanies her parents in their final days.

Becker inspires readers to live with the end in mind and proves that turning toward loss rather than away from it is the only true way to live life to its fullest. Just as with the heartwood of a tree—the central core that is no longer alive but is supported by newer growth rings—the dead become the heart of the living.

With life-affirming prose, Becker helps us see that that grief is not a problem to be solved, but rather a sacred invitation--an opportunity to let go into something even greater…a love that will inform all the days of our lives.
Praise For Heartwood: The Art of Living with the End in Mind…
"In Heartwood, Barbara Becker inspires us to follow our curiosity into a world that is both universal and a source of our uniqueness. And what could be better than that?"—Gloria Steinem, bestselling author and activist

"Death fascinates and repels us. Barbara Becker is writing a gorgeous book about it, and her writing will draw in everyone who is willing to approach the topic. For those whose pleasure in reading is entering the minds of others, Barbara gives them the intensity of some of life's peak moments. For those who read to gain insights into life's biggest questions, Barbara gives them philosophy from Eastern and Western traditions. And for those who simply like writing that is clear and expressive but not overdone, Barbara will give them that too." —Jonathan Haidt, author of the New York Times bestsellers The Coddling of the American Mind, The Righteous Mind, and The Happiness Hypothesis

"Heartwood is a luminous book. The language is simple, tender and wise, the story-telling riveting, and the presence of the narrator both dignified and authentic. Within the first few pages I knew I could trust Barbara Becker to navigate the holy land of death and grief and take me with her. This trust opened my heart to all my own losses and I quietly wept again and again as Barbara accompanied her beloveds, some family and some she had only just met, across the sacred threshold from this life to whatever comes next. I have rarely read a book that left me feeling so fundamentally blessed. Highly recommended."
—Mirabai Starr, author of Caravan of No Despair and Wild Mercy

"Both tear-jerking and joyful, Heartwood reveals how an intimate conversation with loss can bring forth the 'forever' possible through love. Across time zones, generations, and cultural divides, Barbara Becker gently pokes those boundaries we grip fiercely for our survival, modeling what it means to let go."
—Sarah Bowen, author of Spiritual Rebel: A Positively Addictive Guide to Finding Deeper Perspective and Higher Purpose
Flatiron Books, 9781250095985, 224pp.
Publication Date: May 11, 2021
About the Author
Barbara Becker is a writer and interfaith minister who has dedicated over 25 years to partnering with human rights advocates around the world in pursuit of peace, spirituality, and everyday mindfulness. She has worked with the United Nations, Human Rights First, the Ms. Foundation for Women, and the Grameen Bank of Bangladesh, and has participated in a delegation of Zen Peacemakers and Lakota elders in the sacred Black Hills of South Dakota. She lives in New York City with her interfaith family.