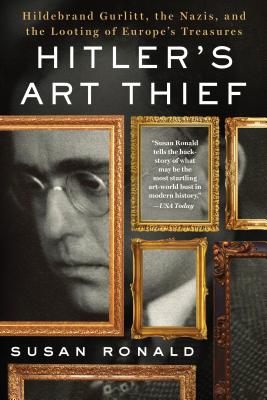 Hitler's Art Thief
Hildebrand Gurlitt, the Nazis, and the Looting of Europe's Treasures
Paperback

* Individual store prices may vary.
Other Editions of This Title:
Digital Audiobook (9/17/2019)
Description
The world was stunned when eighty-year old Cornelius Gurlitt became an international media superstar in November 2013 on the discovery of over 1,400 artworks in his 1,076 square-foot Munich apartment, valued at around $1.35 billion. Gurlitt became known as a man who never was - he didn't have a bank account, never paid tax, never received social security. He simply did not exist. He had been hard-wired into a life of shadows and secrecy by his own father long before he had inherited his art collection built on the spoliation of museums and Jews during Hitler's Third Reich. The ensuing media frenzy unleashed international calls for restitution, unsettled international relations, and rocked the art world.

Susan Ronald reveals in this stranger-than-fiction-tale how Hildebrand Gurlitt succeeded in looting in the name of the Third Reich, duping the Monuments Men and the Nazis alike. As an "official dealer" for Hitler and Goebbels, Hildebrand Gurlitt became one of the Third Reich's most prolific art looters. Yet he stole from Hitler too, allegedly to save modern art. Hitler's Art Thief is the untold story of Hildebrand Gurlitt, who stole more than art-he stole lives, too.
Praise For Hitler's Art Thief: Hildebrand Gurlitt, the Nazis, and the Looting of Europe's Treasures…
"[A] riveting portrait of Gurlitt, who detested the Nazis, and stole from them, but did their bidding in the name of 'saving modern art'." —The New Yorker

"Susan Ronald tells the back story of what may be the most startling art-world bust in modern history." —USA Today

"One man's extraordinary career of thievery . . . an exhaustively researched and well written book that has a cautionary tale for all of us." —Forbes

"Ronald situates Gurlitt's life and career amid the turmoil of Weimar Germany and then the evolution of Nazi art-looting campaigns from the late 1930s to the end of World War II, [adding] many new details about Gurlitt's dealings." —The Wall Street Journal

"Another chapter in the unfolding story of Holocaust art and its provenance, Hitler's Art Thief provides the background of a story that came to light when more than a thousand works of art, valued at more than $1.35 billion, were found in a tiny Munich apartment." —The Jewish Week

"Outstanding . . . Hitler's Art Thief brilliantly examines the motivating forces, both internal and external, that led Hildebrand Gurlitt to go work for the Führer." —The Jerusalem Post

"Absolutely gripping from start to finish. Susan Ronald holds nothing back as she lays bare in merciless detail the cunning, greed and hypocrisy that allowed Hitler's willing accomplices, like the notorious Hildebrand Gurlitt, to feed off human misery to their heart's content. Everyone should read this book." —Amanda Foreman, bestselling author of A World on Fire and
columnist for The Wall Street Journal and Smithsonian Magazine

"Experts are still piecing together this complex history (and restituting the stolen works). Ronald's sweeping, and indeed, galloping narrative, breaks new ground in helping to understand this fascinating figure and the historical context in which he operated." —Jonathan Petropoulos, author of Royals and the Reich and John V. Croul Professor of European History at Claremont McKenna College

"A thrilling voyage into the largest theft in history that started during early Nazi terror and went dormant after the war. . . . A must-read masterpiece, exposing the unsavory reality of the insatiable Nazi greed for art and the continuing resistance to return artifacts to the victims." —Mel Urbach Esquire, International Holocaust Restitution Lawyer and Lecturer

"Susan Ronald has written what will prove to be one of, if not the, definitive accounts of the whole Gurlitt saga. Giving its readers a thorough overview of the 19th- and 20th-century Gurlitt dynasty's engagement in art – as scholars, dealers and collectors – yet never losing its lightness of touch, deftly managing to span place and time with abundant insight, the book is a pleasure to read." —Richard Aronowitz, Director & Head of Sotheby's Europe Restitution Department for Europe
St. Martin's Griffin, 9781250096678, 432pp.
Publication Date: January 31, 2017
About the Author
Born and raised in the United States, SUSAN RONALD is a British-American biographer and historian of eight books, including Conde Nast, The Ambassador, A Dangerous Woman, Hitler's Art Thief, and Heretic Queen. She lives in rural England with her writer husband.