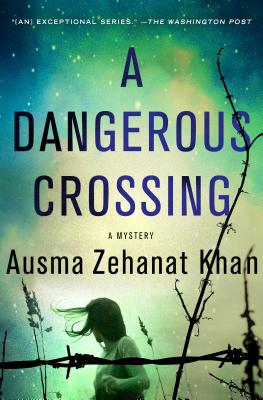 A Dangerous Crossing (Hardcover)
A Novel (Rachel Getty and Esa Khattak Novels #4)
Minotaur Books, 9781250096760, 352pp.
Publication Date: February 13, 2018
* Individual store prices may vary.
Description
From Ausma Zehanat Khan, critically acclaimed author of The Unquiet Dead, comes the devastatingly powerful new thriller A Dangerous Crossing.
For Inspector Esa Khattak and Sergeant Rachel Getty, the Syrian refugee crisis is about to become personal. Esa's childhood friend, Nathan Clare, calls him in distress: his sister, Audrey, has vanished from a Greek island where the siblings run an NGO. Audrey had been working to fast-track refugees to Canada, but now, she is implicated in the double-murder of a French Interpol agent and a young man who had fled the devastation in Syria.
Esa and Rachel arrive in Greece to a shocking scene, witnessing for themselves the massive fallout of the Syrian war in the wretched refugee camps. Tracing Audrey's last movements, they meet some of the volunteers and refugees—one of whom, Ali, is involved in a search of his own, for a girl whose disappearance may be connected to their investigation. The arrival of Sehr Ghilzai—a former prosecutor who now handles refugee claims for Audrey's NGO—further complicates the matter for Esa, as his feelings towards her remain unresolved.
Working against time, with Interpol at their heels, Esa and Rachel follow a trail that takes them from the beaches of Greece, to the Turkish–Syrian border, and across Europe, reaching even the corridors of power in the Netherlands. Had Audrey been on the edge of a dangerous discovery, hidden at the heart of this darkest of crises—one which ultimately put a target on her own back?
About the Author
AUSMA ZEHANAT KHAN holds a Ph.D. in International Human Rights Law with a specialization in military intervention and war crimes in the Balkans. She has practiced immigration law and taught human rights law at Northwestern University and York University. She is the former Editor in Chief of Muslim Girl magazine, the first magazine targeted to young Muslim women. Khan currently lives in Colorado with her husband. The Unquiet Dead is her first novel.
Praise For A Dangerous Crossing: A Novel (Rachel Getty and Esa Khattak Novels #4)…
Praise for A Dangerous Crossing:
"Excellent . . . Khan demonstrates a superior ability to inject moving portrayals of the individual faces of an ongoing humanitarian crisis into a suspenseful story line."—Publishers Weekly (starred)
"A complex global thriller lifted to bar-raising heights by Khan's thoughtful (and timely) exploration of the tragedies and dangers that refugees face"—Booklist (starred)
"Khan's doctorate and research in international human relations law give credence to her portrayal of a timely situation . . . This is a series well worth investigating."—Library Journal
"An exciting read . . . With gripping situations, vivid characters and intense conflicts, Khan creates a thrilling mystery."—RT BookReviews
"Khan's latest leads us on a suspenseful hunt for a missing woman and through a perilous and uncertain landscape."—LitHub
"Khan skillfully sheds light on the very human side of the war in Syria—and the rest of the world's failure to grasp that humanity. A Dangerous Crossing does an excellent job of portraying the situation in Syria in a way that will help readers recognize hard truths. Moreover, it does so while drawing them into the type of carefully woven, multi-layered mystery that has become characteristic of Khan's expert novels."—Shelf Awareness
"Khan is super talented at creating smart and thoughtful detective procedurals that also incorporate important current politics and social issues."—Book Riot
"One of the most exciting newer names in the mystery field...Khan has crafted a provocative thriller."—Cleveland Plain Dealer
"A timely novel...This one is a superior topical nail-biter."—The Globe and Mail
"Zehanat Khan's characters are principled and compassionate, driven to serve the lost, the broken, the betrayed, and her plots explore current global issues with keen insight. The novel presents a highly personal and heartbreakingly profound view of the Syrian refugee crisis."—Milwaukee Journal-Sentinel
"This Esa Khattak and Rachel Getty series gets richer every time out."—Sullivan County Democrat

"A Dangerous Crossing is driven by mystery, but it's also poignant and complex . . . Khan does not shy from intricate global politics. A Dangerous Crossing is another gripping Esa Khattak and Rachel Getty Mystery."—Don't Need a Diagram
Praise for the Khattak and Getty series:
"An outstanding debut." New York Times
"Impressive . . . A many-faceted gem." The Washington Post
"With its thought-provoking, intelligent plot, The Language of Secrets even surpasses Khan's superb debut, The Unquiet Dead." Associated Press
"Beautiful and powerful." Publishers Weekly (starred)
"An involving mystery in a vividly portrayed setting . . . In Khan's hands, mysteries carry powerful messages." Booklist