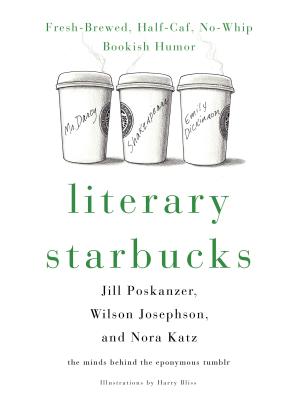 Literary Starbucks (Hardcover)
Fresh-Brewed, Half-Caf, No-Whip Bookish Humor
St. Martin's Griffin, 9781250096791, 240pp.
Publication Date: August 23, 2016
* Individual store prices may vary.
Description
From the creators of the eponymous viral Tumblr comes a single day with your favorite authors in one Twilight-Zone-esque Starbucks...
Ever wonder which intricate, elaborately-named drinks might be consumed if your favorite authors and characters wandered into a Starbucks? How many pumpkin lattes J.K. Rowling would drink? Or if Cormac McCarthy needed caffeine, which latte would be laconic enough? Look no further; LITERARY STARBUCKS explores such pressing matters with humor and erudition. Set over the course of a single day, and replete with puns and satirized literary styles, the three authors go darker, stronger, and more global than the blog in book format, including illustrations by acclaimed New Yorker cover artist and cartoonist Harry Bliss.
About the Author
Nora Katz is a senior at Carleton College, studying history with minors in Medieval & Renaissance Studies and Archaeology. Her first Literary Starbucks post was J.R.R. Tolkien.
Wilson Josephson is a senior at Carleton College, studying English with a creative writing focus. He works as the Assistant Poetry Editor of The Rain, Party, & Disaster Society. His first Literary Starbucks post was Thomas Pynchon.
Jill Poskanzer is a recent graduate of Carleton College, with a degree in English with special focus in creative writing. She is currently employed at CBS Studios in Los Angeles, California. Her first post-which was also the inaugural post of Literary Starbucks-was John Keats.
Harry Bliss is the son-in-law of Elaine Snyder and the illustrator of many books for young readers, including the New York Times bestsellers A Fine, Fine School by Sharon Creech, Diary of a Worm by Doreen Cronin, and A Very Brave Witch by Alison McGhee. He is also a cartoonist for the New Yorker magazine.
Harry Bliss is a cartoonist and cover artist for The New Yorker magazine. Bliss studied painting at The Pennsylvania Academy of the Fine Arts, Illustration at The University of the Arts (BFA) and Syracuse University (MA). While not on tour promoting his picture books, Harry can be found drawing his internationally syndicated, single panel gag
cartoons entitled BLISS. Harry N. Abrams published Death by Laughter, the first collection of these extremely witty cartoons in Spring 2008 with an introduction by Christopher Guest. Harry lives in South Burlington, Vermont.
Praise For Literary Starbucks: Fresh-Brewed, Half-Caf, No-Whip Bookish Humor…
"Perfect literary-ish light reading." —RedEye Chicago, part of the Chicago Tribune
"There's a Starbucks that sits at a place where the walls of space, time, and parallel universes is thin. It's where authors and fictional characters go to pick up their coffee. And, of course, it's a particularly entertaining tumblr thought up by two English majors and a history major." —i09
"There are times when the internet produces something so clever you don't know why no one thought of it before. Literary Starbucks is such a website..." —Stylist Magazine
or
Not Currently Available for Direct Purchase