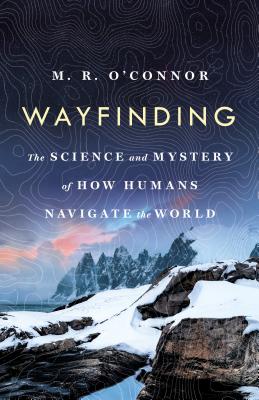 Wayfinding (Hardcover)
The Science and Mystery of How Humans Navigate the World
St. Martin's Press, 9781250096968, 368pp.
Publication Date: April 30, 2019
Other Editions of This Title:
MP3 CD (6/17/2019)
Compact Disc (6/17/2019)
Pre-Recorded Audio Player (5/1/2019)
* Individual store prices may vary.
Description
At once far flung and intimate, a fascinating look at how finding our way make us human.

"A marvel of storytelling." —Kirkus (Starred Review)
In this compelling narrative, O'Connor seeks out neuroscientists, anthropologists and master navigators to understand how navigation ultimately gave us our humanity. Biologists have been trying to solve the mystery of how organisms have the ability to migrate and orient with such precision—especially since our own adventurous ancestors spread across the world without maps or instruments. O'Connor goes to the Arctic, the Australian bush and the South Pacific to talk to masters of their environment who seek to preserve their traditions at a time when anyone can use a GPS to navigate.
O'Connor explores the neurological basis of spatial orientation within the hippocampus. Without it, people inhabit a dream state, becoming amnesiacs incapable of finding their way, recalling the past, or imagining the future. Studies have shown that the more we exercise our cognitive mapping skills, the greater the grey matter and health of our hippocampus. O'Connor talks to scientists studying how atrophy in the hippocampus is associated with afflictions such as impaired memory, dementia, Alzheimer's Disease, depression and PTSD.
Wayfinding is a captivating book that charts how our species' profound capacity for exploration, memory and storytelling results in topophilia, the love of place.
"O'Connor talked to just the right people in just the right places, and her narrative is a marvel of storytelling on its own merits, erudite but lightly worn. There are many reasons why people should make efforts to improve their geographical literacy, and O'Connor hits on many in this excellent book—devouring it makes for a good start." —Kirkus Reviews
About the Author
M.R. O'CONNOR's reporting has appeared in Foreign Policy, Slate, The Atlantic, Nautilus and The New Yorker. Her work has received support from the Pulitzer Center on Crisis Reporting, The Nation Institute's Investigative Fund, and the Alfred P. Sloan Foundation. In 2016 she was a Knight Science Journalism Fellow at MIT. She is the author of Resurrection Science. A graduate of Columbia's Graduate School of Journalism, she lives in Flatbush, Brooklyn.
Praise For Wayfinding: The Science and Mystery of How Humans Navigate the World…
"Sounds a clarion call for us to put down the smartphone, step outside, and experience our surroundings in the way ancient humans did – before we lose the ability altogether." —Sydney Morning Herald
"O'Connor's coverage of the cognitive map theory—one of the most eminent theories in the field—is deep and broad. General audiences and experts in navigation and cognition will likely learn something new here." —Science Magazine
"O'Connor looks at not only how mastering navigation is integral to the human race, but also how cognitive mapping skills are actually good for our health. To do this, she travels the Arctic, the Australian bush and the South Pacific — no GPS required." —Bustle, "9 Travel Books That Will Seriously Spark Your Summer Wanderlust"
"[A] rich exploration...For readers curious about nature, science, the human brain, and how we navigate the world." —Library Journal
"O'Connor talked to just the right people in just the right places, and her narrative is a marvel of storytelling on its own merits, erudite but lightly worn. There are many reasons why people should make efforts to improve their geographical literacy, and O'Connor hits on many in this excellent book—devouring it makes for a good start." —Kirkus Reviews (Starred Review)
"Rich and multifaceted...O'Connor brings her subjects to life in a delightful manner." —Publishers Weekly
"In this lyrical look at both our small, shining planet and the unexpected science of how we navigate it, M.R. O'Connor reminds us that exploration is journey and understanding, that we sometimes best see the world and ourselves while standing on a path less taken." —Deborah Blum, author of The Poison Squad: One Chemist's Single-Minded Crusade for Food Safety at the Turn of the Twentieth Century
"This revelatory book has the qualities of a grand adventure. M. R. O'Connor leads readers out into the world to discover something deep within themselves. Treat yourself to Wayfinding." —Nicholas Carr, author of The Shallows and The Glass Cage
"An insightful examination of the human mind and navigation. O'Connor weaves together different disciplines of science in an accessible way which makes for an engaging read from start to finish." —Mary A. van Balgooy, executive director, Society of Woman Geographers
"I thoroughly enjoyed this deep and absorbing investigation. Fascinating." —Tristan Gooley, author of The Natural Navigator