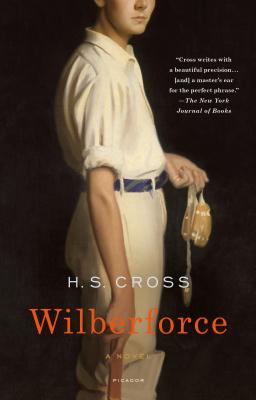 Wilberforce
A Novel
Paperback

* Individual store prices may vary.
Description
At St. Stephen's Academy, the students are on the verge of revolt. Morgan Wilberforce can't take it any longereverything he touches turns to disaster in his desperate attempts to fight off desire, boredom, and angst. He knocks himself unconscious tackling the unattainable Spaulding on the rugby pitch; his headmaster detests him for crimes committed years ago; even his closest friends subject him to tortures normally reserved for juniors.

When an accident at the boarding school leaves Wilberforce with more suffering than he could have imagined, he finds himself alone and adrift in this ritualistic world of men and boys narrowly confined by tradition and authority. An indelible portrait of a young man caught between lust and cruelty, grief and God, frustrated love and abject longing, Wilberforce is a tour de force, heralding the arrival of a brilliant novelist.
Praise For Wilberforce: A Novel…
"Wilberforce will draw you into its world of adolescent bullying, violence, and longing from the first page of this subtle, remarkably authentic, and vivid reconstruction of time and place."—Sheila Kohler, author of Cracks and Becoming Jane Eyre

"Cross writes with a beautiful precision...[and] a master's ear for the perfect phrase."—The New York Journal of Books

"Cross's rich gifts as a writer are evident on every page. She has thoroughly researched and inhabited this world, down to its slang, rituals, and historical atmosphere. Saint Stephen's feels completely authentic, and every word choice is apt."—Image Journal

"Cross, an American, writes a school as nuanced and secretive as J. K. Rowling's Hogwarts....[She] brings a contemporary sensibility to her novel of Morgan Wilberforce's fraught development."—Heather Scott Partington, The Rumpus

"Ambitious and accomplished...This convincingly handled work is recommended for all fans of coming-of-age novels."—Patrick Sullivan, Library Journal

"[Wilberforce] has several significant and promising loose ends that support the...Rowling-esque ambitions for more volumes on St. Stephen's & Co., perhaps achieving 'the Hogwarts of adult literary fiction.'...A solid start for continued exploration of this strange yet, for many readers, familiar world."—Kirkus Reviews

"Cross writes with a beautiful precision. Her depiction of inner emotional turmoil inside Morgan Wilberforce's head could be among the best anywhere. The author crafts passages of agonizing psychological self-torment with a master's ear for the perfect phrase."—Karl Wolff, New York Journal of Books

"Can't Miss New Read: For fans of Evelyn Waugh or Kingsley Amis, a wry take on priggish, midcentury boarding schools. It's a dark take on the coming-of-age stories that've populated the book world as of late."—Huffington Post

"In this riveting and playful novel by H. S. Cross, mental warfare rules among friends and enemies at a boarding school, making for delicious complications and twisted loyalties—a mix of suspense and comedy reminiscent of Evelyn Waugh. Cross's great talent rests in the highly physical exploration of these young men, their sensibilities revealed through bruises and sprains, desire and suspicion."—Timothy Schaffert, author of The Swan Gondola
Picador, 9781250097132, 464pp.
Publication Date: January 3, 2017
About the Author
H. S. Cross was born in Grosse Pointe, Michigan, and studied at Harvard University. Wilberforce is her debut novel. She has taught at Friends Seminary and lives in New York. Cross is at work on a new novel set at St. Stephen's Academy.