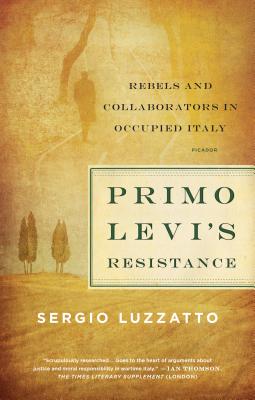 Primo Levi's Resistance (Paperback)
Rebels and Collaborators in Occupied Italy
Picador, 9781250097194, 304pp.
Publication Date: January 10, 2017
* Individual store prices may vary.
Description
No other Auschwitz survivor has been as literarily powerful and influential as Primo Levi. But Levi was not only a victim or a witness. In the fall of 1943, at the very start of the Italian Resistance, he took part in the first efforts at guerrilla warfare against Nazi forces. Yet those months are strikingly unmentioned in Levi's writings---aside from one obscure passage hinting that his deportation to Auschwitz was linked directly to an "ugly secret" from that time.
What did Levi mean by those dramatic words? His small partisan band, it appears, had turned on itself, committing a brutal act against two of its own members. Using that shocking episode as a starting point, Sergio Luzzatto offers a rich examination of the early days of the Resistance, tracing vivid portraits of both rebels and Nazi collaborators. And he provides profound insight into the origins of the moral complexity that runs through the work of Primo Levi himself.
About the Author
Sergio Luzzatto is the author of Padre Pio: Miracles and Politics in a Secular Age, which won the prestigious Cundill Prize in History, and of The Body of Il Duce: Mussolini's Corpse and the Fortunes of Italy. A professor of history at the University of Turin, Luzzatto is a regular contributor to Il Sole 24 Ore.
Praise For Primo Levi's Resistance: Rebels and Collaborators in Occupied Italy…
"Primo Levi's Resistance provides the most in-depth account of the most formative experience of Levi's outside of Auschwitz, and reveals a side of Levi we're not used to seeing....Luzzatto writes with verve (rendered beautifully into English by Frederika Randall), and has mined a great many sources."—The New Republic
"Thoroughly absorbing...Primo Levi's Resistance wears its meticulous research well. Luzzatto impresses with skillful close readings of Levi's books, drawing parallels wherever possible with real events....An edifying and engaging study of both Levi and the Italian Resistance."—The American Conservative
"Written with brilliant and imaginative flair...Luzzatto brings an exquisite sensitivity to his entire text, a living and breathing humanity that he intermingles with impeccable research."—The Jerusalem Post
"Masterful...Luzzatto examines the rich moral complexity of the Resistance fighters, creating detailed and moving portraits of both the rebels themselves and the Nazi collaborators with whom their fates become intertwined in the postwar years. He is able to make us deeply aware of their humanity and yet simultaneously horrified; we are drawn ever more irresistibly into their story."—Jewish Book Council
"Riveting...Luzzatto's analysis of personal motivations, unexpected dilemmas, and intriguing mysteries in both the wartime and post-war periods will forever change our way of thinking about the Resistance in occupied Italy."—Susan Zuccotti, author of The Italians and the Holocaust

"A meditation on the tensions between justice and revenge, the inevitability of historical revisionism and the unreliability of memory—themes played out every time a country confronts or denies an unsavory and traumatic past."—The Forward

"Clear, passionately written...Will undoubtedly be useful for those interested in Italy's civil war during the last years of World War II."—Publishers Weekly
"Scrupulously researched...Adds considerably to our knowledge of the infiltrator who masterminded Levi's arrest...Goes to the heart of arguments about justice and moral responsibility in wartime Italy."—Ian Thomson, The Times Literary Supplement (London)