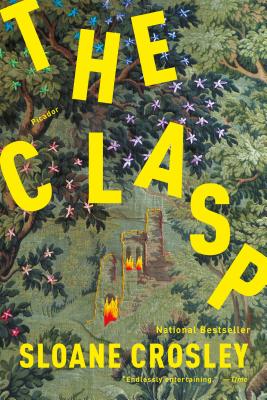 The Clasp
A Novel
Paperback

* Individual store prices may vary.
Other Editions of This Title:
Digital Audiobook (10/5/2015)
Library Binding, Large Print (12/1/2015)
Hardcover (10/6/2015)
CD-Audio (10/6/2015)
Description
National Bestseller

"Endlessly entertaining." —Time
Kezia, Nathaniel, and Victor are reunited at the extravagant wedding of a college friend. Now at the tail end of their twenties, they arrive absorbed in their own lives, but soon slip back into old roles: Victor loves Kezia. Kezia loves Nathaniel. Nathaniel loves Nathaniel.
During the reception, an inebriated Victor passes out in the mother of the groom's bedroom. He's woken with a jovial slap to the face, as she dangles a story about a missing necklace before him, one that she has never even told her son. Her tale sets in motion a madcap adventure that leads Victor, Kezia, and Nathaniel from Miami to New York and L.A., and ultimately across France, to the estate of Guy de Maupassant, author of the classic short story "The Necklace." Heartfelt, suspenseful, and told with Sloane Crosley's inimitable spark and wit, The Clasp is a story of friends struggling to fit together now that their lives haven't gone as planned and learning to separate the real from the fake.
Praise For The Clasp: A Novel…
"Crosley is already an established humorist…and her signature wit is sharp as ever here. She is startlingly good at portraying comically awful characters who would seem cartoonish if they weren't also so recognizable. Crosley is an incisive observer of human nature in general and of a generation in particular….[A] highly comic, highly affecting novel."—Julia Pierpont, The New York Times Book Review

"Crosley is best known for her comic essays, some of which were collected in I Was Told There'd Be Cake, but her gifts—keen observation, mordant humor, an affinity for the bittersweet—translate surprisingly seamlessly into fiction. [A] sad, hopeful, endlessly entertaining book." —Lev Grossman, TIME

"Wonderful and wacky. Crosley's a pundit of the absurd… Those who love [her] essays for the way they straddle the line between slapstick humor and essential truths will love her fiction too. Each sentence builds upon the last, toward one big wink: Isn't life weird? And isn't it great?"—Elle

"A novel with more verve and imagination than much of the plot-light fare that typically gets the high-literary treatment, a story that shares at least some DNA with ambitious capers like Donna Tartt's The Goldfinch and Marisha Pessl's Special Topics in Calamity Physics. Fans of [Crosley's] essays will be pleased to find that she's just as funny and tenderly deprecating with her fictional characters as she is with herself."—Vogue.com
"A knockout."—O Magazine
"In her debut novel, The Clasp, Crosley's talent for extracting hilarity from disappointment crosses over into fiction and thrives there… Amid all the travel and high jinks, the true journey of this book is a philosophical one. The book's delicious humor and whirlwind plot help the book's harshest medicine — important-but-sad epiphanies of life's truths, both beautiful and cold — taste far more enjoyable than it would if delivered by a less-funny writer. The amusing adage "If I have to learn something, I'd rather have fun doing it" fits The Clasp well: Its humor is wildly entertaining, but relevance always shows up at the party."—The San Francisco Chronicle
"Sloane Crosley graduates from delightful essayist to accomplished novelist in one giant step that she takes easily in The Clasp . . . The novel deepens even as the mood lightens. The madcap adventure is responsible for the latter, but it's the profound connection that the lapsed friends rekindle that makes The Clasp a rich read."—The New York Daily News
"Crosley has achieved a rare feat: a complex and clever work of homage that deepens the original by connecting it to contemporary life. The Clasp is a gentle, astute, funny, smart, and very entertaining book."—The New Republic
"The breezy New York essayist with a post-millennial undertow hasn't radically altered her voice in transit to fiction. That's good, because Crosley's skittery wit and polished warmth make her first novel worthy of its meta-fictional basis, "The Necklace," Guy de Maupassant's short story about the fraudulence of our fetish for authenticity….[a] luminous, ridiculous adventure, a caper in the French countryside that evokes both Amélie and The Pink Panther." —New York Magazine
"Crosley's stylishness as a writer never tips over into shtickiness or stifles her warmth—it only makes the flowering of genuine emotion more powerful . . . She deftly rewrites The Great Gatsby, another exploration of authenticity and falsehood in which youngish friends and lovers seek to recapture the past. But in her version, the green light—the dream—never appears: These characters don't even know what they want. Or perhaps it is more accurate to say that their desires are too diffuse to collapse into a single brilliant point on the horizon." —Slate
"The Clasp is shot through with numerous inimitable Crosley-isms—wisecracking young sophisticates, trenchant yet occasionally perverse social observations, the errant (and unapologetic) pun. At its heart, though, it's a treasure hunt. Playing off the melodrama and social critique of Guy de Maupassant's classic 1884 short story "The Necklace," The Clasp pulls three college friends, now pushing 30 and each struggling with their own versions of existential disenchantment, along a journey of literal and figurative discovery." —Meghan Daum, Interview Magazine
"Sloane Crosley is one of the sharpest and funniest writers around." —The A.V. Club
"Crosley's sardonic wit makes the book a sly page-turner; like listening to a story told by a friend with a knack for making everything just a little funnier than it really is... And [The Clasp's] treasure-hunt elements are irresistible." —The Seattle Times
"An amusingly satisfying literary aperitif for those who can quote Foucault or Tupac interchangeably." —The Minneapolis Star Tribune

"I took so much pleasure in every sentence of The Clasp, fell so completely under the spell of its narrative tone—equal parts bite and tenderness, a dash of rue—and became so caught up in the charmingly dented protagonists and their off-kilter caper, that the book's emotional power, building steadily and quietly, caught me off-guard, and left me with a lump in my throat."—Michael Chabon
"I opened The Clasp and immediately realized that I'd been waiting far too long for Sloane Crosley to write a novel. Crosley is a literary addiction. There is no substitute. She is curious. She is smart. She is hilarious and edgy and generous and impossible to stop reading. Moreover, she misses nothing. Her attention to the seemingly smallest details—material, social, psychological—reveal, as the pages turn, an intricately tooled world that is as familiar as it is dazzling and new."—Heidi Julavits
"The Clasp reads like The Goonies written by Lorrie Moore. A touching but never sentimental portrait of a trio of quasi-adults turning into adult adults, this is one of those rare deeply literary books that also features—a plot! From the shores of Florida to the coast of Normandy, wonderful, unforgettable things happen in this enormously hilarious novel. And they are written in a language so beautiful, I gnashed my teeth at Sloane Crosley's talent. —Gary Shteyngart
"Sloane Crosley's debut novel is hilarious, insightful, and full of characters and situations that only Sloane Crosley could devise. The laugh-out-loud observations and dialogue that make her essays such a delight to read shine through in her fiction too. The Clasp is a gem."—J. Courtney Sullivan
"The Clasp is funny as hell and impossibly smooth reading. It is so hard to make something look that effortless. We all love Sloane for her charming and witty essays, but the truth is, she's got the goods in this form as well."—Charles Bock
Picador, 9781250097217, 384pp.
Publication Date: June 7, 2016
About the Author
Sloane Crosley is the author of the New York Times bestsellers I Was Told There'd Be Cake (a Thurber Prize finalist) and How Did You Get This Number. A frequent contributor to The New York Times, she lives in Manhattan.
or
Not Currently Available for Direct Purchase