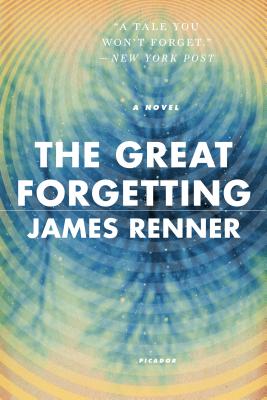 The Great Forgetting (Paperback)
A Novel
Picador, 9781250097415, 352pp.
Publication Date: January 10, 2017
* Individual store prices may vary.
Description
FORGET HISTORY (ESPECIALLY 2016). READ THE LATEST GENRE-BENDING NOVEL FROM THE AUTHOR OF THE MAN FROM PRIMROSE LANE.
When history teacher Jack Felter gets a call that his father, a retired pilot suffering from dementia, is quickly losing his last, precious memories, he reluctantly returns to bucolic Franklin Mills, Ohio. It's been years since he's been home. Jack has been trying to forget about Franklin Mills ever since Sam, the girl he fell in love with, ran off with his best friend, Tony. But Tony is gone, now. Vanished. Everyone assumes the worst.
Soon Jack is pulled into the search for Tony, but the only one who seems to know anything is Tony's last patient, a paranoid boy named Cole. As Cole pulls Jack into his web of conspiracy theories, the two of them team up to follow Tony's trail—and maybe even save the world.
About the Author
JAMES RENNER is the author of The Serial Killer's Apprentice and several other works of nonfiction. His true crime stories have appeared in The Best American Crime Writing anthology, as well the Cleveland Scene and Cracked.com. His method of using social media to solve cold cases was the subject of a CNN profile, in 2015. He has also written two novels, The Man from Primrose Lane and The Great Forgetting. He lives in Akron with his wife and children.
Praise For The Great Forgetting: A Novel…
PRAISE FOR THE GREAT FORGETTING
"If you like your fiction tidy and predictable, look elsewhere."—The Washington Post
"The Great Forgetting is blasphemous, riveting, insane, and glorious."—Andy Howell (Copernicus), Ain't It Cool News

"Renner is skilled at constructing intricate puzzles in his books....Here the author makes the most outlandish conspiracies plausible not only to his protagonist but to readers as well....The plot might be over the top, but it's a fun ride."—Library Journal
"Renner weaves conceivable means and motive through a variety of conspiracy theories and a reimagined reality to create a unique blend of genres. Anything but predictable."—Courtney Ophoff, Booklist
"A fascinating concept . . . worth the read."—Kirkus Reviews
"Packed with thrills."—Publishers Weekly

"A tale you won't forget."—New York Post
PRAISE FOR THE MAN FROM PRIMROSE LANE
"Ambitious and innovative...If you like your fiction tidy and predictable, look elsewhere."—Patrick Anderson, The Washington Post

"Fascinating and unpredictable, with shades of Stephen King and H. P. Lovecraft as well as Douglas Adams, [The Man from Primrose Lane] never loses touch with the human story of loss, guilt and fate that is at its core."—Laura Wilson, The Guardian

"The Man from Primrose Lane barrels along, fueled by Renner's addictive storytelling....It's quite the interesting ride." —Robin Vidimos, The Denver Post

"[The Man from Primrose Lane] features superbly drawn characters and escalates into a genre-bending narrative (noir, sci-fi, and more) of thrills and twists. A great choice for readers who enjoyed Tana French's In the Woods or any work by Philip K. Dick."—Library Journal

"Brilliantly intricate...[with a] fantastic finish [and] compelling, interesting characters...I couldn't put [The Man from Primrose Lane] down."—Jessica Strider, SF Signal

or
Not Currently Available for Direct Purchase