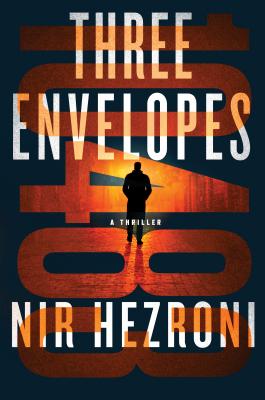 Three Envelopes (Hardcover)
A Thriller (Agent 10483 #1)
Thomas Dunne Books, 9781250097590, 320pp.
Publication Date: April 11, 2017
* Individual store prices may vary.
Description
A thrilling debut, Three Envelopes delves into the twisted mind of a rogue agent in the Israeli intelligence agency and his mysterious plot for revenge.
Agent 10483 carried out his missions perfectly. Too perfectly. So perfectly that he needed to be stopped. . .
When Avner, a top agent in The Organization receives a notebook, written by the mysterious and psychopathic 10483, ten years after his supposed death, he realizes that something has gone terribly wrong.
The notebook not only reveals the truth about 10483's missions, which include some of history's most notorious unsolved crimes, but it also reveals that 10483 might still be alive and desperate for vengeance against the Organization.
As Avner reads the long-lost notebook, questions abound. Was 10483 a psychopath who outwitted his handlers for years or was he merely a tool, manipulated by his superiors to carry out some of the most monstrous mass killings in history? Why was he the only agent to receive three envelopes that carried the names of targets on a special hit list? And was he responsible for a basement of horrors where he locked up innocent victims and staged their deaths as art installations? Or was he himself merely the victim of a brilliant scientist who found a way, through cutting-edge technology, to manipulate his brain?
Offering a fascinating behind-the-scenes glimpse into the technology of high-level intelligence operations, Nir Hezroni's dark thriller is a chilling exploration of the mind of a master killer.
About the Author
Nir Hezroni (1968) was born in Jerusalem. After studying physics in high school and completing several years of military service in intelligence, Hezroni retired to study economics and business management. He then proceeded to build a career in high tech. In 2014 he published his first thriller, THREE ENVELOPES, which was enthusiastically received by critics and readers alike. He lives with his family near Tel Aviv.
Praise For Three Envelopes: A Thriller (Agent 10483 #1)…
"Hezroni's superior thriller debut will send chills up the spines of even jaded genre fans.... Hezroni maintains a high level of suspense as he expertly toggles between past and present en route to the heart-stopping conclusion." —Publishers Weekly (starred review)
"[A] furious, hard-edged thriller... A very fine and very dark thriller" —Booklist
"This thriller will delight those who enjoy the twisted world of international espionage. Fans of Jason Matthew's Red Sparrow or those looking for a darker, more technical Daniel Silva read-alike will also appreciate this disturbing tale." —Library Journal
"Three Envelopes is by no means an ordinary espionage thriller.... This is a book that will absorb and alarm its readers in equal measure. It establishes Nir Hezroni as an important new voice in writing about the murky world of the secret services." —Shots Mag

"What a ride! An intelligence world of cracked mirrors, weird echoes, and haunting dreams. The story is stunning. It will bend your mind six ways to Sunday and then some. The writing, precise as a laser, runs circles around what you thought you knew was real." —James Church, author of the Inspector O series
"Nir Hezroni's Three Envelopes isn't your average thriller. Imaginative, fast-paced and originally strange. It reads like a spy-thriller gone mad or out of control." —D. A. Mishani, author of The Missing File

"Nir Hezroni has created a genre of his own!" —YiftachReicher Atir, author of The English Teacher
"This is one of the most brilliant Israeli thrillers I have read in a long time. I couldn't turn the pages fast enough to learn what happens next, and stayed up half the night because I simply could not put it down. I truly hope Hezroni is planning a sequel…"–Adi Shtamberger, Jerusalem Post
"[A] dark and disturbing Israeli novel, which may well become an international bestseller … a true and intense thriller … captures the reader's attention from the first moment, as a thriller ought to do." —Asaf Golan, Makor Rishon
"This is an intelligent thriller that raises heavy questions: How far can an undercover government organization go to prevent crimes against humanity, while at the same time becoming responsible for such crimes? In Hezroni's thriller, both sides of the moon are dark… [This is written] in persuasive yet eloquent prose usually found in canonical works rather than in sophisticated thrillers."–Yaron Avituv, Ha'aretz
"Expertly paced, surprising and international in scope." – Ma'ariv
or
Not Currently Available for Direct Purchase