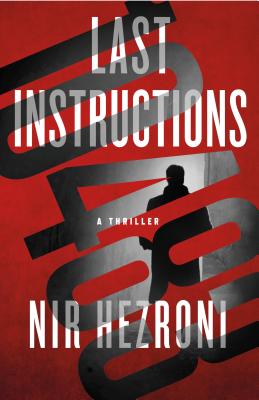 Last Instructions (Hardcover)
A Thriller (Agent 10483 #2)
St. Martin's Press, 9781250097613, 352pp.
Publication Date: May 22, 2018
* Individual store prices may vary.
Description
The sequel to Three Envelopes, the critically-acclaimed, groundbreaking Mossad thriller by Nir Hezroni

Three Envelopes was hailed as a "superior thriller debut" with a "high level of suspense" and "a heart-stopping conclusion" (Publishers Weekly, starred review), guaranteed to "absorb and alarm its readers in equal measure" (Shots Mag).
Now in Last Instructions, author Nir Hezroni continues former Israeli secret service operative Agent 10483's story using the same unique, immersive narrative style.
Agent 10483, a psychopathic former Israeli spy, is busy trying to shut down the spy organization he once worked for and plotting his revenge against the key individuals who he deems responsible for the Organization's betrayal against him. Now, he's traveling the world in a quest to find a hidden nuclear warhead to use against them.
Everyone wants to get their hands on Agent 10483 – the two teams from the Organization; twin assassins who are working in the service of Herr Schmidt, an intelligence organization unto himself who also wants the warhead; and Carmit, a sub-contractor for the Organization who performed transformations on him to manipulate his behavior during the course of his assassination missions abroad.
Offering a fascinating behind-the-scenes glimpse into the technology of high-level intelligence operations, Nir Hezroni's dark thriller is a chilling exploration of the mind of a master killer.
About the Author
Nir Hezroni (1968) was born in Jerusalem. After studying physics in high school and completing several years of military service in intelligence, Hezroni retired to study economics and business management. He then proceeded to build a career in high tech. In 2014 he published his first thriller, THREE ENVELOPES, which was enthusiastically received by critics and readers alike. He lives with his family near Tel Aviv.
Praise For Last Instructions: A Thriller (Agent 10483 #2)…
Praise for Last Instructions:
"[Last Instructions] contains echoes of Richard Condon's Korean War-era classic The Manchurian Candidate, as well as more contemporarily, the hit movie Get Out.... Agent 10483 is a true evil genius, who keeps readers wondering what's going to pop out of his head next." —Washington Post
"Hezroni, who has a background in military intelligence, makes the larger-than-life plot feel plausible and again excels in portraying the conscienceless 10483, who's capable of relishing a breakfast of croissants and jam while he burns an Organization member alive. Thriller fans will be enthralled as well as disturbed." —Publishers Weekly (starred review)

"Last Instructions, like its predecessor, offers an arresting premise and plenty of darkness..." —Booklist

"This well-researched, fast-paced, and pertinent thriller will keep readers' attention from start to finish. Readers of all sorts—whether spy fiction fans, thriller aficionados, or book junkies looking for a fantastic read—will enjoy." —Library Journal
Praise for Three Envelopes:

"Hezroni's superior thriller debut will send chills up the spines of even jaded genre fans.... Hezroni maintains a high level of suspense as he expertly toggles between past and present en route to the heart-stopping conclusion." —Publishers Weekly (starred review)
"[A] furious, hard-edged thriller... A very fine and very dark thriller" —Booklist
"This thriller will delight those who enjoy the twisted world of international espionage. Fans of Jason Matthew's Red Sparrow or those looking for a darker, more technical Daniel Silva read-alike will also appreciate this disturbing tale." —Library Journal
"Three Envelopes is by no means an ordinary espionage thriller.... This is a book that will absorb and alarm its readers in equal measure. It establishes Nir Hezroni as an important new voice in writing about the murky world of the secret services." —Shots Mag

"What a ride! An intelligence world of cracked mirrors, weird echoes, and haunting dreams. The story is stunning. It will bend your mind six ways to Sunday and then some. The writing, precise as a laser, runs circles around what you thought you knew was real." —James Church, author of the Inspector O series
"Nir Hezroni's Three Envelopes isn't your average thriller. Imaginative, fast-paced and originally strange. It reads like a spy-thriller gone mad or out of control." —D. A. Mishani, author of The Missing File

"Nir Hezroni has created a genre of his own!" —Yiftach Reicher Atir, author of The English Teacher
"This is one of the most brilliant Israeli thrillers I have read in a long time. I couldn't turn the pages fast enough to learn what happens next, and stayed up half the night because I simply could not put it down. I truly hope Hezroni is planning a sequel…"–Adi Shtamberger, Jerusalem Post
"[A] dark and disturbing Israeli novel, which may well become an international bestseller … a true and intense thriller … captures the reader's attention from the first moment, as a thriller ought to do." —Asaf Golan, Makor Rishon
"This is an intelligent thriller that raises heavy questions: How far can an undercover government organization go to prevent crimes against humanity, while at the same time becoming responsible for such crimes? In Hezroni's thriller, both sides of the moon are dark… [This is written] in persuasive yet eloquent prose usually found in canonical works rather than in sophisticated thrillers."–Yaron Avituv, Ha'aretz
"Expertly paced, surprising and international in scope." – Ma'ariv