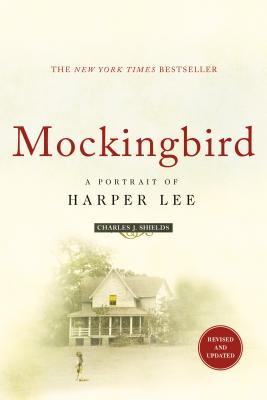 Mockingbird
A Portrait of Harper Lee: Revised and Updated
Paperback

* Individual store prices may vary.
Other Editions of This Title:
Hardcover (4/26/2016)
Description
To Kill a Mockingbird - the twentieth century's most widely read American novel - has sold thirty million copies and still sells a million yearly. But despite the book's popularity, its author Harper Lee has always been a mysterious figure. In this in-depth biography, first published in 2006, Charles J. Shields finally brings to life the woman who gave us two of American literature's most unforgettable characters, Atticus Finch and his daughter Scout.

Years after its initial publication, with updates throughout the book and a new Afterword, Shields brings us up to date on all the major Harper Lee events since 2006. There's the scandal with allegations that Lee's agent has been trying to steal the copyright for To Kill a Mockingbird, the death of Lee's dear sister Alice, scandalous accusations of elder abuse, and - most vitally - the release of Lee's long buried first novel, never before published, and the ensuing public devouring of what has truly become the book of the year, if not the decade - Lee's Go Set a Watchman.
Praise For Mockingbird: A Portrait of Harper Lee: Revised and Updated…
"Shields is scrupulous journalists who respects [Lee's] privacy even as he opens up her life. This biography will not disappoint those who loved the novel and the feisty, independent, fiercely loyal Scout in whom Harper Lee put so much of herself." —Garrison Keillor, The New York Times Book Review

"An impressively unauthorized biography of the famously reclusive author." —New York Magazine, The Best Summer Reading

"Shields has been enterprising [in his research]. He offers the book as a kind of homemade present." —The New Yorker

"Admirable…Mockingbird makes the reader look at Harper Lee with new and respectful eyes." —USA Today

"Shields does a fine job of recreating Lee's inspiration for TO Kill a Mockingbird… her childhood neighborhood, its characters and the dynamic of her family itself." —Los Angeles Times

"As amiable and unassuming as its subject…Shields nimbly escorts us through [Lee's] progression from scrappy tomboy to wise-cracking, cigarette-smoking, fashion-resistant coed." ­—Boston Sunday Globe

"With a journalist's healthy appetite for research, Shields has unearthed every article and archive mentioning Harper Lee. He susses out which characters from To Kill a Mockingbird correspond to Lee's childhood, and he's included useful civil rights history. His portrayal of Lee's brusque personality and socially eccentric ways as a [university] student and humorist help explain her unorthodox individuality later in life." —San Francisco Chronicle

"Harper Lee caught the beauty of America with To Kill a Mockingbird, but has remained something of a mystery ever since. Charles J. Shields's portrait of her, Mockingbird, shows us a quietly reclusive, down-to-earth woman with an enormous gift and documents her struggle to live with that gift for the rest of her life. Shields evocation of both the woman and her beautiful, sleepy, and smoldering South are pitch perfect." – Anne River Siddons, author of Sweetwater Creek and other books

"Harper Lee's intense personal privacy sets daunting limitations for a biographer, but Charles Shields has ingeniously recovered the feel of her childhood world of Monroeville, Alabama, and the small-town Southern customs and vivid personalities that shaped her prickly independence. Detailed memories of Lee's classmates and friends are interwoven with dramatic recreations of key events and stories of her friendships and literary collaborations, all fleshing out the general narrative of her development as a novelist. Close attention to her friendship with Truman Capote and the conditions of the writing and then the filming of To Kill a Mockingbird offer special fascination." – Louise Westling, Professor of English, University of Oregon, author of Sacred Groves and Ravaged Gardens: The Fiction of Eudora Welty, Carson McCullers, and Flannery O'Connor

"If there is a great American novel, certainly To Kill a Mockingbird is it. But, for all of us who love it, its author has always been an enigma. Did Harper Lee really write this classic? And if she did, why didn't she ever write another book? And who is Harper Lee, anyway? Finally, a writer has done the necessary research to reveal the surprising answers. To every To Kill a Mockingbird reader, I send this message: The story isn't over. There's so much more to come, and you'll find it all in Charles Shields' delightful and insightful Mockingbird. " – Homer Hickam, author of Rocket Boys
St. Martin's Griffin, 9781250097712, 352pp.
Publication Date: May 2, 2017
About the Author
Charles J. Shields is the author of Harper Lee's New York Times bestselling biography Mockingbird, the Kurt Vonnegut biography And So It Goes, and the biography of John Edward Williams, The Man Who Wrote the Perfect Novel. Shields has spoken to hundreds of large audiences in schools, libraries, museums, and historic theaters and appeared in newspapers and magazines worldwide, including the Wall Street Journal, New Yorker, Huffington Post, and New York Times.
or
Not Currently Available for Direct Purchase