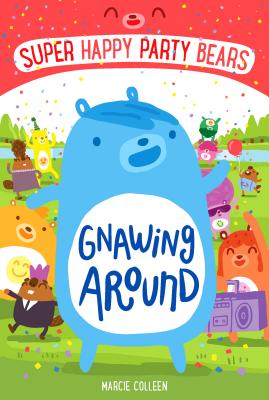 Super Happy Party Bears: Gnawing Around (Paperback)
Gnawing Around
Imprint, 9781250098078, 144pp.
Publication Date: September 6, 2016
Description
The first book in a funny chapter book series filled with full color illustrations and adorable animals
To the Super Happy Party Bears, everything is a good thing. Their entire attitude can be summed up in one word: YAY They love doughnuts, dancing, and above all else a good party. Not so for the rest of the animals living in the Grumpy Woods. They find the bears terribly annoying.
When a few beavers come to town, the Grumpy Woods are even grumpier than usual. These beavers are drying up their river with their dam . . . the beavers are ruining everything They must leave it is decreed
But the Super Happy Party Bears just love the beavers As the Grumpy Woods scheme to unwelcome them, the Super Happy Party Bears throw them a housewarming party that will prove dancing can always save the day.
An Imprint Book
About the Author
Marcie Colleen is the author of the Super Happy Party Bears picture book series. She's a former classroom teacher and current Educational Consultant for the Picture Book Month initiative. In that role, she presented at a recent New York Public Library Literary Salon, which focused on the Common Core. She also creates Teacher's Guides for picture books and middle grade novels and is a huge advocate for using children's fictional literature in the classroom. Steve James has ten years experience in the art industry (animation, greeting cards and video game artwork). Super Happy Party Bears is his first children's book. Steve's art is influenced by Adventure Time, Oliver Jeffers and walks in the countryside. He lives near Leeds, a vibrant city in the United Kingdom.
Advertisement