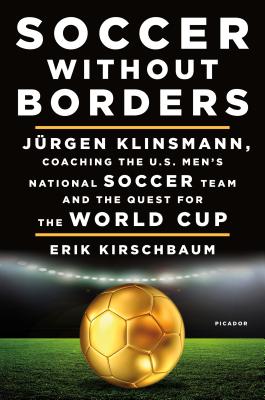 Soccer Without Borders
Jürgen Klinsmann, Coaching the U.S. Men's National Soccer Team and the Quest for the World Cup
Hardcover

* Individual store prices may vary.
Description
A GAME-CHANGING AND FASCINATING BOOK ON HOW TO USE WISDOM FROM AROUND THE WORLD TO CREATE A WORLD-CLASS SOCCER TEAM, ABOUT ONE OF THE SPORT'S MOST ICONIC AND EFFECTIVE COACHES

Jurgen Klinsmann, head coach of the U.S. men's national soccer team, has become a household name after the United States' unprecedentedly strong run at the 2014 World Cup. Klinsmann's reputation is that of a maverick, of an unconventional leader who isn't afraid to challenge traditional notions of coaching, and who will breathe new life into foundering programs through sometimes unpopular -but resoundingly successful -new tactics.

In Soccer Without Borders, journalist Erik Kirschbaum lays out Klinsmann's vision for making the U.S. men's soccer team a dominant world power for the first time in its history. Featuring fascinating insights gleaned from Klinsmann's decades of dedicated study - both as a professional striker and as coach of the German national team - this book is an immersive and unparalleled road map for how to build a winning team in the most competitive professional sport on the globe, as well as an infectious tribute to "the beautiful game" by one of its most adroit students.
Praise For Soccer Without Borders: Jürgen Klinsmann, Coaching the U.S. Men's National Soccer Team and the Quest for the World Cup…
"Jurgen Klinsmann is one of the most interesting people in soccer, and Erik Kirschbaum – an American journalist based in Germany – is probably the ideal person to explain him to American readers. We're lucky Klinsmann finally let him write it. Clearly written, with a deep understanding of the Germany that shaped Klinsmann."—Simon Kuper, coauthor of the bestselling Soccernomics

"Kirschbaum provides a welcome sketch of Klinsmann, a thoughtful man of the world who has for years lived in California and who cannot be pigeonholed as merely a European trying to remake American soccer in the Old World image."—Kirkus Reviews
Picador, 9781250098313, 400pp.
Publication Date: May 10, 2016
About the Author
Erik Kirschbaum is a foreign correspondent based in Germany. Kirschbaum studied history and German at the University of Wisconsin, and he has been on the staff of several newspapers across the country. He is also the author of Burning Beethoven: the Eradication of German Culture in the United States during World War I.
or
Not Currently Available for Direct Purchase