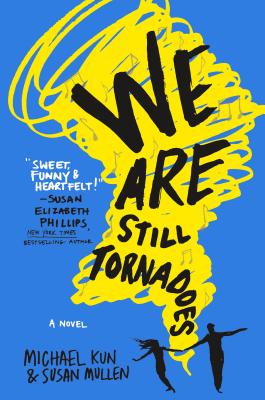 We Are Still Tornadoes (Hardcover)
A Novel
St. Martin's Griffin, 9781250098405, 304pp.
Publication Date: November 1, 2016
* Individual store prices may vary.
Description
"Readers aching for a combination of the '80s and a romance like Rainbow Rowell's Eleanor & Park will be stoked." —Booklist
It's the summer of 1982, and for Scott and Cath, everything is about to change.
Growing up across the street from each other, Scott and Cath have been best friends for most of their lives. Now they've graduated high school, and Cath is off to college while Scott stays at home trying to get his band off the ground. Neither of them realized that their first year after high school would be so hard.
Fortunately, Scott and Cath still have each other, and it's through their letters that they survive heartache, annoying roommates, family dramas, and the pressure of figuring out what to do with the rest of their lives. And through it all, they realize that the only person they've ever wanted to turn to is each other. But does that mean they should think about being more than friends? One thing is clear, Change is an inescapable part of growing up, and we share unbreakable bonds with the friends who help us navigate it.
This funny, extraordinary, and deeply moving book—set to an awesome '80s soundtrack—captures all the beautiful confusion and emotional intensity we find on the verge of adulthood...and first love.
We Are Still Tornadoes by Michael Kun and Susan Mullen is not to be missed!
Praise for We Are Still Tornadoes:
**A Buzzfeed Must-Read Book of Fall**
**A Teen Vogue Best Book of the Month**
**A Goodreads Best YA Book of the Month**
**A Bustle.com Best Book of the Month**
**A Popsugar Best Book of November**

"A love story to best friends everywhere. Smart, charming, and delightful." — Kirkus Reviews

"Sweet and heartfelt, this is one contemporary YA fans won't want to miss." —Buzzfeed

"Sweet, funny, & heartfelt!" — Susan Elizabeth Phillips, New York Times Bestselling Author

About the Author
Michael Kun is the author of the novels You Poor Monster, The Locklear Letters, and A Thousand Benjamins, among other works of fiction and non-fiction. He is a graduate of the Johns Hopkins University and the University of Virginia School of Law. He practices law in Los Angeles, California, where he lives with his wife Amy and their daughter Paige.

We Are Still Tornadoes is Susan Mullen's first novel and first collaboration with Michael Kun. She is a graduate of Duke University, where she studied English literature, and the University of Virginia School of Law. She practices law and lives in Northern Virginia. Sue has been married to her law school classmate Kevin Mullen for 26 years, and they have two daughters.
Praise For We Are Still Tornadoes: A Novel…
"Readers aching for a combination of the '80s and a romance like Rainbow Rowell's Eleanor & Park will be stoked." —Booklist
"Perfect for the most reluctant of readers, especially young people contemplating life after high school. A must purchase." –School Library Journal
"Sweet and heartfelt, this is one contemporary YA fans won't want to miss." —Buzzfeed
"Sweet, funny, & heartfelt!" — Susan Elizabeth Phillips, New York Times Bestselling Author
"Scott and Cath's letters perfectly capture the richness of their relationship. Their unflinchingly honest voices as they navigate the transition to adulthood create the book's emotional resonance. A love story to best friends everywhere. Smart, charming, and delightful." — Kirkus Reviews
"I laughed so much while reading We Are Still Tornadoes. People will fall in love with Scott and Cath. Thoroughly enjoyable." —Bookling Critics
"This novel drew me in with its likeable characters and their special relationship...I could not put it down once I began." —Teen Reads
"Cath has a rare combination of self-confidence, spunk, and sarcasm. I love, love, love her character! A realistic look at a teen friendship and growing pains. Go out and get this fun book!" — Generation G Books
"Scott and Cath's friendship was one of the most beautiful things I've ever witnessed and I wish I could frame their letters and spread them all across my room to be reminded of it every single day...Outstandingly hilarious and utterly heart-wrenching at the same time, this book made me laugh and break so much that I can't remember not being in tears while reading it." — The Bookish Crypt
"I adored everything about this book! With honest emotions and fun inside jokes...everything about this story worked together to deliver something retro yet fresh and moving. Read this one!!" — Uppercase Book Reviews
"The writing is smart and funny, and this is a warm, wonderful story about lasting friendship and the lessons learned during young adulthood. Loved it." — Bookstr
"The relationships were so good and authentic…and the characters were unbelievably easy to love. I adored this book!" –Strung Out On Books
"This book was absolutely A-M-A-Z-I-N-G!!!!!!! Everything about it was perfect. It´s impossible not to laugh out loud…and I adored Scott and Cath. A beautiful well written story that captures the essence of friendship and love." –Book Nerd Addict
"I adored this book! What a fun and unique story about friendship, love, and learning to be the person you want to be." –Lost In Literature
"Scott and Cath's relationship was adorable and their friendship was one I wish I had with someone. Overall I just loved them." -That Girl Bookworm
"This book was an absolute delight filled with humor and emotion, a perfect coming of age story. From beginning to end, this story will make you laugh and cry and as always, each of us are always tornadoes." —Moonlight Rendezvous
"We Are Still Tornadoes is a sweet read full of humor, friendship, and all matters of the heart." —YA Books Central
"Cath and Scott go through a hilarious, tumultuous, emotional journey and readers are given a front row seat. Surprisingly sweet for how much depth there truly is, We Are Still Tornadoes is an intoxicating book of friendship, love, and the beautiful complexities of life." --Reed's Reads and Reviews