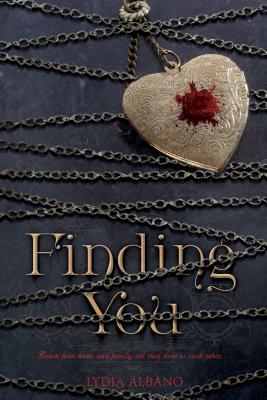 Finding You (Hardcover)
Swoon Reads, 9781250098580, 320pp.
Publication Date: September 19, 2017
Other Editions of This Title:
Paperback (9/18/2018)
* Individual store prices may vary.
Description
Taken from home and family, all they have is each other: a young woman learns to rely on her inner strength in this suspenseful debut that celebrates the power of true love and never giving up.
Isla is kidnapped from a train platform in broad daylight and thrust into a nightmare when she is sold to a sadistic aristocrat. Locked in a dungeon with a dozen other girls, Isla's only comfort is a locket and the memory of the boy she loves. But as the days pass and more girls disappear, she realizes that help is not coming... If they're going to survive, they'll have to escape on their own.
Chosen by readers like you for Macmillan's young adult imprint Swoon Reads, Lydia Albano's debut novel Finding You is a powerful story of a teen girl finding strength and hope even in the worst circumstances.
Praise for Finding You, from the Swoon Reads community:
"A timely reminder that female subjugation must always be fought." —VOYA
"Isla's determination to reunite with her beloved Tam will captivate romance fans, and all will cheer her newfound self-reliance." —Booklist
"Beautifully and thoughtfully written, suspenseful, engaging, and wonderfully substantive." —Suellen Foreman, reader on SwoonReads.com
About the Author
Lydia Albano is a (self-proclaimed) Bunburyist living in Cambridge, Massachusetts, where she promotes Oxford commas, spends her money on musical theater, and demands the Myers-Briggs letters of everyone she meets. Finding You is her debut novel.
Praise For Finding You…
Praise for Finding You:
"The overriding themes of survival, independence, and resilience are demonstrated throughout ... a timely reminder that female subjugation must always be fought." —VOYA

"Isla's determination to reunite with her beloved Tam will captivate romance fans, and all will cheer her newfound self-reliance." —Booklist
"This is a story that will give you chills and keep you turning pages until the very end. I know it did that for me. The world needs more books like this one." —Samantha Chaffin, reader on SwoonReads.com
"Through this experience, these girls—especially Isla—grow and become stronger...despite never thinking they could be anything but weak. Girls can be smart, strong, and badass." —Chen Yan Chang, reader on SwoonReads.com
"So many times while reading this book I read the same sentences over and again because I loved the word choices and the imagery they crafted. Beautifully and thoughtfully written, suspenseful, engaging, and wonderfully substantive." —Suellen Foreman, reader on SwoonReads.com