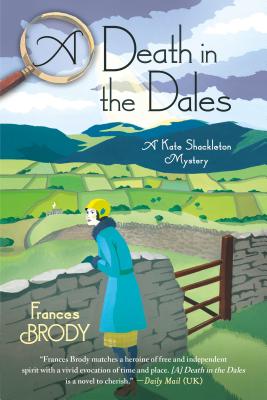 A Death in the Dales (Paperback)
A Kate Shackleton Mystery
Minotaur Books, 9781250098832, 384pp.
Publication Date: January 16, 2018
Other Editions of This Title:
Compact Disc (2/28/2017)
MP3 CD (2/28/2017)
Hardcover, Large Print (8/2/2017)
Hardcover (2/14/2017)
* Individual store prices may vary.
Description
An intricate plot set in the 1920s English countryside and Frances Brody's "refreshingly complex heroine" (Kirkus) Kate Shackleton make A Death in the Dales an absorbing 7th installment in this traditional British cozy mystery.
A murder most foul
When the landlord of a Yorkshire tavern is killed in plain sight, Freda Simonson, the only witness to the crime, becomes plagued with guilt, believing the wrong man has been convicted. Following her death, it seems that the truth will never be uncovered in the peaceful village of Langcliffe...
A village of secrets
But it just so happens that Freda's nephew is courting the renowned amateur sleuth Kate Shackleton, who decides to holiday in Langcliffe with her indomitable teenage niece, Harriet. When Harriet strikes up a friendship with a local girl whose young brother is missing, the search leads Kate to uncover another suspicious death, not to mention an illicit affair.
The case of a lifetime
As the present mysteries merge with the past's mistakes, Kate is thrust into the secrets that Freda left behind and realizes that this courageous woman has entrusted her with solving a murder from beyond the grave. It soon becomes clear to her that nothing in Langcliffe is quite as it appears, and with a murderer on the loose and an ever-growing roster of suspects, this isn't the holiday Kate was expecting...
Frances Brody's Kate Shackleton returns in A Death in the Dales with another mystery that's sure to "hold the reader attention and make them continue reading into the small hours of the night" (York Press, UK).
About the Author
FRANCES BRODY lives in Leeds in the North of England. Before turning to crime with her first book in the Kate Shackleton series Dying in the Wool, she wrote historical sagas, winning the HarperCollins Elizabeth Elgin award for most regionally evocative debut saga of the millennium. Other Kate Shackleton Mysteries include Death at the Seaside, A Death in the Dales, and Murder on a Summer's Day.
Praise For A Death in the Dales: A Kate Shackleton Mystery…
"Frances Brody matches a heroine of free and independent spirit with a vivid evocation of time and place. [A] Death in the Dales is a novel to cherish."— Daily Mail (UK)
"An excellent British cozy..." —Kirkus Reviews

This, the seventh in Brody's Kate Shackleton series, offers classic, English-countryside,cozy-mystery enjoyment…. Brody vividly portrays village life, with its narrow-mindedness and willingness to hide unpleasant truths, and ties up the many strands in a surprising, satisfying way." —Historical Novel Society
"It felt so different, so fresh and so clever, a story written with a lot of subtlety and gentleness, and also with a great dose of humor. Even though the plot was complex...it was still a very neat, logical read, and the characters were brilliant representatives of this age...I really can't wait for more."—On My Bookshelf on A Death in the Dales
"Cozy it may be, but this story is also convincing, compelling, and clever…Once you've met Kate Shackleton, you'll want to read more of her!" — Crime Review on A Death in the Dales
"Brody has the style of the classic British cozy down pat." —Kirkus Reviews on Death of An Avid Reader
"Frances Brody has made it to the top rank of crime writers." —Daily Mail (UK) on Death of an Avid Reader
"This is a well written, engaging story, easy to read and positively breathing the atmosphere of its setting and time."—Crime Review on Death of an Avid Reader
It's very difficult to recommend further reading which comes up to the standard of the Kate Shackleton books. —The Bookbag
A mash-up of "Masterpiece" series "Indian Summers" and "Downtown Abbey. —New York Post on Murder on a Summer's Day
"Frances Brody knows how to hold the reader attention and make them continue reading into the small hours of the night."—The Press(UK) on Murder on a Summer's Day
"Reminiscent of Dorothy L. Sayers and Agatha Christie with a thoroughly likeable protagonist and a plot that held me to the end."—Mignon F. Ballard, author of the Miss Dimple Kilpatrick Mystery Series on Dying in the Wool
"A winning heroine, a fresh and fascinating setting, richly detailed and well-woven into the plot, and a mystery that twists and tightens and twists again..." —Catriona McPherson, author of Dandy Gilver and the Proper Treatment of Blood Stains on Dying in the Wool
"The 1920s are a fascinating and under-used period for new crime fiction, so it's a particular pleasure to have Frances setting her story at that time. Kate Shackleton is a splendid heroine … I'm looking forward to the next book in the series!" —Ann Granger on Dying in the Wool