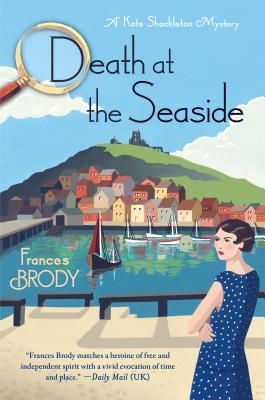 Death at the Seaside (Hardcover)
A Kate Shackleton Mystery
Minotaur Books, 9781250098856, 400pp.
Publication Date: September 12, 2017
Other Editions of This Title:
MP3 CD (3/8/2018)
Compact Disc (3/8/2018)
Library Binding, Large Print (10/23/2019)
* Individual store prices may vary.
Description
"Frances Brody writes marvelous British mysteries, and if you haven't met the wonderful Kate Shackleton, Death at the Seaside is the perfect place to start this terrific series! Whether you are already a Brody fan or new to the Kate Shackleton series, Death at the Seaside is a mystery you just plain can't miss!" —Charles Todd, bestselling author of the Ian Rutledge Mysteries and the Bess Crawford Mysteries
"A delightful trip through time and space to 1920s England with a heroine who would make the ladies of the Golden Age proud." —Rhys Bowen, New York Times bestselling author of the Royal Spyness and Molly Murphy novels
Frances Brody returns with an intricate, absorbing plot while capturing the atmosphere and language of 1920s England in the eighth book of her cozy mystery series.
Nothing ever happens in August, and tenacious sleuth Kate Shackleton deserves a break.
Heading off for a long-overdue holiday to Whitby, she visits her school friend Alma who works as a fortune teller there. Kate had been looking forward to a relaxing seaside sojourn, but upon arrival discovers that Alma's daughter Felicity has disappeared, leaving her mother a note and the pawn ticket for their only asset: a watch-guard.
What makes this more intriguing is the jeweler who advanced Felicity the thirty shillings is Jack Phillips, Alma's current gentleman friend.
Kate can't help but become involved, and goes to the jeweller's shop to get some answers. When she makes a horrifying discovery in the back room, it becomes clear that her services are needed. Met by a wall of silence by town officials, keen to maintain Whitby's idyllic façade, it's up to Kate - ably assisted by Jim Sykes and Mrs Sugden - to discover the truth behind Felicity's disappearance.
And they say nothing happens in August...
About the Author
FRANCES BRODY lives in Leeds in the North of England. Before turning to crime with her first book in the Kate Shackleton series Dying in the Wool, she wrote historical sagas, winning the HarperCollins Elizabeth Elgin award for most regionally evocative debut saga of the millennium. Other Kate Shackleton Mysteries include Death at the Seaside, A Death in the Dales, and Murder on a Summer's Day.
Praise For Death at the Seaside: A Kate Shackleton Mystery…
"Frances Brody writes marvelous British mysteries, and if you haven't met the wonderful Kate Shackleton, Death at the Seaside is the perfect place to start this terrific series! Whether you are already a Brody fan or new to the Kate Shackleton series, Death at the Seaside is a mystery you just plain can't miss!" —Charles Todd, bestselling author of the Ian Rutledge Mysteries and the Bess Crawford Mysteries
"A delightful trip through time and space to 1920s England with a heroine who would make the ladies of the Golden Age proud." —Rhys Bowen, New York Times bestselling author of the Royal Spyness and Molly Murphy novels
"In Kate Shackleton, Frances Brody has created a smart and endearing sleuth whose resourcefulness and skill for deduction shine as she investigates murders in 1920s England. With vivid settings, colorful characters, and excellently-plotted mysteries, this series is an absolute delight!" —Ashley Weaver, author of the Amory Ames mysteries
"In Brody's tightly woven eighth mystery set in 1920s England, PI Kate Shackleton takes a holiday in the resort town of Whitby.... Brody provides plenty of period flavor and just enough clues to point armchair sleuths to the solution." —Publishers Weekly on Death at the Seaside
"Kate finds herself drawn into a complex case redolent of classic interwar mysteries in which motives abound and old secrets are eventually revealed. In addition to re-creating the feeling of the golden age, Brody this time provides a stronger mystery than usual." —Kirkus Reviews on Death at the Seaside

"Brody expertly weaves historical details and social issues to capture the essence of the 1920s. Kate's intelligence and curiosity make her an appealingly complex heroine. VERDICT With a writing style and plotting reminiscent of golden age crime fiction, this is a good read-alike for fans of ­Jacqueline Winspear's "Maisie Dobbs'' mysteries, Charles Todd's "Bess Crawford" series, and Catriona McPherson's "Dandy ­Gilver" books." —Library Journal on Death at the Seaside
"Death at the Seaside is the eighth book in the Kate Shackleton series and it is definitely a series that moved from strength to strength.... [A]lthough this is part of a series, it is not necessary to have read the earlier books to enjoy this novel. Although I would recommend any reader who likes historical crime fiction to read them all - you are in for a treat. The plot is intriguing and, true to its title, Death at the Seaside has superb descriptions of Whitby and its surrounding countryside. Definitely a page turner." —Mystery People
"...Frances Brody has the knack of spinning a tale that, however convoluted, has the charm of the period, while staying well within the bounds of plausibility." —Daily Mail (UK) on Death at the Seaside
"And that's the great thing about the Kate Shackleton stories: the next time around you might know who killed the vicar, or whoever, but you'll have the added pleasure of seeing how it was done, because Frances Brody doesn't cheat and produce some piece of information right at the end which explains everything: all the clues are there. On a second read you have the joy of saying Ah, that's why... " —The Bookbag on Death at the Seaside
"This is a charming read. There is a serious crime, a real investigation and a mystery to solve but this book feels as if it should read while sipping tea from bone china, helping yourself to a thin cucumber sandwich from a three tier cake stand and listening to some rhythmic twenties jazz music. Brody's writing allows the reader to relax and enjoy the very visual story with its gentle humour and soft smiles." —Bibliomaniac on Death at the Seaside
"Well-plotted and atmospheric... Kate Shackleton joins Jacqueline Winspear's Maisie Dobbs."—Literary Review on Dying in the Wool
"Descriptions of the lavish life enjoyed by the Indian elite give a tantalizing glimpse into a foreign world...fans of Maisie Dobbs and Daisy Dalrymple will enjoy the authentic period detail."—Publishers Weekly on Murder on a Summer's Day
"Brody has the style of the classic British cozy down pat."—Kirkus Reviews
"Frances Brody knows how to hold the reader attention and make them continue reading into the small hours of the night."-Bill Spence, York Press
or
Not Currently Available for Direct Purchase