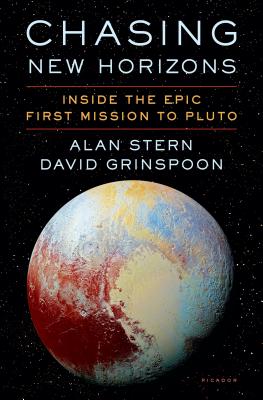 Chasing New Horizons
Inside the Epic First Mission to Pluto
Hardcover

* Individual store prices may vary.
Other Editions of This Title:
Digital Audiobook (4/30/2018)
Paperback (5/21/2019)
CD-Audio (5/1/2018)
Description
Called "spellbinding" (Scientific American) and "thrilling...a future classic of popular science" (PW), the up close, inside story of the greatest space exploration project of our time, New Horizons' mission to Pluto, as shared with David Grinspoon by mission leader Alan Stern and other key players.

On July 14, 2015, something amazing happened. More than 3 billion miles from Earth, a small NASA spacecraft called New Horizons screamed past Pluto at more than 32,000 miles per hour, focusing its instruments on the long mysterious icy worlds of the Pluto system, and then, just as quickly, continued on its journey out into the beyond.

Nothing like this has occurred in a generation—a raw exploration of new worlds unparalleled since NASA's Voyager missions to Uranus and Neptune—and nothing quite like it is planned to happen ever again. The photos that New Horizons sent back to Earth graced the front pages of newspapers on all 7 continents, and NASA's website for the mission received more than 2 billion hits in the days surrounding the flyby. At a time when so many think that our most historic achievements are in the past, the most distant planetary exploration ever attempted not only succeeded in 2015 but made history and captured the world's imagination.

How did this happen? Chasing New Horizons is the story of the men and women behind this amazing mission: of their decades-long commitment and persistence; of the political fights within and outside of NASA; of the sheer human ingenuity it took to design, build, and fly the mission; and of the plans for New Horizons' next encounter, 1 billion miles past Pluto in 2019. Told from the insider's perspective of mission leader Dr. Alan Stern and others on New Horizons, and including two stunning 16-page full-color inserts of images, Chasing New Horizons is a riveting account of scientific discovery, and of how much we humans can achieve when people focused on a dream work together toward their incredible goal.
Praise For Chasing New Horizons: Inside the Epic First Mission to Pluto…
"Stern and Grinspoon's record of this epic project is thoroughly captivating… Suffused with serpentine theatrics and scientific wonder, this is a consistently compelling, top-notch documentation of intrepid planetary exploration."
—Kirkus *STARRED REVIEW*

"Riveting… a fascinating David versus Goliath story… Even though we know the final outcome, the story continues to be a nail-biter… The two authors, with their insider's perspective, capture the arduous process with great narrative verve."
—Marcia Bartusiak, The Wall Street Journal


"A remarkable new book… told in exhilarating prose that moves this incredible narrative briskly without getting mired in the tall weeds of technical jargon…. Stern and Grinspoon take you on an uplifting, exhilarating, fascinating journey, all without leaving the comfort and oxygen of our planet."
—Scott Stantis, Chicago Tribune


"An exhilarating trek into the 'wild black yonder'."
—Barbara Kiser, Nature

"A space and science book that reads more like a thriller."
—Andrew Dansby, Houston Chronicle

"Riveting… destined to become a classic of popular science."
—Publishers Weekly "Best Summer Books 2018"

"A thrilling ride."
—Jane Ciabattari, BBC.COM "10 Books to Read in May"

"Riveting."
—Laurel Kornfeld, Spaceflight Insider

"Armchair space explorers and budding scientists will relish this inspiring aerospace adventure."
—Donna Marie Smith, Library Journal

"Fascinating… Stern and Grinspoon's account will appeal to space buffs and every fan of high-quality science writing."
—Carl Hays, Booklist

"It's a tale about space science, yes, but it's also a reminder of what can happen when you refuse to let dreams die."
—Corey S. Powell, DiscoverMagazine.com

"Terrific new book about a terrific spacecraft flying a terrific mission! Kudos to Alan Stern, the man who gave us back Pluto."
—Jeffrey Kluger (on Twitter, April 25, 2018)

"The two writers know their stuff: Stern is the principal investigator who led the New Horizon's team to Pluto, and he is considered a veritable force of nature within the planetary science community. Grinspoon may well be the most talented science writer this side of his friend and mentor, the late Carl Sagan…. With an exciting narrative, loads of planetary astronomy, a heaping helping of exploration and discovery, and a happy ending, the book seems destined to be a classic."
—Steven Andrew, Daily Kos

"Chasing New Horizons, using a thriller-writer's you-are-there narrative style, takes readers on the adventure of Alan Stern's and his remarkable team's lifetimes… Chasing New Horizons would be a 'great read' if it were fiction. But as a true story, it is impossible to resist. From the Preface to the 'Final Discovery' of the Coda and through the Top-Ten Science Discoveries list in the Appendix, this is a book for science readers to savor."
—Fred Bortz, The Science Shelf

"A truly prodigious book by Alan Stern & David Grinspoon humankind's first voyage to Pluto. Strongly, even urgently recommended."
—Homer Hickam, author of October Sky (on Twitter April 30, 2018)

"A fascinating story of the advances, setbacks, and eventual triumph of a decades-long effort to complete the initial reconnaissance of the solar system."
—Jeff Foust, The Space Review

"I have read the book twice… It's a thought-provoking and well-written story of the behind-the-scenes action that brought the spacecraft to life…. Chasing New Horizons presents a lot of insight into what it's like to be on a spacecraft mission. Those revelations delighted me to no end…. The book belongs on your bookshelf. Read it often. Appreciate what it is our fellow citizens have done to bring Pluto and the Kuiper Belt into our view."
—C.C. Petersen, TheSpacewriter.com

"A page-turner."
—Randy Showstack, EOS.com

"[Chasing New Horizons] delivers an in-depth view of how to design a space mission, shepherd it through the hurdles of approval and design, and send it toward the unknown when you have just one shot to get it right."
—Sarah Lewin, Space.com

"Fantastic."
—Astronomy Magazine Podcast

"Even if you followed the [Pluto] flyby closely and think you know this story, the book divulges details that will surprise you. Come for the sweeping tale of wonder and exploration; stay for the gaggle of planetary scientists celebrating on Bourbon Street once their mission finally got the green light."
—Lisa Grossman, Science News

"Fascinating."
—Brendan Byrne, host of Are We There Yet? Podcast
Picador, 9781250098962, 320pp.
Publication Date: May 1, 2018
About the Author
Dr. Alan Stern is Principal Investigator of the New Horizons mission. A planetary scientist, space program executive, aerospace consultant, and author, he has participated in 29 NASA space missions and has been involved at the highest levels in most aspects of American space exploration. He lives in Colorado.

Dr. David Grinspoon is an astrobiologist and award-winning science communicator and author. In 2013 he was appointed the inaugural Chair of Astrobiology at the Library of Congress. He is a frequent advisor to NASA on space exploration strategy, and is on the team for the Curiosity Mars Rover. Grinspoon's previous books include Earth in Human Hands (2016) and his writing has appeared in the New York Times, Slate, Scientific American, Los Angeles Times, and others. He lives in Washington, DC.
or
Not Currently Available for Direct Purchase