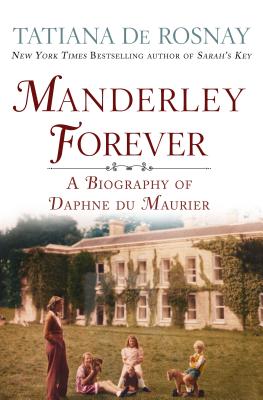 Manderley Forever (Hardcover)
A Biography of Daphne du Maurier
St. Martin's Press, 9781250099136, 352pp.
Publication Date: April 18, 2017
Other Editions of This Title:
Digital Audiobook (4/17/2017)
CD-Audio (4/18/2017)
* Individual store prices may vary.
Description
The nonfiction debut from beloved international sensation and #1 New York Times bestselling author Tatiana de Rosnay: her bestselling biography of novelist Daphne du Maurier.
"It's impressive how Tatiana was able to recreate the personality of my mother, including her sense of humor. It is very well written and very moving. I'm sure my mother would have loved this book." — Tessa Montgomery d'Alamein, daughter of Daphné du Maurier, as told to Pauline Sommelet in Point de Vue
As a bilingual bestselling novelist with a mixed Franco-British bloodline and a host of eminent forebears, Tatiana de Rosnay is the perfect candidate to write a biography of Daphne du Maurier. As an eleven-year-old de Rosnay read and reread Rebecca, becoming a lifelong devotee of Du Maurier's fiction. Now de Rosnay pays homage to the writer who influenced her so deeply, following Du Maurier from a shy seven-year-old, a rebellious sixteen-year-old, a twenty-something newlywed, and finally a cantankerous old lady. With a rhythm and intimacy to its prose characteristic of all de Rosnay's works, Manderley Forever is a vividly compelling portrait and celebration of an intriguing, hugely popular and (at the time) critically underrated writer.
Manderley Forever is a nominee for the 2018 Edgar Award for best critical/biographical work.
About the Author
TATIANA DE ROSNAY is the author of more than ten novels, including the New York Times bestselling novel Sarah's Key, an international sensation with over 9 million copies sold in forty-two countries worldwide that has now been made into a major film. Tatiana lives with her husband and two children in Paris.

Sam Taylor has written for The Guardian, Financial Times, Vogue and Esquire, and has translated such works as the award-winning HHhH by Laurent Binet, and the internationally-bestselling The Truth about the Harry Quebert Affair by Joël Dicker.
Praise For Manderley Forever: A Biography of Daphne du Maurier…
"It's impressive how Tatiana was able to recreate the personality of my mother, including her sense of humor. It is very well written and very moving. I'm sure my mother would have loved this book." — Tessa Montgomery d'Alamein, daughter of Daphné du Maurier, as told to Pauline Sommelet in Point de Vue
"Tatiana de Rosnay, for whom Daphne du Maurier has been an idol since adolescence, has published a biography that is fascinating, thorough, and which embodies the writer, Manderley For Ever, in which the reader can smell Daphne's perfume, Vent Vert de Balmain, as much as feeling her agony." —Elle France
"De Rosnay's enchantment [with Daphne du Maurier] fuels Manderley Forever … an earnest and engaged portrait." —USA Today
"Ms. de Rosnay has written a biography that does justice to its heroine." —Wall Street Journal
"An outstanding biography. "—Library Journal (starred)
"A multifaceted portrait of a successful writer unfairly scorned by critics for her popularity. ...De Rosnay also vividly conveys de Maurier's independent and brazen spirit. Through De Rosnay's novel-like narrative, exhaustive research, and unbridled admiration, du Maurier's spirit comes alive on the page, endearing her to a new generation of fans." —Publishers Weekly

"This deep and thoroughly researched biography reads like fiction, offering riveting drama while presenting compelling reasons as to why du Maurier—whom many claimed was funny and cheerful—might've produced such a dark, gloomy oeuvre, beloved by legions of fans but often scorned by the critics." —Shelf Awareness

"De Rosnay's thorough biography allows readers to see the fullness of this often underrated writer's life." —Booklist
"[Tatiana de Rosnay] reminds us, with the talent and thoroughness of the great writers that true stories make great stories. Just exciting." —Le Parisien
"Tatiana de Rosnay does more than just illuminate [Daphne du Maurier's] work...she makes the impetuous Daphne...a perfect heroine." —La Vie
"Tatiana de Rosnay writes a detailed and moving biography of Daphne du Marier, idol of her youth and the legendary author Rebecca." —Point de Vue
"Unlike her English biographers, who are often savage towards the author of Rebecca ... Tatiana de Rosnay tells her life with empathy." —Le Figaro
"When Tatiana de Rosnay writes, we have the feeling of being immersed in the heart of a book by Daphne Du Maurier...happiness for reader." —Paris Match
"When the intimate world of an English novelist is revealed by a writer with an English soul, reading becomes a pleasure." —Pèlerin
"A biography that one devours like a novel." —Plume au Vent
"In a very touching retelling of the life of a woman who never put her pen away in her pocket, Tatiana de Rosnay offers us one of the best biographies we have read from this century." —Le Journal du Dimanche