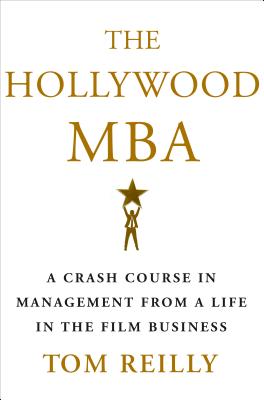 The Hollywood MBA (Hardcover)
A Crash Course in Management from a Life in the Film Business
St. Martin's Press, 9781250099181, 272pp.
Publication Date: January 10, 2017
* Individual store prices may vary.
Description
What would you do if alligators were loose in your office? Or if your place of business changed 80 times during a four month period? What if two of your key employees were infant twins? Or you were asked to manage 130 people who were hired yesterday?
Tom Reilly has faced these obstacles and thousands more in his three-decade career managing major motion pictures. He's led more than 100,000 employees and been responsible for overseeing over two billion dollars in pro-rated production budgets and learned that successful management isn't about what you want; the question is, what do you NEED?
Often filming at live locations, Reilly was forced to adopt a unique set of strategies to accommodate for extreme workplace conditions and the challenge of leading and managing big budget projects, a revolving-door workforce of technicians, and actors such as Al Pacino, Robert de Niro, Tom Hanks, Charlize Theron, Sean Connery, and Harrison Ford.
In The Hollywood MBA, Reilly explores the ten key strategies he utilized to manage big crews, big budgets, and big personalities on major motion pictures, and shows us how these strategies can be leveraged in any business for success.
With an eye for making small adjustments to management strategy that produce big results, Reilly utilizes the narrative backdrop of the film set as an extreme case study in modern management identifying proven, easy-to-implement, and often counter intuitive practices that will increase engagement, team cohesion, efficiency, creativity, quality, and the bottom line in any industry.
About the Author
TOM REILLY is a member of the Directors Guild of America and has worked in the motion picture industry for the past thirty years. Veteran of more than forty films, Reilly worked with Woody Allen on classics such as Crimes and Misdemeanors, Husbands and Wives, Manhattan Murder Mystery, Bullets Over Broadway, Hannah and Her Sisters, Purple Rose of Cairo, and Zelig. He has also been assistant director on other major motion pictures such as Big, The Prince of Tides, Glengarry Glen Ross, The Pick-up Artist, Sabrina, and Great Expectations. He is married, has three children, and lives in Westchester County, New York.
Praise For The Hollywood MBA: A Crash Course in Management from a Life in the Film Business…
"THE HOLLYWOOD MBA provides us with proven principles and techniques to successfully lead and manage very complex projects and navigate the turbulent business environment."--Joseph A. Maciariello, Professor Emeritus, Peter F. Drucker and Masatoshi Ito Graduate School of Management, Claremont Graduate University, Director, Drucker Lab, and author, A Year with Peter Drucker.
"What Ed Catmull's book Creativity, Inc. did from the perspective of Pixar and animated film production, Tom Reilly does from the vantage point of live action filmmaking. THE HOLLYWOOD MBA is a manifesto for managers in any business who are leading creative teams while striving for excellence. Full of insight and wisdom. A must read!"--Joe Hartwick. President, Physical Production: 20th Century Fox
"Tom Reilly has really hit the mark with his Hollywood MBA: A Crash Course in Management From a Life in the Film Business. This part case study, part autobiographical, and part movie script approach to delivering lessons for effective management rises to the top of the list of the must read books for MBAs."--Willie E. Hopkins, Dean of Koppelman School of Business, Brooklyn College