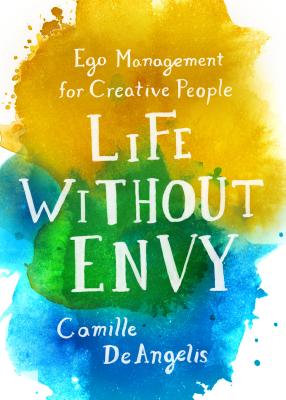 Life Without Envy (Paperback)
Ego Management for Creative People
St. Martin's Griffin, 9781250099341, 240pp.
Publication Date: September 27, 2016
* Individual store prices may vary.
Description
Life Without Envy by Camille DeAngelis is a game-changer for artists of all stripes: a practical guide for navigating the feelings of jealousy, frustration, and inadequacy we all experience to create a happy life regardless of how your career is (or isn't) going. In these pages you'll find strategies for escaping the negative feedback loop you get stuck in whenever you compare yourself to your fellow artists. You'll begin to resolve your hunger for recognition, shifting your mindset from "proving yourself" to making a contribution and becoming part of a supportive creative community. Best of all, you'll come to understand that your worth—as an artist and a human being—has nothing to do with how your work is received in the wider world. Life Without Envy offers a blueprint for real and lasting contentment no matter what setback you're weathering in your creative life.
About the Author
Camille DeAngelis is the author of the novels Mary Modern and Petty Magic and a first-edition guidebook, Moon Ireland. A graduate of NYU and the National University of Ireland, Galway, Camille currently lives in Boston. She is a vegan.
Praise For Life Without Envy: Ego Management for Creative People…
"A self-help book that's actually helpful, Life Without Envy is a brilliantly frank but practical guide for navigating all the feels that go along with being a creative in a competitive and occasionally thankless world...This book seriously changed my outlook on things and I'm forever grateful for that." —Lenny Letter
"DeAngelis does a terrific job of describing the ego and hits home with her wisdom on how to tame it." —Library Journal
"Camille could have titled this book Life with Sanity. Indispensable for anyone who's ever obsessed about the achievements of other people (I've never personally experienced this but I've been told it happens). Read it and choose happiness." —Dylan Kidd, director of Roger Dodger and P.S.

"Every artist needs this book. Camille has created a gem of funny, friendly and DEEPLY insightful advice. I wish I'd read it years ago." —Kerry Lemon