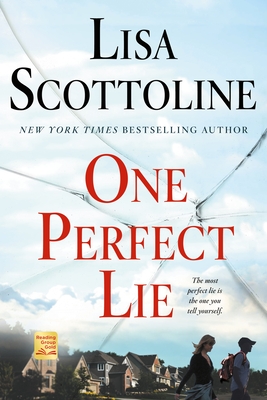 One Perfect Lie
Paperback

* Individual store prices may vary.
Other Editions of This Title:
Digital Audiobook (4/10/2017)
Mass Market (1/28/2020)
CD-Audio (4/11/2017)
Hardcover (4/11/2017)
Hardcover, Large Print (5/3/2017)
Paperback, Large Print (2/27/2018)
Description
From the New York Times bestselling author Lisa Scottoline, a novel of suspense and emotional justice.

On paper, Chris Brennan looks perfect. He's applying for a job as a high school government teacher, he's ready to step in as an assistant baseball coach, and his references are impeccable.

But everything about Chris Brennan is a lie.

Susan Sematov is proud of her son Raz, a high school pitcher so athletically talented that he's being recruited for a full-ride scholarship to a Division I college, with a future in major-league baseball. But Raz's father died only a few months ago, leaving her son in a vulnerable place where any new father figure might influence him for good, or evil.

Heather Larkin is a struggling single mother who lives for her son Jordan's baseball games. But Jordan is shy, and Heather fears he is being lured down a dark path by one of his teammates, a young man from an affluent family whose fun-loving manner might possibly conceal his violent plans.

Mindy Kostis succumbs to the pressure of being a surgeon's wife by filling her days with social events and too many gin and tonics. But she doesn't know that her husband and her son, Evan, are keeping secrets from her – secrets that might destroy all of them.

At the center of all of them is Chris Brennan. Why is he there? What does he want? And what is he willing to do to get it?

"Enthralling and suspenseful, One Perfect Lie is an emotional thriller and a suburban crime story that will have readers riveted up to the shocking end, with killer twists and characters you won't soon forget.

"Scottoline keeps the pace relentless as she drops a looming threat into the heart of an idyllic suburban community, causing readers to hold their breath in anticipation." –Booklist

"Readers can be assured that the author nails the high school milieu, from athletic rivalries to sexting...they're in for one thrilling ride." –Kirkus Reviews

"Entertaining...This fast-paced read culminates in a daring chase that would play well on the big screen." –Publishers Weekly

Praise For One Perfect Lie…
Praise for Lisa Scottoline

"In novel after novel, Lisa Scottoline has proven herself a master of stories that combine familial love — especially that of mothers for their children — with nail-biting stories of spirited everywomen bent on finding the truth. Her new novel, Most Wanted, demonstrates again her skill with this kind of domestic suspense tale." – The Washington Post

"This is a potboiler of a book, crammed full of agonizing choices confronting appealing, relatable characters. Scottoline has penned more hardboiled tales, but never one as heartfelt and emotionally raw, raising her craft to the level of Judith Guest and Alice Hoffman. Most Wanted is a great thriller and a gut-wrenching foray into visceral angst that is not to be missed." – The Providence Journal

A suburban crime tale told with Scottoline's penchant for humor and soul-baring characterization."
– Booklist on Most Wanted

"A page-turner that will satisfy." – Library Journal on Most Wanted

"A Connecticut teacher's long-sought and hard-fought pregnancy turns into a nightmare when Scottoline unleashes one of her irresistible hooks on her." – Kirkus Reviews on Most Wanted

"Scottoline knows how to keep readers in her grip." –The New York Times Book Review

"A virtuoso of suspense, fast action, and intricate plot." —The Washington Post

"Scottoline writes with genuine snap, producing smartly structured mystery thrillers." –Entertainment Weekly

"Scottoline rocks!" –Nora Roberts

"Scottoline is a powerhouse." –David Baldacci

"Scottoline has plenty of tricks up her sleeve." —Booklist

"Scottoline grabs her readers by the jugular and won't let go." —Library Journal

"Scottoline writes riveting thrillers that keep me up all night, with plots that twist and turn." –Harlan Coben
St. Martin's Griffin, 9781250099570, 384pp.
Publication Date: February 27, 2018
About the Author
Lisa Scottoline is the New York Times bestselling author of over thirty novels including Look Again, Lady Killer, Think Twice, Save Me and Everywhere That Mary Went. She also writes a weekly column, "Chick Wit," with her daughter Francesca Serritella, for The Philadelphia Inquirer. The columns have been collected in seven volumes, including Why My Third Husband Will Be a Dog and My Nest Isn't Empty, It Just Has More Closet Space. Scottoline has won an Edgar® Award and Cosmopolitan magazine's "Fun Fearless Fiction" Award, and she served as the president of Mystery Writers of America. She teaches a course on justice and fiction at the University of Pennsylvania Law School, her alma mater. She lives in the Philadelphia area.
1. The tagline for One Perfect Lie is: The most perfect lie is the one you tell yourself. Confession time! What is the biggest lie that you tell yourself? Have you ever been fooled by someone who pretended to be someone they weren't? Why were you fooled in retrospect? How did you deal with them?
2. In One Perfect Lie, the setting seems like the ideal suburban town, but things are not as rosy behind the scenes. The same thing happens with social media, where everyone's life seems so perfect. Are you on social media? In what ways is it good, and in what ways bad? What do you like and dislike about it? What kind of Facebook poster are you? Only happy things? Never post, just comment on others? Post everything, including your meals?
3. The moms in this book are "baseball moms," meaning their boys (or girls) play baseball, and they support them in their sport. Sports are such a vital part of our culture and childrens' childhoods, yet the term "baseball mom" or "soccer mom" almost has a negative connotation. Why do you think that is so? In what ways are moms vital to the youth sports in America? What do you think of the youth sports culture today and how has it changed since you were young? Do you have a proudest Mom Moment, sports-related or otherwise?
4. In the book, we see how competition can come between best friends. With sports comes competition— it is inevitable—but it can also cause problems. How do you define healthy competition? When does it become unhealthy? Have you ever lost a friendship over competitiveness? Have you ever had a situation with your child where competitiveness became an issue? In what ways have professional sports increased the competitive nature of sports?
5. Evan, one of the teen boys, suffers from "affluenza." What is your understanding of what that means? Do you think affluenza can serve as an excuse for bad behavior? Do you blame the child, the parent, or both in cases where teens act out of control? How do parents of financial means balance giving their children a good life with spoiling them beyond repair? In what ways are the teens of today better off than the older generation, and in what ways are they facing worse conditions?
6. Without giving anything away, there is an "end justifies the means" situation in the book. How do you feel about this philosophy? Have you ever used this as a justification for something you have done in your life? If so, when? Has someone ever used it as an excuse for something they have done to you? How did it make you feel? Did you agree or disagree?
7. There are many different family configurations represented in One Perfect Lie. Which family do you relate to the best? What are the benefits of each situation, and what are the negatives? Have we, as a society, become more accepting of nontraditional families? Do we do enough to support single parents? What can be done to make absentee parents more responsible for their children? Do you think it is better for children to spend time with a mother or father who is a bad influence or are they better off not seeing the parent at all?
8. Parenting teenagers is not easy, just as being a teenager is not easy. What are the challenges of parenting teens? What are the challenges of being a teen today? In what ways can we as a society try to bridge the gap between parents and teenagers? What kind of teen were you? How did your parents react? What things did you emulate from your parents, and what things did you vow to not duplicate?
9. Sexting, or sending naked or sexual texts, is commonplace these days among teens. Why do you think that is happening? Who do you think is responsible for the increased sexual activity of our young children? How can we protect our children, while still allowing them some freedom and showing we trust them? Have you experienced any situations where your child made a mistake with something they posted on social media? What was the fallout, and how did you react? Should we let children make a mistake before we monitor them? Do you monitor your child's social media? Do they know it?
10. In the book, Jordan's mom reprimands Raz, with good reason. How would you feel if another parent scolded your child, no matter what the age? Do you believe it takes a village to raise a child? If you observe a child you know doing something wrong, do you say something to the child? To the parent? Have you ever informed a parent of another child's actions? What was their response? Would you do it again?