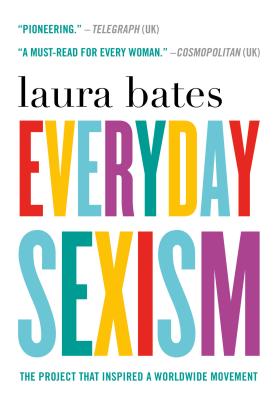 Everyday Sexism (Paperback)
The Project that Inspired a Worldwide Movement
A Thomas Dunne Book for St. Martin's Griffin, 9781250100184, 416pp.
Publication Date: April 5, 2016
Other Editions of This Title:
Hardcover (5/8/2014)
Hardcover (4/5/2016)
MP3 CD (6/14/2016)
Paperback (4/23/2015)
* Individual store prices may vary.
Description
The Everyday Sexism Project was founded by writer and activist Laura Bates in April 2012. It began life as a website where people could share their experiences of daily, normalized sexism, from street harassment to workplace discrimination to sexual assault and rape.
The Project became a viral sensation, attracting international press attention from The New York Times to French Glamour, Grazia South Africa, to the Times of India and support from celebrities such as Rose McGowan, Amanda Palmer, Mara Wilson, Ashley Judd, James Corden, Simon Pegg, and many others. The project has now collected over 100,000 testimonies from people around the world and launched new branches in 25 countries worldwide. The project has been credited with helping to spark a new wave of feminism.
About the Author
LAURA BATES has become something of a spokeswoman for an increasingly hot phenomenon: the fourth wave of feminism. She writes regulary for many leading periodicals; has given TEDx talks; spoken to universities--including Harvard--and even to the House of Lords. Laura has received the 2015 British Empire Medal in the Queen's Birthday Honours; the WMC Digital Media Award from the Women's Media Center (founded by Jane Fonda, Robin Morgan, and Gloria Steinem), the Georgina Henry prize; has been named in the BBC Woman's Hour Power List 2014 Game Changers, and in 2013 she won Cosmopolitan's Ultimate Woman of the Year Award. She was also named CNN's 10 Visionary Women List. She is the founder of the Everday Sexism Project.
Praise For Everyday Sexism: The Project that Inspired a Worldwide Movement…
"Everyday Sexism started in the streets, homes and offices of London, and now has spread to thirty countries around the globe—for good reason. Daily humiliations have been mostly unreported until now. Such big crimes as sexualized violence in war zones may get noticed, but the death of the spirit is also the death of a thousand cuts. Laura Bates has challenged the normalization of sexism, and created a place where both men and women can see it and change it." —Gloria Steinem
"Readers, whether newly educated or empowered by Bates' comprehensive, well-researched report, will find it useful for starting discussions between the genders." —Booklist
"Bates invites provocative, much-needed dialog that will promote more nuanced exchanges regarding the issues women face." —Library Journal
"Laura Bates didn't just begin a movement, she has started a revolution. Women are speaking back and she is giving them the megaphone to do it. Anyone who isn't convinced we live in a world where women are still treated as second class citizens needs to read Everyday Sexism. Women are shouting, and everyone better listen." —Liz Plank, Senior Correspondent at Mic and host of Flip the Script
"Read this book for two reasons: Bates offers a startlingly astute analysis on violence and inequality that breathes much-needed life into what is often tired gender politics. But more than that, she gives space to our voices—the voices of those of us who have been grabbed, jeered at, or made to feel invisible. The societal silencing of sexism is what Bates truly upends, and it's this that does a public, and personal, service to thousands and thousands of women around the world who have stood up and finally—finally—been heard." —Lauren Wolfe, journalist and Director of the Women's Media Center's Women Under Siege Project
"In Everyday Sexism, Laura Bates has created a much needed and important space for people to come forward, share their experiences and understand why they are important. The hundreds of jarring stories she shares in this book are those society would rather continue to pretend don't happen or don't matter. Bates' clear, and critically on-target demand that society pay attention is evident on every page. Her thorough, relentless and accessible approach to difficult and complex issues is catalyzing a global conversation about gender inequality." —Soraya Chemaly
"By documenting story after story of both small and large incidents of sexism in public spaces, homes, schools, workplaces, media, and politics, and by using corroborating data and news articles, Bates has shown just how frequently women face discrimination — and the toll it takes. But she also has shown how, as women realize they are not alone or to blame for the sexism, harassment and assault they experience, they begin speaking out and— in many cases — they successfully challenge the sexist status quo...As more people read her book, undoubtedly more will be inspired to speak out, pushing along the groundswell of outrage and action that will one day result in the end of sexism." —Holly Kearl
"Laura Bates book Everyday Sexism is powerful and very effective. Going to become required reading for my boys." —Stephen Dunbar-Johnson, President of International at The New York Times
"It is as uncomfortable a read as it is laudable. I shall relish giving it to my goddaughters and sons, niece and nephews." —Telegraph
"Often shocking, sometimes amusing and always poignant, everyday sexism is a protest against inequality and a manifesto for change. It's 'a game-changing book, a must-read for every woman." —Cosmopolitan
"Admirable and culturally transferable. 'A storm is coming,' writes Bates. After reading this book you'll hope so." —Independent
"This is an important work and if I had my way would be compulsory school reading across the globe." —Feminist Times
"As founder of the Everyday Sexism project, Laura was one of the first women to harness the power of social media to fight sexism and misogyny and give millions of young women a voice." —Grazia
"You may think you're familiar with the facts in Everyday Sexism. But nothing can prepare you for the emotional punch of hearing the stories of so many real women, from so many backgrounds, each struggling in a world that refuses to see them as fully human. Laura Bates deftly makes visible the spider web of oppression that holds us back and binds us all together." —Jaclyn Friedman, co-author of Yes Means Yes: Visions of Female Sexual Power and a World Without Rape