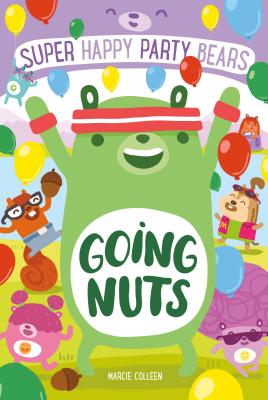 Super Happy Party Bears: Going Nuts (Paperback)
Going Nuts
Imprint, 9781250100498, 144pp.
Publication Date: March 14, 2017
Description
The fifth book in a funny chapter book series filled with full color illustrations and adorable animals
The squirrels of the Grumpy Woods have finally finished gathering their nuts for winter, when the Super Happy Party Bears find their stash and eat the whole thing. To make it up to them, the bears show the squirrels another hoard they ve found one that belongs to the chipmunks
Suddenly, the bears' huge appetite has caused an all-out civil war between two rival nut hoarders: the Puffy Cheeks (the chipmunks) and the Twitchy Tails (the squirrels). Can the bears prevent the Grumpy Woods from getting too nutty?
Read all of the Super Happy Party Bears adventures:
Super Happy Party Bears: Gnawing Around
Super Happy Party Bears: Knock Knock on Wood
Super Happy Party Bears: Staying A Hive
An Imprint Book
About the Author
Marcie Colleen is the author of the Super Happy Party Bears series. She's a former classroom teacher and current Educational Consultant for the Picture Book Month initiative. In that role, she presented at a recent New York Public Library Literary Salon, which focused on the Common Core. She also creates Teacher's Guides for picture books and middle grade novels and is a huge advocate for using children's fictional literature in the classroom. Steve James has ten years experience in the art industry (animation, greeting cards and video game artwork). Super Happy Party Bears is his first children's book. Steve's art is influenced by Adventure Time, Oliver Jeffers and walks in the countryside. He lives near Leeds, a vibrant city in the United Kingdom.
Advertisement