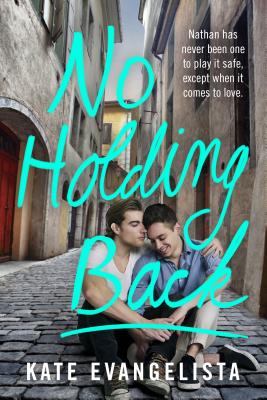 No Holding Back (Dodge Cove Trilogy #2) (Paperback)
Swoon Reads, 9781250100627, 256pp.
Publication Date: October 18, 2016
* Individual store prices may vary.
Description
A romantic European vacation is the perfect excuse to let go in this delightfully romantic, refreshingly modern, and highly anticipated sequel to No Love Allowed.
Everyone knows that Nathan is in love with his best friend, Preston…Everyone except Preston. Nathan has always accepted that Preston was too focused on his swimming to worry about love. But Preston is heading off to train for the Olympics soon, so if Nathan wants his chance at love, he has to speak up now. But saying "I love you" is surprisingly difficult, even for someone as confident as Nathan. Could a whirlwind vacation in Europe bring them together? Or if it doesn't work out, will Nathan lose the best friend he's ever had?
Fall in love with Nathan and Preston all over again in No Holding Back, the swoonworthy new young adult contemporary romance in the Dodge Cove Trilogy by Kate Evangelista.
Praise for the Dodge Cove Trilogy:
No Holding Back:
"No Holding Back is an intriguing novel featuring diverse characters and romance built not only on attraction but also lifelong friendship and support." —VOYA
No Love Allowed:
"Evangelista takes a familiar story of young love and makes it fresh." —VOYA
"The romance was incredible. The perfect YA contemporary romance." —Stephanie, Bookfever
About the Author
When Kate Evangelista, author of the Dodge Cove trilogy (No Love Allowed, No Holding Back, and No Second Chances), was told she had a knack for writing stories, she did the next best thing: entered medical school. After realizing she wasn't going to be the next Doogie Howser, M.D., Kate wandered into the literature department and never looked back. Today, she is a graduate of De La Salle University—Manila with a bachelor of arts in Literature. She taught high school English for three years and was an essay consultant for two. She now writes full-time and is based in the Philippines.
Praise For No Holding Back (Dodge Cove Trilogy #2)…
"No Holding Back is an intriguing novel featuring diverse characters and romance built not only on attraction but also lifelong friendship and support." — VOYA

No Love Allowed:
" Evangelista takes a familiar story of young love and makes it fresh." —VOYA
"Given the growing awareness towards understanding the stigmas, issues and concerns surrounding mental illness, I find it refreshing that this book doesn't preach about what to do or how to be – it just tells a story of two people who fall in love and who just also happen to struggle with issues that deserve a place to be talked about." -Whatsageek.com
"Wow. I loved this. LOVED it. Kate used a deft touch, getting Didi just right. I'm looking forward more in this series because all the main players deserve their own stories. Read this book. You will NOT be disappointed." - Christine Ashworth, Swoon Reader
"It's like a modern fairy tale." - Camelle, Swoon Reader
"The romance was incredible. There was also a great set of secondary characters. Nathan was my favorite. And I'm so thrilled that he's going to get his own story too. I can't wait for it. The perfect YA contemporary romance for me. It had humor, romance, awesome characters and great writing. Pretty much everything I want in a book." - Stephanie (Bookfever)