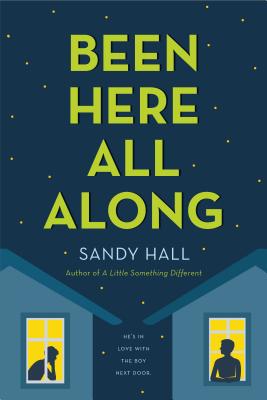 Been Here All Along (Paperback)
He's in Love with the Boy Next Door
Swoon Reads, 9781250100658, 240pp.
Publication Date: August 30, 2016
* Individual store prices may vary.
Description
From the author of A Little Something Different comes a quirky, heartfelt novel about high school, first love, and what happens when the plans you make for yourself go just a little bit awry.
Gideon always has a plan. His plans include running for class president, leading the yearbook committee, and having his choice of colleges. They do not include falling head over heels for his best friend and next-door neighbor, Kyle. It's a distraction. It's pointless, as Kyle is already dating the gorgeous and popular head cheerleader, Ruby. And Gideon doesn't know what to do...
Kyle finally feels like he has a handle on life. He has a wonderful girlfriend, a best friend willing to debate the finer points of Lord of the Rings, and social acceptance as captain of the basketball team. Then both Ruby and Gideon start acting really weird, just as his spot on the team is threatened, and Kyle can't quite figure out what he did wrong…
Author Sandy Hall's signature wit and charm is back with Been Here All Along, an LGBT young adult romance from Macmillan's young adult imprint Swoon Reads.
Praise for Been Here All Along:
"It's sweet. It's adorable. It's full of emotions. It's one of the best romances I've ever read, and I'll be reading this one again multiple times." —Here's to Happy Endings
" If you're a fan of cute YA romance, this book will hit the spot." —Feed Your Fiction Addiction
"Atmospheric and heart-warming . . . " —Hit Or Miss Books
About the Author
SANDY HALL is the author of A Little Something Different and Signs Point to Yes. She is a teen librarian from New Jersey, where she was born and raised, and has a BA in Communication and a Master of Library and Information Science from Rutgers University. When she isn't writing or teen librarian-ing, she enjoys reading, marathoning TV shows, and taking long scrolls through Tumblr.
Praise For Been Here All Along: He's in Love with the Boy Next Door…
"It really was everything I had hoped it would be. . . If you need a cute romance to end your summer with, read this. It's sweet. It's adorable. It's full of emotions. It's one of the best romances I've ever read, and I'll be reading this one again multiple times." —Here's to Happy Endings
"This book is sweet and fun and all sorts of adorable. It was a typical, simple high school romance, but it was kind of nice to see one of those with LGBT characters—without a lot of angsty complications. . . If you're a fan of cute YA romance, this book will hit the spot." —Feed Your Fiction Addiction
"Such a fun, adorable read . . . another fun addition to Hall's repertoire of swoonworthy reads." —Good Books & Good Wine
"Atmospheric and heart-warming . . . [Kyle and Gideon] have the kind of friendship we all wish we had. They know one another to the core of their beings. I have some real friendship goals right now, because of the two of them." —Hit Or Miss Books