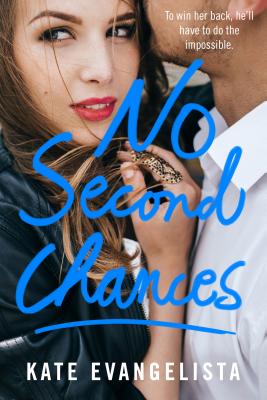 No Second Chances (Dodge Cove Trilogy #3) (Paperback)
Swoon Reads, 9781250100672, 224pp.
Publication Date: May 16, 2017
* Individual store prices may vary.
Description
Full of high society debutantes, impossible tasks, and featuring a heroine who has confidence to spare, the final novel in the Dodge Cove trilogy is a modern twist on a classic fairy tale.
Natasha was devastated when Jackson, her first love, disappeared without a word only to pop up months later as a famous DJ. But now she's over it—over him!—and ready to move on with her life. Isn't she?
Jackson thought he was leaving Dodge Cove behind forever when he set off to LA to start his DJ career. But the one thing he hasn't been able to leave behind is the memory of his first love, Natasha, and now that he's proven his success, he's coming home to win her back...
Don't miss No Second Chances, the final book in Kate Evangelista's romantic young adult Dodge Cove trilogy.
Praise for The Dodge Cove Trilogy:
No Holding Back:
"Charming to the max." —Lola, Hit or Miss Books
No Love Allowed:
"It's like a modern fairy tale." —Camelle, reader on SwoonReads.com
"Evangelista takes a familiar story of young love and makes it fresh." —VOYA
About the Author
When Kate Evangelista, author of the Dodge Cove trilogy (No Love Allowed, No Holding Back, and No Second Chances), was told she had a knack for writing stories, she did the next best thing: entered medical school. After realizing she wasn't going to be the next Doogie Howser, M.D., Kate wandered into the literature department and never looked back. Today, she is a graduate of De La Salle University—Manila with a bachelor of arts in Literature. She taught high school English for three years and was an essay consultant for two. She now writes full-time and is based in the Philippines.
Praise For No Second Chances (Dodge Cove Trilogy #3)…
Praise for The Dodge Cove Trilogy:
No Holding Back:
"Charming to the max." —Lola, Hit or Miss Books
No Love Allowed:
"It's like a modern fairy tale." —Camelle, reader on SwoonReads.com
"Evangelista takes a familiar story of young love and makes it fresh." —VOYA
"Given the growing awareness towards understanding the stigmas, issues and concerns surrounding mental illness, I find it refreshing that this book doesn't preach about what to do or how to be—it just tells a story of two people who fall in love and who just also happen to struggle with issues that deserve a place to be talked about." —Whatsageek.com
"The romance was incredible. There was also a great set of secondary characters. Nathan was my favorite. And I'm so thrilled that he's going to get his own story too. I can't wait for it. The perfect YA contemporary romance for me. It had humor, romance, awesome characters and great writing. Pretty much everything I want in a book." —Stephanie, Bookfever