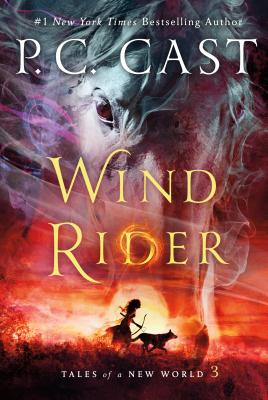 Wind Rider (Hardcover)
Tales of a New World
Wednesday Books, 9781250100788, 528pp.
Publication Date: October 16, 2018
* Individual store prices may vary.
Description
#1 New York Times bestselling author of the House of Night series, P.C. Cast, brings us Wind Rider, an epic fantasy set in a world where humans, their animal allies, and the earth itself has been drastically changed. A world filled with beauty and danger and cruelty…
Mari, Nik, and their newly formed Pack are being hunted. Thaddeus and the God of Death will stop at nothing until they are obliterated from the earth. But Mari and Nik have one goal: to reach the plains of the Wind Riders, in order to band together to stop Thaddeus from destroying all that Mari and Nik hold dear.
But will the mysterious Wind Riders accept the Pack, or will Mari and Nik and their people be rejected by the mighty Riders and be forced to flee for their lives? And what happens when a rogue Lead Stallion gets too close to the Pack, rejecting all Wind Riders and turning to a stranger for companionship instead?
In the next installment of the Tales of a New World series love and goodness are put to the ultimate test. Will the Wind Riders and the Pack be strong enough to withstand the God of Death? Will the Great Goddess of Life awaken to join the battle, and if so, will it be as Death's consort, or will the Goddess stand with Mari and her people against the great love of her eternal life?
About the Author
P.C. Cast is the author of the House of Night novels, including Marked, Betrayed, Chosen, and Untamed.
Ms. Cast is a #1 New York Times and USA Today Best-Selling author and a member of the Oklahoma Writers Hall of Fame. With more than 20 million copies in print in over 40 countries, her novels have been awarded the prestigious Oklahoma Book Award, YALSA Quick Pick for Reluctant Readers, Romantic Times Reviewers' Choice Award, the Prism, Holt Medallion, Daphne du Maurier, Booksellers' Best, and the Laurel Wreath.
Ms. Cast was born in the Midwest and grew up being shuttled back and forth between Illinois and Oklahoma, which is where she fell in love with Quarter Horses and mythology. After high school she joined the United States Air Force and began public speaking and writing. After her tour in the USAF, she taught high school for 15 years before retiring to write full time. She now lives in Oregon surrounded by beloved cats, dogs, horses, and family.
Praise For Wind Rider: Tales of a New World…
"...Series fans will be happy to read this entry and hang on for more." – Booklist on Wind Rider
"A mind-blowing and imaginative story ...Cast's imagination knows no bounds and it will be interesting to see what new ideas arise when she puts pen to paper next." -- Romantic Times on Sun Warrior
"Cast's spectacular new series kicks off with a unique tale suitable for fans of fantasy both young and old. Earth has completely changed, and the author grants readers a chance to use their imagination as the engaging storyline rapidly unfolds." – Romantic Times, 4 stars!
"While many fantasy series style themselves as epic, this one may actually be worthy of the description. Fantasy lovers who are fans of Cinda Williams Chima's "Seven Realms" novels will fall in love with Mari and Nik." – School Library Journal
"Cast's fans should find much to be pleased with in this new venture" – Kirkus
"…engaging characters and a fast-paced narrative" – Publishers Weekly