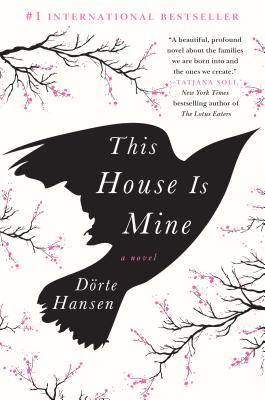 This House Is Mine
A Novel
Hardcover

* Individual store prices may vary.
Description
Long-listed for the 2018 International DUBLIN Literary Award

All her life Vera has felt like a stranger in the old and drafty half-timbered farmhouse she arrived at as a five-year-old refugee from East Prussia in 1945, and yet she can't seem to let it go. Sixty years later, her niece Anne suddenly shows up at her door with her small son. Anne has fled the trendy Hamburg, Germany neighborhood she never fit into after her relationship imploded. Vera and Anne are strangers to each other but have much more in common than they think. As the two strong-willed and very different women share the great old house, they find what they have never thought to search for: a family.

Told in skillfully crafted alternating points of view and a nonlinear storyline, Dörte Hansen's internationally bestselling debut novel This House is Mine showcases her impressive talent for characterization and dialogue in an exceptional book that combines emotional depth and humor. The author's sparse language and sometimes oblique references make for a deeply immersive reading experience, and the characters will resonate long after the last page has been turned.
Praise For This House Is Mine: A Novel…
"[A] shrewd, timely, completely absorbing debut. Readers captivated by the gothic opening may be surprised to watch this dark bud blossom into a quirky family saga and social satire. Hansen's themes feel especially poignant given the current refugee crisis in Europe and the backlash against migrants."—The New York Times

"Hansen's haunting debut novel spans 70 years, from 1945 to the present, presenting a progression of women who carry their histories with them. Hansen's passages about the house and its village are fully realized and vivid, allowing for the setting to enhance the characters. Hansen makes this story about the process of healing affecting, real, and memorable."—Publishers Weekly

"Hansen's debut is brilliant. It's a surprisingly simple, yet extraordinarily satisfying novel that true fans of literary fiction will treasure. The piecemeal and alternating timelines of post-WWII to present day is an excellent choice for telling this tale, and the translation from its original German is flawless and easy to read. But it's definitely the exquisite prose-like narrative and her non-conforming, remarkable characters who are the true stars of this page-turner!"—RT Book Reviews

"In German novelist Dörte Hansen's wry, tender debut, two women take shelter from their wounds in their family's tumbledown farmhouse…Frequently humorous, This House Is Mine nevertheless strikes deep chords of isolation and abandonment…Overall, its message that outsiders sometimes have the power to reach out and defeat their own loneliness is hopeful, and readers who enjoyed Frederik Backman's A Man Called Ove or Monica Wood's The One-in-a-Million Boy will take eccentric, caustic Vera to their hearts. Hansen's first novel is as challenging and comforting as rural life itself."—Shelf Awareness

"A best-seller in Germany, Hansen's book melds poignancy and wry humor to explore the meaning of family and home."—Booklist

"In this remarkable debut novel about life and love among mothers, sons, stepfathers, lovers, friends, and neighbors, Hansen carefully examines family relationships while providing amusing contrasts between city and country life. A wonderful, thought-provoking first novel that will work well for book groups."—Library Journal

"A beautiful, profound novel about the families we are born into and the ones we create."—Tatjana Soli, New York Times bestselling author of The Lotus Eaters

"This House Is Mine is deeply atmospheric—a dynamic mix of humor and melancholy."—Erika Swyler, author of The Book of Speculation

"Wonderfully entertaining but also a profound story with strong characters. A special book." —Die Zeit (Germany)

"A very expressive debut." —The Huffington Post

"A little wonder of a book."—Grazia (UK)

"Intelligent, gripping, written in beautiful language. The best book of the season."—Stern magazine (Germany)
St. Martin's Press, 9781250100856, 336pp.
Publication Date: November 15, 2016
About the Author
DÖRTE HANSEN was born in Husum in northern Germany. She studied languages and completed a Ph.D. in linguistics. She then turned to journalism, spent several years working as a radio editor, and is now an author for radio and print. This House Is Mine is her first novel.