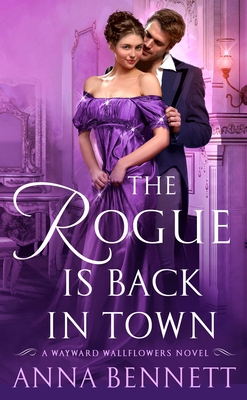 The Rogue Is Back in Town (Mass Market)
A Wayward Wallflowers Novel (The Wayward Wallflowers #3)
St. Martin's Paperbacks, 9781250100948, 368pp.
Publication Date: January 2, 2018
* Individual store prices may vary.
Description
Hide your daughters and your maiden aunts…Lord Samuel Travis is back.
—The London Hearsay, special society edition
Equal parts scoundrel and seducer, he's returned to London determined to mend the rift with his older brother. All Sam must do is take possession of a tumbledown town house. A seemingly simple task, except the house is occupied—by an infuriating, whip-smart beauty who refuses to do his bidding.
Miss Juliette Lacey's wallflower days are over. She has a plan to turn her eccentric family into the toast of the ton—but the devilishly handsome rake trying to oust them from their home thwarts her at every turn. How can one man be so vexing and make her simmer with desire?
As her attraction to Sam deepens, Julie's problems grow—she may have, once upon a time, secretly shared a kiss with his honorable older brother. Suddenly, Julie's caught between a rogue and a marquess, between passion and respectability. Torn between two brothers, what's a girl to do?
Don't miss the Wayward Wallflower books by Anna Bennett!
My Brown-Eyed Earl (Book 1)
I Dared the Duke (Book 2)
The Rogue is Back in Town (Book 3)
What Reviewers are saying:
"Fans of Regency romance authors Eloisa James, Tessa Dare, and Mary Jo Putney will go wild for...Bennett's Wayward Wallflowers trilogy." - Booklist Starred Review on The Rogue is Back in Town
"A standout historical romance novel...truly delightful." - Romancing the Book Worm on The Rogue is Back in Town
"Smart and sassy romance...simply a joy!" - RT Book Reviews Top Pick on The Rogue is Back in Town
About the Author
Anna Bennett started swiping romances from her mom's bookshelf as a teenager and decided that books with balls, dukes, and gowns were the best. So, when she had the chance to spend a semester in London she packed her bags—and promptly fell in love with the city, its history, and its pubs. She dreamed of writing romance, but somehow ended up a software analyst instead.
Fortunately, a few years and a few careers later, Anna found her way back to writing the stories she loves and won the Romance Writers of America's Golden Heart®. She lives in Maryland with her husband and three children, who try valiantly not to roll their eyes whenever she quotes Jane Austen. Other weaknesses include reality TV, cute shoes, and coffee. Lots and lots of coffee.
Anna's books include of the Wayward Wallflowers series and the Debutante Diaries series.
Praise For The Rogue Is Back in Town: A Wayward Wallflowers Novel (The Wayward Wallflowers #3)…
"Fans of Regency romance authors Eloisa James, Tessa Dare, and Mary Jo Putney will go wild for the final installment of Bennett's Wayward Wallflowers trilogy." - Booklist Starred Review on The Rogue is Back in Town
"Smart and sassy romance...simply a joy!" - RT Book Reviews Top Pick on The Rogue is Back in Town

"A standout historical romance novel...truly delightful." - Romancing the Bookworm on The Rogue is Back in Town

"Bennett's gift for writing a page-turner of a plot is on full display...a solid Regency story of true love." - Kirkus Reviews on The Rogue is Back in Town

"Entertaining...[offers] plenty to satisfy Regency fans." - Publishers Weekly on The Rogue is Back in Town
"Sharply drawn characters, clever dialog, simmering sensuality, and a dash of mystery make this well-crafted Regency thoroughly delightful." - Library Journal on I Dared the Duke
"Readers will enjoy this sassy Regency take on the classic Beauty and the Beast tale." - Booklist on I Dared the Duke

"I Dared the Duke is a captivating page-turner that will become a new favorite among romance enthusiasts!" - BookPage on I Dared the Duke
"Will truly win readers' hearts." - RT Book Reviews Top Pick on I Dared the Duke
"Bennett brings new life to traditional Regency stories and characters. " - Kirkus Reviews on I Dared the Duke
"Scrumptious…I devoured every word! A hot and wounded hero, a heroine you wish could be your friend in real life, and witty scenes that sparkle with life…The Wayward Wallflowers just keep getting better! Anna Bennett delivers a truly entertaining read." - New York Times bestselling author Laura Lee Guhrke on I Dared the Duke
"Heart, humor, and a hot hero. Everything I look for in a great romance novel!" - Valerie Bowman on My Brown-Eyed Earl
"One bliss-giving read...witty and whimsical." - USA Today Happily Ever After on My Brown-Eyed Earl
"A delightful historical romance." - Night Owl Reviews Top Pick on My Brown-Eyed Earl
"Heartwarming and joyous...a delightful read!" --RT Book Reviews on My Brown-Eyed Earl