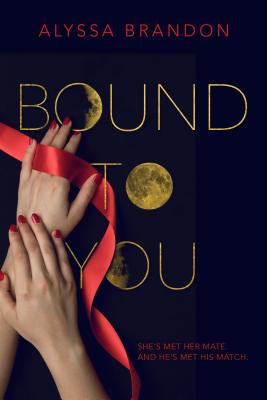 Bound to You (Hardcover)
Swoon Reads, 9781250101723, 304pp.
Publication Date: April 10, 2018
Other Editions of This Title:
Digital Audiobook (7/9/2018)
Paperback (4/9/2019)
* Individual store prices may vary.
Description
A stubborn teen faces off with her brooding, indifferent (but super hot) soulmate in this unique and sexy take on a classic paranormal romance story.
She's met her mate . . . and he's met his match.
Megan Ross has been waiting her whole life for her mate to come and sweep her off her feet. But the wolf she meets on the beach is NOT the sweet gentle boy she's been dreaming of. Instead, he's a warrior, one whose suffering has led him to lock his heart away in a prison as cold and hard as a diamond, who fights to resist the bond and their deep attraction.
Far from home, with a soulmate who is still a stranger, Megan learns that the path to true love isn't quite as straight and easy as she thought . . .
Alyssa Brandon's debut novel Bound to You is guaranteed to make readers swoon, sigh, and maybe even cry before it's over.
Praise for Bound to You from the Swoon Reads community:
"To put it simply I was hooked." —Cinda Edana, reader on SwoonReads.com
"It is so totally swoonworthy. " —E.E. Annavas, reader on SwoonReads.com
"This book had me laughing, crying, and swooning a lot!" —Ronda Rigdon, reader on SwoonReads.com
About the Author
Alyssa Brandon is a recent college graduate from Sweden who enjoys reading, doing yoga, puzzles, and, of course, writing. Bound to You is her debut novel.
Praise For Bound to You…
Praise for Bound to You from the Swoon Reads community:
"Holy hotness! I love Megan for being a spitfire and there are no words for James and his, well, everything. . . . Loved it." —Gabby Benson, reader on Swoon Reads.com
"To put it simply I was hooked. One of the best werewolf stories I've read." —Cinda Edana, reader on SwoonReads.com
"It is so totally swoonworthy. And James was just plain sexy. I want one of him." —E.E. Annavas, reader on SwoonReads.com
"This book had me laughing, crying, and swooning a lot!" —Ronda Rigdon, reader on SwoonReads.com