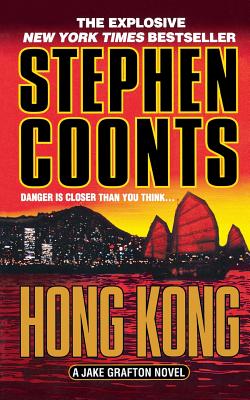 Hong Kong
A Jake Grafton Novel (Jake Grafton Novels #8)
Paperback

* Individual store prices may vary.
Other Editions of This Title:
Mass Market Paperbound (7/15/2001)
Paperback (1/1/2003)
Audio cassette (9/12/2000)
Mass Market Paperback (6/30/2009)
Description
Following the success of his New York Times bestseller, Cuba, Stephen Coonts once again combines masterful storytelling with a frighteningly plausible scenario set in one of the world's most volatile hot spots. This time, however, for Admiral Jake Grafton the stakes will be chillingly personal.
Jake Grafton takes his wife, Callie, along when the U.S. government sends him to Hong Kong to find out how deeply the U.S. consul-general is embedded in a political money-raising scandal. And why not? Jake and Callie met and fell in love in Hong Kong during the Vietnam War, and the consul-general is an old friend from those days, Tiger Cole.
The Graftons quickly discover that Hong Kong is a powder keg ready to explode. A political murder and the closure of a foreign bank by the communist government are the sparks that light the fuse . . . and Tiger Cole is right in the middle of the action.
When Callie is kidnapped by a rebel faction, Jake finds himself drawn into the vortex of a high-tech civil war. Drawing on the skills of CIA operative Tommy Carmellini, in order to save his wife Jake Grafton must figure out who he can trust-both among the Western factions vying for control of the volatile situation, and among the Chinese patriots fighting for their nation's future-and make sure the right side wins.
St. Martin's Paperbacks, 9781250102140, 352pp.
Publication Date: June 30, 2009
About the Author
Stephen Coonts is the author of The Disciple, The Assassin, and the Deep Black and Saucers series, among many other bestsellers. His first novel, the classic flying tale Flight of the Intruder, spent more than six months at the top of The New York Times bestseller list. A motion picture based on the book was released in 1991. His novels have been published around the world and translated into more than a dozen languages. In 1986, he was honored by the U.S. Naval Institute with its Author of the Year Award. He is also the editor of several anthologies, Combat, On Glorious Wings, Victory and War in the Air. Coonts served in the Navy from 1969 to 1977, including two combat cruises on the USS Enterprise during the last years of the Vietnam War.