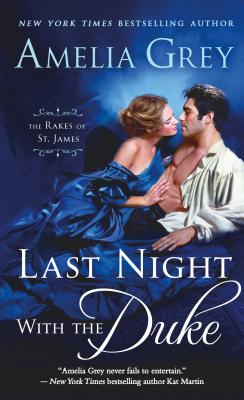 Last Night with the Duke (Mass Market Paperbound)
St. Martin's Press, 9781250102492, 304pp.
Publication Date: March 7, 2017
Description
Could finding love be his greatest scandal of all?
The Duke of Griffin has never lived down his reputation as one of the Rakes of St. James. Now rumors are swirling that his twin sisters may bear the brunt of his past follies. Hiring a competent chaperone is the only thing Griffin has on his mind until he meets the lovely and intriguing Miss Esmeralda Swift. In ways he could have never expected, she arouses more than just his curiosity.
Esmeralda Swift considered herself too sensible to ever fall for a scoundrel, but that was before she met the irresistibly seductive Griffin. His employment offer proves too tempting for her to turn down. She can t afford to be distracted by his devilish charms because the stakes are so high for his sisters debut Season. . .unless one of London's most notorious rakes has had a change of heart and is ready to make Esmerelda his bride?
About the Author
New York Times and USA Today bestselling author Amelia Grey read her first romance book when she was thirteen and she's been a devoted reader of love stories ever since. Her awards include the Booksellers Best, Aspen Gold, and the Golden Quill. Writing as Gloria Dale Skinner, she won the coveted Romantic Times Award for Love and Laughter and the prestigious Maggie Award. Her books have sold to many countries in Europe, Indonesia, Turkey, Russia, and most recently to Japan. Several of her books have also been featured in Doubleday and Rhapsody Book Clubs. Amelia is the author of more than two dozen books. She's been happily married to her high school sweetheart for over thirty-five years and she lives on the beautiful gulf coast of Northwest Florida. Her first book with St. Martin's was The Duke in My Bed.
Advertisement