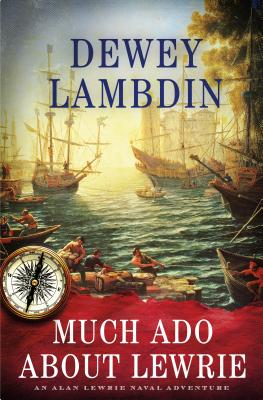 Much Ado About Lewrie (Hardcover)
An Alan Lewrie Naval Adventure (Alan Lewrie Naval Adventures #25)
St. Martin's Press, 9781250103666, 336pp.
Publication Date: May 28, 2019
* Individual store prices may vary.
Description
The twenty-fifth novel in Dewey Lambdin's beloved series of historical naval adventure

Lewrie loses his ship and his command when he receives news that Vigilance must return to England to be decommissioned and turned over to the dockyards for a complete refit. Lewrie is grounded, put on half-pay, and his crew disperses to look for new positions.

It's late Autumn, and being ashore is heavenly, after a time. Lewrie spends time with his wife Jessica, helps his son Hugh find a new ship, and happily marries off Charlotte. Life onshore is quiet until Lewrie finds himself once again in the headlines of the city papers after discovering a dognapping gang and uncovering stolen Bisquits and Rembrants. The headlines should be positive, but soon the tides turn against Lewrie once again. There's never a dull moment for Lewrie.

Dewey Lambdin is the reigning master of maritime fiction, celebrated as the heir to Patrick O'Brian and C.S. Forester. For over twenty years, his devoted fans have followed the adventures of Alan Lewrie, Royal Navy, from his days as a midshipmen to captain of his own ship and, though on somewhat dubious grounds, a baronetcy.
About the Author
Dewey Lambdin is the author of the Alan Lewrie novels. A member of the U.S. Naval Institute and a Friend of the National Maritime Museum in Greenwich, England, he spends his free time working and sailing on a rather tatty old sloop. He makes his home in Nashville, Tennessee.
Praise For Much Ado About Lewrie: An Alan Lewrie Naval Adventure (Alan Lewrie Naval Adventures #25)…
Praise for the Series

"Check the log, shipmate: Dewey Lambdin has left Alexander Kent and C.S. Forester hull-down in an ocean of words and is closing on Patrick O'Brian as the most prolific historical novelist to celebrate a Royal Navy mariner during the age of sail." —Washington Times

"Lambdin succeeds with high-seas action, bravado, and Lewrie's characteristic antics, putting himself in good company with Julian Stockwin and Seth Hunter as worthy successors to the popular 18th- and 19th-century naval adventures of Forester, Kent, and Pope. ... Lewrie is a delightfully randy and irreverent character, the perfect man to walk the quarterdeck of a Royal Navy frigate." —Publishers Weekly (starred review)

"A hugely entertaining naval adventure (á la Forester and O'Brian) with a different kind of protagonist.... Not merely a worthy entry in the very popular Lewrie series but a top-of-the-line naval adventure that can be thoroughly enjoyed by readers who've never met Captain Lewrie until now." —Booklist

"The brilliantly stylish American master of salty-tongued British naval tales." —Kirkus Reviews

"Stunning naval adventure, reeking of powder and mayhem. I wish I had written this series." —Bernard Cornwell

"The best naval adventure series since C. S. Forester.–" —Library Journal