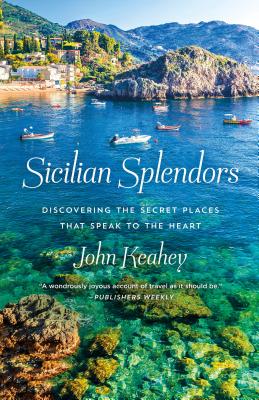 Sicilian Splendors (Hardcover)
Discovering the Secret Places That Speak to the Heart
Thomas Dunne Books, 9781250104694, 304pp.
Publication Date: November 13, 2018
Other Editions of This Title:
MP3 CD (11/13/2018)
Compact Disc (11/13/2018)
* Individual store prices may vary.
Description
"A wondrously joyous account of travel as it should be." –Publishers Weekly
A travel narrative that focuses on Sicily's little-known regions, from the author of Seeking Sicily and Hidden Tuscany.
From Palermo to Castiglione di Sicilia to Alimena, Sicily holds great secrets from the past and unspoken promises. Tradition, in the form of festivals, the written word, photographs, and song, reverberates through village walls. Now, slowly shaking itself free of the Mafia, Sicily is opening itself up to visitors in ways it never has before.
Sicilian Splendors explores the history, politics, food, Mafia, and people which John Keahey encounters throughout his travels during his return to Sicily. Through conversing with natives and immersing himself in culture, Keahey illustrates a brand new Sicily no one has ever talked about before. Villagers, eager to welcome tourism and impart awareness of their cultural background, greet Keahey for meals and drink and walk him through their winding streets. They share stories of well-known writers, such as Maria Messina, who have found inspiration in Sicily's villages. Keahey's never-ending curiosity as a traveler shines light on Sicily's mythical mysteries and portrays the island not only through his eyes but also through Sicily's heart.
This picturesque travel memoir navigates Sicily today and seeks to understand Sicily's past. In lyrical prose and vivid dialect, Keahey paints images of the island's villages, people, and culture with careful strokes and a meticulously even hand.
Keahey not only serves as a guide through the marvel of Sicily's identity, but he also looks deeply into Sicily's soul.
About the Author
JOHN KEAHEY, author of such books as Hidden Tuscany and A Sweet and Glorious Land: Revisiting the Ionian Sea, is a veteran newspaper and wire-service journalist who spent forty-five years in and around journalism. He retired in 2011 after twenty-two years, as a reporter and news editor for The Salt Lake Tribune. He has a history degree from the University of Utah and spends as much time as possible in Italy.
Praise For Sicilian Splendors: Discovering the Secret Places That Speak to the Heart…
Praise for Sicilian Splendors
"Keahey is a congenial host in this sunny and inquisitive memoir of his three-month excursion to the least-visited parts of Sicily. This is a wondrously joyous account of travel as it should be." –Publishers Weekly
"Keahey provides a solid argument for seeing Sicily not for its stereotypes but for its surprising hospitality." –Kirkus
"This insightful book, with its unique portraits of historically diverse small villages, should be a must-read for everyone interested in Sicily and Mediterranean Europe." –Booklist

"John Keahey appreciates these secret places of the heart because, like the Sicilians he knows so well, he is wise, inquisitive, and articulate. Inspired by such verisimo writers as Giovanni Verga and Maria Messina, who haunt its pages, Sicilian Splendors is a work of truth. In an age of information overload and prepackaged images, mandatory security checks and paranoid xenophobia, this book will restore your faith in the joys of travel, your openness to the possibilities in every chance encounter." –Anthony Di Renzo, author of Bitter Greens and Trinàcria: A Tale of Bourbon Sicily
"Once again, John Keahey finds the roads less traveled. A Sicilian blue highway adventure, Keahey's latest effort takes the reader into the towns and villages not often found on tourism maps, finds local characters and haunts, samples the food, describes the always stunning vistas, visits the ancient ruins and modern construction and tells the local tales. His abiding passion for all things Italian, and especially Sicilian, remain evident in this travelogue, which should be recommended reading for anyone planning a visit to this magical island." –Paul Paolicelli, author of Under the Southern Sun
"Roaming through towns and villages of sun-drenched Sicily, John Keahey not only explores their historical, cultural and literary traditions, but also celebrates the abiding warmth and affection of the welcoming Sicilians. For readers, Keahey's trip may be as savory as one of his favorite dishes, spaghetti con asparago e carcofi." –Paul Salsini, award-winning author of The Cielo
"John Keahey reveals the rich history, culture, religiosity, and hospitality of a land that has won his heart." – Thomas Swick, acclaimed travel writer and author of A Way to See the World and The Joys of Travel