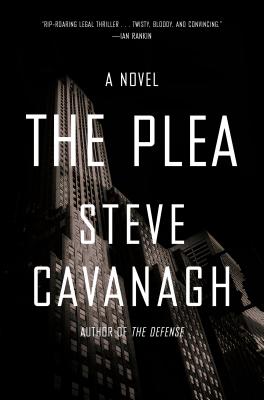 The Plea (Hardcover)
A Novel (Eddie Flynn #2)
Flatiron Books, 9781250105561, 368pp.
Publication Date: February 13, 2018
Other Editions of This Title:
Digital Audiobook (2/12/2018)
Mass Market (11/27/2018)
Pre-Recorded Audio Player (2/13/2018)
* Individual store prices may vary.
Description
"The Plea is one of the most purely entertaining books you'll read this year. It's a blast."
—John Connolly, bestselling author of the Charlie Parker novels

"Rip-roaring legal thriller…Twisty, bloody, and convincing." —Ian Rankin

An innocent client. A wife in jeopardy. A locked room mystery. Who will take The Plea?
Billionaire David Child swears he didn't murder his girlfriend, Clara. But the evidence overwhelmingly shows that David killed her: the security video showed no one else entering their apartment, the murder weapon was in his car, and he was covered in gunshot residue he can't explain.
The FBI believes David's arrest and obvious guilt could help them take down a huge money laundering scheme—if they can get him to testify.
Con-artist-turned-lawyer Eddie Flynn is given the job: persuade David to plead guilty and give the agents the evidence they need. If Eddie can't get David to take a plea bargain, the FBI has incriminating files on Eddie's wife—and will send her to jail. But David insists that he didn't murder anyone.
As the FBI pressures Eddie to secure the guilty plea, Eddie becomes increasingly convinced that David is telling the truth. With adversaries threatening, Eddie has to find a way to prove David's innocence and find out if there's any way he might have been framed. But the stakes are high: Eddie's wife is in danger. And not just from the FBI…
"Cavanagh's fast-paced, action-packed legal thriller is bound to grip John Grisham and Michael Connelly fans with its unexpected turns." —Library Journal, starred review
About the Author
Steve Cavanagh is an Irish author from Belfast and at the age eighteen he studied law by mistake. He is now the international award-winning author of the Eddie Flynn novels. His debut novel, The Defense, was nominated for the Ian Fleming Steel Dagger Award for Thriller of the Year, and The Plea won the Prix Polar Award for Best International Novel. Steve is still a practicing lawyer (someday he'll get the hang of it) and co-host ofthe chart-topping podcast Two Crime Writers And A Microphone. He has been involved in several high-profile civil rights cases, his Eddie Flynn novels have been published in over twenty countries, he's married with two young children, and in his spare time he is mostly asleep.
Praise For The Plea: A Novel (Eddie Flynn #2)…
"Nasty, vicious, ruthless. That's the way we like our legal mysteries, so The Plea fits the bill…The impressive legal maneuvering pays off in a centerpiece courtroom drama."
—New York Times Book Review
"Cavanagh's fast-paced, action-packed legal thriller is bound to grip John Grisham and Michael Connelly fans with its unexpected turns." —Library Journal, starred review
"A terrific new voice... Cavanagh's blend of courtroom twists and out-of-court action shakes up standard tropes and has real freshness...Cavanagh has a particular talent for escalating tension, and Eddie Flynn is a terrific creation well worth following. There are shades of Michael Connelly's Mickey Haller, but Flynn is also a unique character all his own. The Plea is a propulsive read that'll have you soldered to your seat as the pages whir by." —Mystery Scene
"Criminally entertaining…Perfect for anyone who likes a locked-room mystery wrapped inside a legal thriller on steroids." —Publishers Weekly, starred review
"As Cavanagh develops his plot, it's not clear who's conning whom... [The] setup produces some stunning moments, like a car chase directed by cell phone. Plus delicious locked-room and what-the-police-missed detection... The action sequences and the courtroom hijinks make this worth a look." —Booklist

"You can beat him up, arrest his wife, try to acid bomb him, but you can't hustle a hustler… Good courtroom sequences, engaging minor characters, an ornately twisted plot, a repentant but hopeful hero—what could go wrong?...A worthwhile caper." —Kirkus
"Rip-roaring legal thriller…Twisty, bloody, and convincing."
—Ian Rankin
"The Plea is one of the most purely entertaining books you'll read this year. It's a blast."
—John Connolly
"Fast-moving, low-punching, street-hustling adventure... Seriously superior airport read."
—Times Crime Book Club
"If you don't normally read courtroom dramas, you must make an exception. These books are just full of intelligent wheeling and dealing. Top notch storytelling... Superb, in a 'I must not move a muscle til I have finished this book' way." —Northern Crime
"Lively, clever and enjoyable . . . The constant action is interrupted only by absorbing courtroom scenes." —The Times (UK)
"The Plea reads like an idiosyncratic cross between Elmore Leonard and John Grisham, but bursts with its own individual flavour." —The Financial Times (UK)
Praise for Steve Cavanagh's Eddie Flynn series:
"Cavanagh's stellar debut provides everything a reader could ask for in a thriller—nail-biting suspense, a Russian nesting doll of a plot, and an original and compelling lead." —Publishers Weekly, starred review
"If you're a fan of John Grisham, Scott Turow, and Brad Meltzer, then you will be a fan of Steve Cavanagh's The Defense."
—Nelson DeMille,#1 New York Times bestselling author of Radiant Angel
"This guy is the real deal. Trust me."
—Lee Child, #1 New York Times bestselling author
"Steve Cavanagh pulls off an enviable premise with panache."
—Ruth Ware, #1 New York Times bestselling author
"Expertly combines his authority on the law with an absolutely great thrill ride."
—Michael Connelly, #1 New York Times bestselling author
"Steve Cavanagh is the John Grisham for a new generation."
—Sarah Pinborough, #1 internationally bestselling author
"Smart and original. This is a belter of a book."
—Clare Mackintosh, bestselling author
or
Not Currently Available for Direct Purchase