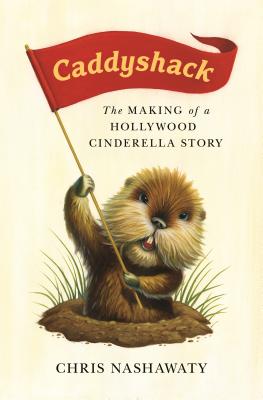 Caddyshack
The Making of a Hollywood Cinderella Story
Hardcover

* Individual store prices may vary.
Other Editions of This Title:
Paperback (3/5/2019)
MP3 CD (7/24/2018)
Description
"More fun to read than the movie was to watch… a scene-stealing book."
— The Washington Post
An Entertainment Weekly "Must List" selection
Caddyshack is one of the most beloved comedies of all time, a classic snobs vs. slobs story of working class kids and the white collar buffoons that make them haul their golf bags in the hot summer sun. It has sex, drugs and one very memorable candy bar, but the movie we all know and love didn't start out that way, and everyone who made it certainly didn't have the word "classic" in mind as the cameras were rolling.
In Caddyshack:The Making of a Hollywood Cinderella Story film critic for Entertainment Weekly Chris Nashawaty goes behind the scenes of the iconic film, chronicling the rise of comedy's greatest deranged minds as they form The National Lampoon, turn the entertainment industry on its head, and ultimately blow up both a golf course and popular culture as we know it. Caddyshack is at once an eye-opening narrative about one of the most interesting, surreal, and dramatic film productions there's ever been, and a rich portrait of the biggest, and most revolutionary names in Hollywood. So, it's got that going for it…which is nice.
Praise For Caddyshack: The Making of a Hollywood Cinderella Story…
Entertainment Weekly "Must List"

"[Nashawaty] reveals in his comprehensive history just how the flick's legendary creators scored such a perfect game."
—Entertainment Weekly
"A narrative that explores the seismic shifts in comedy during the '60s and '70s that led to Caddyshack… the story of a movie that prominently features an animatronic gopher is surprisingly deep and engrossing."
—A.V. Club
"More fun to read than the movie was to watch… [a] scene-stealing book."
—Washington Post
"The book about the movie is better than the movie… an astute and lively study of '70s comedy that zeroes in on a film considered a failure upon its 1980 release… a sterling example of how to construct the story behind the story… Caddyshack fans will delight in the book's on-set details, including the technical challenges posed by that animatronic gopher. For the rest of us, this is ground-level look at the birth of a scene."
— Dallas Morning News
"Caddyshack unleashes revelations about one of the most quirky and surreal film productions and the stars who made this movie one of the most beloved of all time."
— Parade
"You don't have to be a fan of the 1980 comedy "Caddyshack" to enjoy the terrific new book about the movie by Entertainment Weekly film critic Chris Nashawaty... Nashawaty also tells the broader story of how a new generation of comic actors and writers took over movies and TV during the 1970s and 1980s... Caddyshack captures a long-vanished era in movies, as well as showing us how one popular film of that period came together."
— CT Post
"Chris Nashawaty doesn't settle for mere behind-the-scenes gossip or trivia. He tells a novelesque story full of gigantic characters—some of whom happen to have famous names—that shows us where comedy comes from and how classic movies are made, usually unbeknownst to the people making them. Wonderfully written and impeccably researched, Caddyshack is a treat for fans of the movie or anyone who cares about comedy and its flawed practitioners."
— Jennifer Keishin Armstrong, author of Seinfeldia


"An incisive, definitive portrait of an epoch in the evolution of comedy - told through the improbable saga of the making of a beloved, oddball classic - that solves one of the enduring mysteries of the movie business: How in the name of Bushwood's gopher did this fractured fairytale ever come together?"
— Mark Frost, Co-creator of Twin Peaks, author of The Match: The Day the Game of Golf Changed Forever andThe Greatest Game Ever Played: Harry Vardon, Francis Ouimet, and the Birth of Modern Golf

"I opened this book thinking, 'Why Caddyshack?' I closed it completely exhilarated by the way it answers that question. This is a tough, sharp history of comedy and competitiveness, of rising stars and brilliant upstarts. Of difficult egos, awful behavior, fragile friendships, bursts of inspiration, and blizzards of cocaine—told by the survivors and shaped by Chris Nashawaty's welcome insight and perspective."
— Mark Harris, New York Times bestselling author of Pictures at a Revolution and Five Came Back

"Funny? Of course. But Chris Nashawaty's book is also a vivid, surprisingly poignant history of a generation that revolutionized American comedy. Well, and of drugs. Lots of drugs."
— Chris Smith, author of The Daily Show (the Book)
"Chris Nashawaty has written a ridiculously funny book that is also tragic, sweet, profane and profoundly entertaining. It's full of sex, drugs and gopher holes, of course. But Nashawaty also tells, through Caddyshack, the origin story of modern comedy. The result is a richly reported book as rollicking and quotable as the film at it honors."
— Steve Rushin, writer for Sports Illustrated and author of Sting-Ray Afternoons

"Caddyshack is an American classic born out of both design and happy, slacker accident. The story behind its making is in a way as fascinating and hilarious as the movie itself. This made me love the movie more. And I didn't think that was possible."
—Will Leitch, author of Are We Winning? and God Save the Fan, founder of Deadspin.

"An everything-you-ever-wanted-to-know-about look at a cult movie whose reputation has grown in the four decades since its initial release. Nashawaty provides an eye-opening pleasure for Caddyshack fans."
— Kirkus

"In Nashawaty's hilarious depiction, the production is shown to have been utter chaos, albeit with some creative genius tossed in... [Caddyshack] provides both an entertaining showbiz chronicle and, by the conclusion, an unexpectedly moving tribute to Kenney's short life and lasting comic legacy."
— Publishers Weekly

"Nashawaty's prose is lively, and his exhaustive research is bolstered by interviews with many of the film's principle players, including the famously elusive Murray. A wonderful celebration of a passionately loved film."
— Booklist
Flatiron Books, 9781250105950, 304pp.
Publication Date: April 24, 2018
About the Author
Chris Nashawaty is the lead film critic at Entertainment Weekly, who over his 20 years at the magazine has become one of America's foremost movie writers and pop-culture authorities. He has appeared on CNN, NPR, Today, and Good Morning America, as well as regularly contributing to Sirius XM's EW Radio channel. He has also written for Wired, Sports Illustrated, Esquire, Fortune, and Grantland. He is the author of the book about B Movie producer Roger Corman called Crab Monsters, Teenage Cavemen, and Candy Stripe Nurses, and Caddyshack: The Making of a Hollywood Cinderella Story.