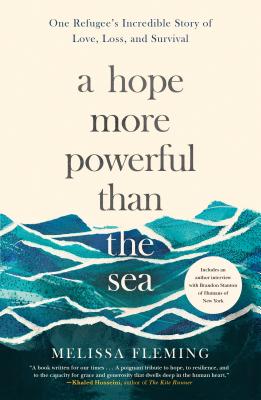 A Hope More Powerful Than the Sea
One Refugee's Incredible Story of Love, Loss, and Survival
Paperback

* Individual store prices may vary.
Other Editions of This Title:
Hardcover (1/24/2017)
MP3 CD (5/30/2017)
Hardcover, Large Print (2/22/2017)
Description
"Urgently required reading." —People
"Deeply affecting... Fleming brings a moral urgency to the narrative." —The New Yorker
"Fleming deftly illustrates the pain of those who choose to leave Syria...and her book is ultimately a story of hope." —Newsweek

The stunning story of a young woman, an international crisis, and the triumph of the human spirit.

Adrift in a frigid sea, no land in sight—just debris from the ship's wreckage and floating corpses all around—nineteen-year-old Doaa Al Zamel floats with a small inflatable water ring around her waist and clutches two children, barely toddlers, to her body. The children had been thrust into Doaa's arms by their drowning relatives, all refugees who boarded a dangerously overcrowded ship bound for Sweden and a new life. For days, Doaa floats, prays, and sings to the babies in her arms. She must stay alive for these children. She must not lose hope.

Doaa Al Zamel was once an average Syrian girl growing up in a crowded house in a bustling city near the Jordanian border. But in 2011, her life was upended. Inspired by the events of the Arab Spring, Syrians began to stand up against their own oppressive regime. When the army was sent to take control of Doaa's hometown, strict curfews, power outages, water shortages, air raids, and violence disrupted everyday life. After Doaa's father's barbershop was destroyed and rumors of women being abducted spread through the community, her family decided to leave Syria for Egypt, where they hoped to stay in peace until they could return home. Only months after their arrival, the Egyptian government was overthrown and the environment turned hostile for refugees.

In the midst of this chaos, Doaa falls in love with a young opposition fighter who proposes marriage and convinces her to flee to the promise of safety and a better future in Europe. Terrified and unable to swim, Doaa and her young fiance hand their life savings to smugglers and board a dilapidated fishing vessel with five hundred other refugees, including a hundred children. After four horrifying days at sea, another ship, filled with angry men shouting insults, rams into Doaa's boat, sinking it and leaving the passengers to drown.

That is where Doaa's struggle for survival really begins.

A Hope More Powerful Than the Sea is an emotionally charged, eye-opening true story that represents the millions of unheard voices of refugees who risk everything in a desperate search for the promise of a safe future. Melissa Fleming sheds light on the most pressing humanitarian crisis of our time and paints a vivid, unforgettable portrait of the triumph of the human spirit.
Praise For A Hope More Powerful Than the Sea: One Refugee's Incredible Story of Love, Loss, and Survival…
"[Doaa's] inspiring story is urgently required reading." —People

"Some books should be required reading. A Hope More Powerful Than the Sea is one of those books. Not simply because the tale of a Syrian refugee is so timely, or the topic so important. But because of its lessons about persistence, selflessness, and hope, which are the heartbeat of this true story."
—Christian Science Monitor

"Written by an official in the U.N.'s refugee agency, this deeply affecting book recounts the story of a young Syrian, Doaa al Zamel... Fleming brings a moral urgency to the narrative. Doaa is now safe in Sweden, but Fleming pointedly asks, 'Why is there no massive resettlement program for Syrians—the victims of the worst war of our times?'" —The New Yorker

"Fleming deftly illustrates the pain of those who choose to leave Syria… [She] recounts their narrative with compassion and without melodrama, and her book is ultimately a story of hope… The message is to try to humanize one young woman, to tell her tale so that the migrant crisis does not become a bunch of nameless, faceless people fleeing a war but human beings with families, with needs, and with desires." —Newsweek

"Poignantly illuminates some of the reasons why our fellow humans embark on such perilous journeys to reach Europe." —The Times (UK)

"A moving story of survival...required reading." —Tribune magazine (UK)

"Melissa Fleming's tale of a young Syrian woman's search for peace and safety is a book written for our times. On every page, loss and hope tangle. On every page, the human toll of the worst humanitarian crisis of our time is painfully, heartbreakingly brought home. This is an emotional read, at times painful, but it is above all a poignant tribute to hope, to resilience, and to the capacity for grace and generosity that dwells deep in the human heart." —Khaled Hosseini, author of The Kite Runner and And the Mountains Echoed

"An astonishing and important story." —Neil Gaiman

"I think Melissa Fleming is one of the most important people in the world. As the world's foremost advocate for refugees, she has worked tirelessly to put a human face on the greatest crisis of our time. There is no more important calling than this. Millions have been displaced by the wars in Iraq and Syria, and their situation is desperate. Yet everyone who has worked with refugees is amazed by their resilience and spirit. There is no better way to demonstrate this spirit than with the power of a single story. Melissa has found that story. The story of Doaa is dramatic, riveting, and ultimately hopeful. A Hope More Powerful Than the Sea provides a portrait of the refugee crisis that cannot be matched by any amount of cable news coverage." —Brandon Stanton, Humans of New York

"We need hopeful stories more than ever, and this incredible real-life story about Doaa, a Syrian refugee, is one that will open hearts." —Bustle

"Doaa's incredible fight to live, one of only a few refugees to survive four days in a sea of corpses, is recounted by Melissa Fleming in her moving new book." —New York Daily News

"Fleming's account is as gripping as it is moving; yet as Doaa herself points out in an afterword, 'it is only a small glimpse of the hardship and pain that refugees around the world endure." —Financial Times

"While it is the story of so many Syrians, so many refugees, it is also the story of one woman, and as such it should enable us to see beyond the cold weight of the numbers, and into an individual's own warm and vivid story... If A Hope More Powerful Than the Sea does push more people into action and solidarity, then it will have done vital work; the most important work, perhaps, that a book can do right now." —The Guardian

"Stories like Doaa's, presented in the form of excellent storytelling, thrilling surprises, and powerful characters, do have an impact. This is a must-read book for everyone who is debating the refugee crisis, because it boils the entire war in Syria down to one family, one young woman: Doaa." —New York Journal of Books

"This poignant tale of survival and loss gives immediacy to the plight of Syrian refugees. Fleming's skillful writing brings new vividness to Doaa Al Zamel's dramatic story. This book amply demonstrates why Al Zamel has since become a symbol of hope for other refugees. Fleming should be congratulated for bringing [this] inspiring and illuminating story to the page." —Publishers Weekly

"In the hands of the right readers, it will change the minds of some Westerners about the intent and character of the foreign people who are streaming their way… More than anything else, this is a testimonial to the very definition of heroism—when, that is, an ordinary person responds in extraordinary ways to extraordinary events." —Kirkus Reviews

"In a few years, when people will look back at our current time of conflicts, dislocation, and displacement, the story of Doaa al-Zamel—and of those she saw die, and of the new life she saved—will stand out as one of its defining narratives." —Bruno Giussani, European director, TED

"What makes Fleming's book so riveting is the care with which she handles Al Zamel's unforgettable, exceedingly painful and ultimately uplifting story. Fleming pulls aside the curtain on the chaotic and complicated news headlines from the conflict and instead focuses in on this one Syrian woman…
The realities that unfold are often painful to read, but the narrative is unmatched as a powerful illustration to the world of the need for a global solution to the increasing refugee crisis." —Summit Daily News


"Doaa's story takes place in the same world I live in, and it shook me to my core. No person fleeing persecution should have to die trying to reach safety. This is surely a book to be read to better understand what drives people to risk their lives crossing the sea to Europe, pushing them even farther from their homeland after having already escaped the horrors of war." —Steamboat Today
Flatiron Books, 9781250106001, 304pp.
Publication Date: January 23, 2018
About the Author
MELISSA FLEMING is chief spokesperson for the United Nations High Commissioner for Refugees (UNHCR). She travels to war zones and refugee camps to give voice to the millions of people forcibly displaced from their homes. She is frequently quoted in international media, including The New York Times, The Washington Post,CNN, and NPR. She first told Doaa's story on the TED stage and her talks are featured on TED.com.