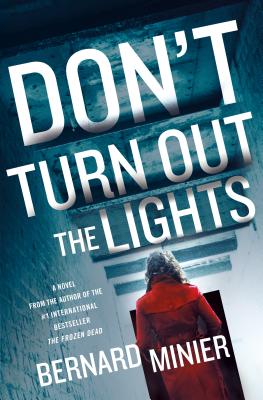 Don't Turn Out the Lights (Hardcover)
A Novel (Commandant Martin Servaz #3)
Minotaur Books, 9781250106056, 400pp.
Publication Date: December 6, 2016
* Individual store prices may vary.
Description
"You did nothing."
Christine Steinmeyer thought the anonymous suicide note she found in her mailbox on Christmas Eve wasn't meant for her. But the man calling in to her radio show seems convinced otherwise.

"You let her die. . . ."
That's only the beginning. Bit by bit, her life is turned upside down. But who among her friends and family hates her enough to want to destroy her? And why?It's as if someone has taken over her life, and everything holding it together starts to crumble. Soon all that is left is an unimaginable nightmare.
Martin Servaz is on leave in a clinic for depressed cops, haunted by his childhood sweetheart Marianne's kidnapping by his nemesis, the psychopath Julian Hirtmann. One day, he receives a key card to a hotel room in the mail—the room where an artist committed suicide a year earlier. Someone wants him to get back to work, which he's more than ready to do, despite his mandatory sick leave. Servaz soon uncovers evidence of a truly terrifying crime. Could someone really be cruelly, consciously hounding women to death?
What if the people closest to us are not what they seem? What happens when someone takes control of your life and your relationships? And what is hiding in the darkness? In Bernard Minier's Don't Turn Out the Lights, you won't see who's coming after you.
About the Author
BERNARD MINIER grew up in the foothills of the French Pyrenees. He had a career as a customs official before publishing his first novel, The Frozen Dead, in 2011. The novel has been translated into a dozen languages and has garnered critical acclaim as well as several literary prizes in France. Minier lives in the Essonne, south of Paris.
Praise For Don't Turn Out the Lights: A Novel (Commandant Martin Servaz #3)…
"Minier keeps the suspense watertight and the whiplash-like twists coming. Part of Minier's authorial strength is his intensive investment in his characters. Don't Turn Out the Lights is a powerful psychological thriller and one of the zippiest reads of the year.—Boston Globe
"Minier once again displays a rare gift for raising goose bumps. Minier sustains a high degree of tension throughout, while making his characters' reactions to extreme stress plausible."—Publishers Weekly (starred review, one of PW's best books of 2016)
"This is not Gone Girl. It is Go, Girl! No one is the person they seem at first to be. Each of the characters either greatly deceives the reader or manages to rise to a challenge unexpectedly. It is a brilliant aria da capo, set appropriately to an operatic soundtrack, with a surprising and thoroughly satisfying conclusion. Perfect for fans of Martin Walker's Bruno Courrèges series."—Booklist (starred review)
"Minier builds suspense with tantalizing teaspoons of menace and a narrative crafted with believable immediacy. Both protagonists confront their nemeses with a determination that should hook readers and keep them hooked."—Kirkus Reviews
"We don't see anything coming, but we're dying to understand." —Elle on Don't Turn Out the Lights
"Bestselling French author Minier delivers yet another absorbing thriller that will keep readers guessing until the final shocking pages. . . . This satisfying read will entice fans of dark, gritty Scandinavian thrillers who will find Martin Servaz reminiscent of Jo Nesbø's Harry Hole." —Library Journal (starred review) on The Circle
"French author Minier's second psychological whodunit featuring Commandant Martin Servaz shows his mastery of the creepy setup. . . . The Russian nesting doll of a plot is perfectly executed and delivers two genuine gut punches at the end." —Publishers Weekly (starred review) on The Circle
"Two years ago I reviewed Minier's debut crime novel, The Frozen Dead, which was quite exceptional. This, his second, is every bit its equal. The Frozen Dead has been listed as one of the fifty best crime novels of the past five years, and its sequel deserves to join it. The sense of creeping dread is viciously sharp and painful in both." —Daily Mail (UK) on The Circle
"Intense and intellectual, Commandant Servaz revisits his past amours in a Pyrenees university town in this clever atmospheric thriller. A gripping read." —The Times (UK)
"Over the past few years, France has produced some of Europe's most striking and original crime novelists. Bernard Minier is up there with the best." —The Sunday Times (UK) on The Circle
or
Not Currently Available for Direct Purchase