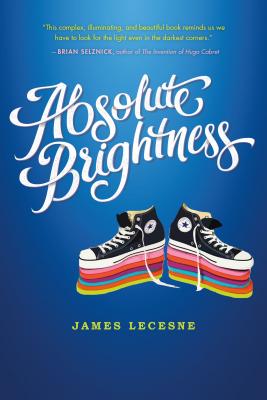 Absolute Brightness (Paperback)
Feiwel & Friends, 9781250106117, 352pp.
Publication Date: May 31, 2016
Other Editions of This Title:
Hardcover (2/5/2008)
Library Binding (2/5/2008)
* Individual store prices may vary.
Description
From Academy Award-winning writer, actor, and activist in the LGBTQ community comes a groundbreaking story about love, prejudice, and being yourself.
"This complex, illuminating and beautiful book reminds us we have to look for the light even in the darkest corners." —Brian Selznick, author of The Invention of Hugo Cabret

Phoebe's life in Neptune, New Jersey, is somewhat unremarkable. She helps her mom out with her hair salon, she goes to school, and she envies her perfect older sister. But everything changes when Leonard arrives.
Leonard is an orphan, a cousin who Phoebe never knew she had. When he comes to live with Phoebe's family, he upsets the delicate balance of their lives. He's gay and confident about who he is. He inspires the people around him. He sees people not as they are, but as they hope to be.
One day, Leonard goes missing. Phoebe, her family, and her community fight to understand what happened, and to make sense of why someone might want to extinguish the beautiful absolute brightness that was Leonard Pelkey.
This novel by James Lecesne, the cofounder of The Trevor Project, inspired the critically-acclaimed Off-Broadway show The Absolute Brightness of Leonard Pelkey.
A William C. Morris Debut Award Finalist
"This book will encourage you to be exactly who you are." —Eve Ensler, author of The Vagina Monologues
About the Author
James Lecesne is an author, actor, and activist, whose film Trevor received an Academy Award for best short film. James cofounded the Trevor Project, a 24-hour suicide-prevention hotline for lesbian, gay, bisexual, transgender, and questioning teens. He is the author of Absolute Brightness, the book that inspired the critically acclaimed Off-Broadway play The Absolute Brightness of Leonard Pelkey. He lives in New York City.
Praise For Absolute Brightness…
Praise for Absolute Brightness:
William C. Morris YA Debut Award Finalist
"This complex, illuminating and beautiful book reminds us we have to look for the light even in the darkest corners." —Brian Selznick, author of The Invention of Hugo Cabret
"This book will encourage you to be exactly who you are." —Eve Ensler, author of The Vagina Monologues
"James Lecesne has crafted an utterly engrossing tale that, like life itself, confounds expectations at every turn. His heroine is a sort of Scout Finch for the new millennium." —Armistead Maupin, author of Tales of the City
"A captivating story in which youthful prejudices are transformed into deep compassion and understanding. Beautifully pure." —Duncan Sheik, songwriter and composer of Spring Awakening
"Absolute Brightness is revelatory—funny, suspenseful, surprising, and full of the insight into human life that only the best books offer us. James Lecesne is a treasure." —Michael Cunningham, author of The Hours
"Lecesne is an artist with small details, using them liberally both to heighten his characters' world and to plant material whose significance emerges only much later." —Publishers Weekly
"The marvelous details are engaging, adorable, and also gravely tragic. . . . The teens created by Jean Ferris and Sarah Dessen come to mind as readers applaud Phoebe and big-sister Deidre's growth . . . An outstanding read for boys and girls alike." —VOYA
"The frank tone of Phoebe's narration and the tragedy of Leonard's abbreviated life will give readers plenty to ponder." —School Library Journal
"Not only is Absolute Brightness a compelling story filled with drama and mystery, it is also a tenderhearted telling of good vs. evil and of right and wrong, a celebration of the amazing differences in our world and a reminder to be true to oneself." —TeenReads.com
Praise for the play, The Absolute Brightness of Leonard Pelkey:
"A show about the brutal murder of a 14-year-old boy should not, logically speaking, leave you beaming with joy. And yet that's the paradoxical effect of 'The Absolute Brightness of Leonard Pelkey,' a superlative solo show . . . written and performed by James Lecesne, himself a pretty darn dazzling beacon of theatrical talent." —The New York Times
"The story has the potency to break your heart and make you laugh at the same time. . . . He has a knack for taking ordinary people and revealing their intricacies." —The Huffington Post
"Although we never actually meet Leonard but come to know him from the fond memories of his neighbors, he seems very much alive." —Variety
"Makes a strong case for the life-changing power of entertainment." —Forbes
"Lecesne crafts an airtight 75-minute story about tolerance, evil and legacy. . . . 'Leonard Pelkey' is streaked with darkness, but Lecesne shines bright." —New York Daily News
"'Absolute Brightness' is a must-see story of love and faith that will challenge you to embrace those around you for their differences. Go see it—and bring a box of tissues." —NBC New York