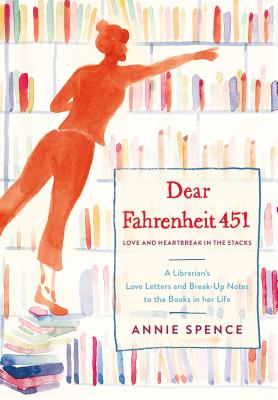 Dear Fahrenheit 451
Love and Heartbreak in the Stacks: A Librarian's Love Letters and Breakup Notes to the Books in Her Life
Hardcover

* Individual store prices may vary.
Other Editions of This Title:
MP3 CD (10/10/2017)
Compact Disc (10/10/2017)
Pre-Recorded Audio Player (11/10/2017)
Library Binding, Large Print (4/1/2018)
Description
A librarian's laugh-out-loud funny, deeply moving collection of love letters and breakup notes to the books in her life.

If you love to read, and presumably you do since you've picked up this book (!), you know that some books affect you so profoundly they forever change the way you think about the world. Some books, on the other hand, disappoint you so much you want to throw them against the wall. Either way, it's clear that a book can be your new soul mate or the bad relationship you need to end.

In Dear Fahrenheit 451, librarian Annie Spence has crafted love letters and breakup notes to the iconic and eclectic books she has encountered over the years. From breaking up with The Giving Tree (a dysfunctional relationship book if ever there was one), to her love letter to The Time Traveler's Wife (a novel less about time travel and more about the life of a marriage, with all of its ups and downs), Spence will make you think of old favorites in a new way. Filled with suggested reading lists, Spence's take on classic and contemporary books is very much like the best of literature—sometimes laugh-out-loud funny, sometimes surprisingly poignant, and filled with universal truths.

A celebration of reading, Dear Fahrenheit 451 is for anyone who loves nothing more than curling up with a good book…and another, and another, and another!
Praise For Dear Fahrenheit 451: Love and Heartbreak in the Stacks: A Librarian's Love Letters and Breakup Notes to the Books in Her Life…
"A winsome volume published this year in which the librarian Annie Spence writes letters to books she has loved, or not." —New York Times Book Review

"Perfect for any bibliophile and terrifically funny." —Library Journal, starred Review

"A librarian delivers a charming epistolary volume that begs to be read with pencil in hand.... A smart, funny, forthright librarian in book form." —Kirkus

"Dear Dear Fahrenheit 451, thanks for the lovely reminder of the ways we find ourselves in books." —Booklist, starred review

"The truest testament to the quality of Dear Fahrenheit 451…is that my enjoyment of it was, in the end, great enough to outweigh my fury that someone other than me had written it....She has a unique ability to capture the thoughts and feelings of book lovers, both professional and otherwise, on the page." —NPR

"Readers (and librarians especially) will appreciate the sly stabs or 'roasting' that the author makes to point out fine and not-so-fine moments of key books that she is contemplating removing from her shelf. She weaves in stories from her life inside a library (which is fodder for chuckles in itself). Perfect for fans of Jenny Lawson." —LibraryReads, "The top ten books published this month that librarians across the country love"

"Hard to put down....Dear Fahrenheit 451 is a delightful gem for readers who experience stories as friends, not just words on a page." —Shelf Awareness

"A collection of one public librarian and book lover's snarky, relatable, and hilarious (like really, really, laugh-out-loud hilarious) letters to the books she has loved (and hated, and passed on) throughout her life." —Bustle

"A must-read for librarians (duh) and avid book lovers." —Albany Times-Union

"A funny, reflective look at the books we love and the ones we don't." —Gazette-Mail

"Spence, like all devoted librarians, is informed, well-read, and able to keep a straight face when somebody asks her where to find a book on the Norman Tableknocker Choir. Her knowledge is encyclopedic. And—the reader is warned—she can be a tad salty…As they say at the library, check it out." —The Virginian-Pilot

"Spence is a Michigan librarian with a predictable passion for books and an endearing, if less conventional, habit of talking to them. More accurately, she writes to them with sweetness and candor, with fondness and scorn." —The Kansas City Star

"All books should be as fun as this…I want to keep this book at home, but I know it must be shared with the world." —Burlington Times-News
Flatiron Books, 9781250106490, 256pp.
Publication Date: September 26, 2017
About the Author
Annie Spence works as a librarian at public libraries in the Midwest. She lives in Detroit with her husband and son. Dear Fahrenheit 451 is her first book.