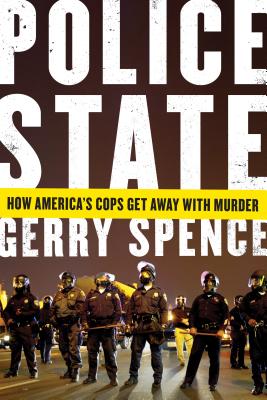 Police State
How America's Cops Get Away with Murder
Paperback

* Individual store prices may vary.
Other Editions of This Title:
Digital Audiobook (9/7/2015)
CD-Audio (9/8/2015)
Hardcover (9/8/2015)
Description
In his 60-plus years as a trial lawyer, Gerry Spence has never represented a person accused of a crime in which the police hadn't themselves violated the law. Whether by covering up their corrupt dealings, by the falsification or manufacture of evidence, or by the outright murder of civilians, those individuals charged with upholding the law too often break it. The police and prosecutors won't charge or convict themselves, so the crimes of the criminal justice system are swept under the rug. Nothing changes.

Police State narrates the shocking account of the Madrid train bombings: how the FBI accused an innocent man of treasonous acts they knew he hadn't committed. It details the rampant racism within Chicago's police department, which landed a teenager, Dennis Williams, on death row. It unveils the coercive efforts of two cops to extract a false murder confession from frightened, fragile Albert Hancock, along with other appalling evidence from eight of Spence's most famous cases. And it raises the question: when the people we pay to protect us instead persecute us, how can we be safe?

In Police State, Spence issues a stinging indictment of the American justice system. Demonstrating that the way we select and train our officers guarantees fatal abuses of justice, he prescribes a challenging cure that stands to restore the promise of liberty and justice for all.
St. Martin's Griffin, 9781250106537, 352pp.
Publication Date: December 6, 2016
About the Author
Gerry Spence has been a trial attorney for more than five decades and proudly represents "the little people." He has fought and won for the family of Karen Silkwood, defended Randy Weaver at Ruby Ridge, and represented hundreds of others in some of the most notable trials of our time. He is the founder of Trial Lawyer's College, a nonprofit school where, pro bono, he teaches attorneys for the people how to present their cases and win against powerful corporate and government interests. He is the author more than a dozen books, including The New York Times bestseller How to Argue and Win Every Time, From Freedom to Slavery, Give Me Liberty, and The Making of a Country Lawyer, and is a nationally known television commentator on the famous trials of our time. He lives in Jackson Hole, Wyoming.