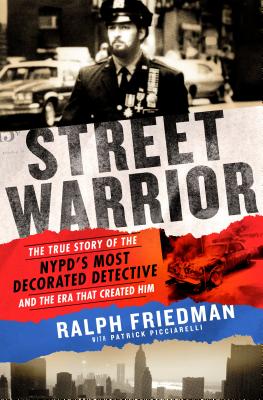 Street Warrior
The True Story of the NYPD's Most Decorated Detective and the Era That Created Him
Hardcover

* Individual store prices may vary.
Other Editions of This Title:
Paperback (10/30/2018)
Description
As Seen On Discovery Channel's "Street Justice: The Bronx"

2,000 arrests. 100 off-duty arrests. 6,000 assists. 15 shootings. 8 shot. 4 kills. These are not the performance statistics of an entire NYPD unit. They are the record that makes Detective 2nd Grade Ralph Friedman a legend.

Friedman was arguably the toughest cop ever to wear the shield and was the most decorated detective in the NYPD's 170-year history. Stationed at the South Bronx's notorious 41 Precinct, known by its nickname "Fort Apache," Friedman served during one of the city's most dire times: the 1970s and '80s, when fiscal crisis, political disillusionment, an out-of-control welfare system, and surging crime and drug use were just a few of its problems.

Street Warrior tells an unvarnished story of harrowing vice and heroic grit, including Friedman's reflections on racial profiling, confrontations with the citizens he swore to protect, and the use of deadly force.
Praise For Street Warrior: The True Story of the NYPD's Most Decorated Detective and the Era That Created Him…
"Friedman . . . chronicles his gritty tenure in the new, action-packed book." —The New York Post

"This book reads like a fast-paced novel that readers will find hard to put down. . . . The narrative provides insight into what is [sic] was like to be a cop [in the '70s]. Readers fascinated by police work will definitely want to read this book." —Library Journal

"Friedman recounts the harrowing trials and tribulations he experienced while wearing his uniform. The memoir is filled with war stories and anecdotes about the bygone era of policing, a time when cops didn't have to wear body-cams or worry about being politically correct." —Merry Jane

"I've known Ralph Friedman for almost forty years, since the first day he walked into Big Joe's Tattoo Shop. He looked more like a biker than a cop. We were on opposite sides of the fence, but we always respected each other! He's the toughest Jew I know, who has more tattoos than I do." —Chuck Zito, Actor/Stuntman/Bodyguard and former Hells Angel

"Fugeddabutitt! If I knew about Detective Ralph Friedman when I was raising hell in New York during the '70s and '80s I may have dialed back my lifestyle. Friedman's memoir is a rapid-fire page turner, told with compassion and gut-wrenching reality. It's a walk through the South Bronx in an era that some people would like to forget." —Gianni Russo, actor, The Godfather

"Friedman used his fists, guns, and other available weapons to arrest, wound, and sometimes kill suspects, winning a host of medals for valor in the process. . . . His restlessness for action never abated, to the point where he placed himself in personal peril multiple times. A swashbuckling book that is likely to elicit extreme reactions of applause or disapproval depending on the reader's personal opinions about law enforcement." —Kirkus Reviews

"I enjoyed these true-to-life New York experiences. Funny and gritty, this book is a great example of why we respect those honorable men in blue." —Aida Turturro, actress, The Sopranos

"I loved this book. Could not put it down. Mr. Friedman's exploits were an adrenaline rush with many comic moments sprinkled in between. It gives you a newfound respect for the incredibly difficult job police officers face every day, but even more so back in '70s. Cannot wait for the movie!" —James Biberi, actor, Drive, Analyze That

"The toughest crime fighter in the history of NYC didn't leap tall buildings or drive a Batmobile. He was a real-life, tough as nails detective, the closest thing to a caped crusader New York ever had. Meet Ralph Friedman, Super-Cop." —Steven Jay Griffel, bestselling author of The David Grossman Series

"It was a different job and a turbulent time and Ralph Friedman defined the word Detective. Street Warrior should be required reading for anyone who wants to understand the real world of street policing. Read this book and be awed. An amazing story told by a legendary NYPD detective." —Joseph D. Pistone, author of Donnie Brasco: My Undercover Life in the Mafia

"The explosive, riveting, and incredible street action of a legendary crimefighter - who is also the most highly decorated NYPD detective in New York City history." —Ret. Captain Tom Walker, author of Fort Apache

"All the violence, crime and chaos of 1970s New York City instantly come to life in this gripping detective story. Street Warrior is a true crime rarity. This gritty firsthand account of an unstoppable NYPD cop will have you rooting for the good guys the whole time!" —Pat Dixon, host, NYC Crime Report

"This book is as fearless as the cop who wrote it and the cops he worked with. Readers will be grateful such men exist. It should be required reading for judges, mayors, and their police chiefs who handcuff our police." —Charles Brandt, bestselling author of I Heard You Paint Houses

"Detective Friedman took me to a place in New York that I had only heard of, either from the newspapers or television news. He told the real story. Great book, a cop's cop and truly a hero." —Bill Katzing, US Department of Justice, (Retired)

"Street Warrior brings to life the axiom 'truth is stranger than fiction.' If I read this book as a novel I would have put it down as incredulous part way through. But I have known Ralph Friedman for 30 years, and was aware of the legendary status of this superman of a cop longer than that. Any one chapter of this cannot-put-down book would represent the pinnacle of most top cops' careers. A must read, it will change the way you view policing forever." —Captain Douglas Greenwood, NYPD, Retired

"Street Warrior is a must read book. The title definitely fits this unstoppable NYPD Detective. I grew up in the Bronx and have on numerous occasions seen Detective Ralph Friedman in action and believe me it can only be compared to Moses parting the Red Sea. When he exited his unmarked car drug dealers didn't know to run, hide, surrender, or shit their pants. These accounts will show how dangerous our streets were back then, and the dangers police officers faced on a daily basis." —Anthony Rosco Ret. Detective/Executive Security Director Of Personal Protection

"As you're reading Ralph Friedman's life story, it's hard to believe it's all true. I spent two years interviewing Ralph for a television documentary series, and we barely scratched the surface of his dedicated career. It goes against all logic that Ralph is still standing. Street Warrior offers a riveting look into why Ralph Friedman, one of the most decorated and fearless cops ever to wear a badge, ran full speed towards the most dangerous situations the streets of the Bronx had to offer. Ralph's yearning to fight crime was like an obsession, so it's no surprise his story is just as addictive." —Briana Scheibel, Producer, Jupiter Entertainment
St. Martin's Press, 9781250106902, 272pp.
Publication Date: July 25, 2017
About the Author
RALPH FRIEDMAN served the NYPD from 1970 to 1984, at which time he retired due to being injured in the line of duty. In his short career he amassed more awards and honors than any other detective in the NYPD's history. Street Warrior: The True Story of the NYPD's Most Decorated Detective and the Era That Created Him chronicles his career.

PATRICK PICCIARELLI is a retired NYPD Lieutenant, Vietnam veteran and private investigator. He is the author of Street Warrior: The True Story of the NYPD's Most Decorated Detective and the Era That Created Him, and other books. He resides in Pennsylvania.
or
Not Currently Available for Direct Purchase